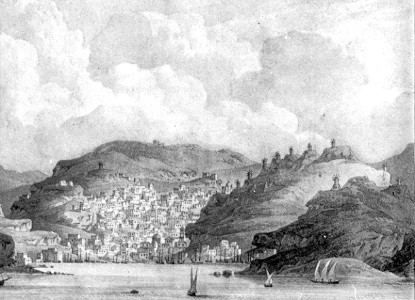 Hydra's past is obscure. There is not much written about the island until around the 15th century after the fall of Constantinople when people began moving to the more inaccessible heights of the most mountainous islands to escape pirates and the Turks. Around 1460 the island of Hydra was settled by Albanian refugees as well as Orthodox Christians, who were later joined by settlers from Epirus, Crete, Evia, Kythnos and Asia Minor. Then in the 18th century Hydra welcomed a large number of refugees from the Peloponessos during the Russo-Turkish war.
The island during the Ottoman occupation of Greece was largely left alone by the Turks most likely because of its lack of water. In 1792 the town was almost completely abandoned when the plague killed much of the population. But by the end of the 18th century Hydra had become quite prosperous because of its commercial fleet which was trading as far as France, Spain and even America. During the Napoleonic wars it was the Hydriotes ships which broke the English blockades and were able to feed the hungry people of France and Spain. The island was quite wealthy at this time and was in a position to contribute their ships and supplies to the cause of Independence from the Turks. However when Greece did finally achieve independence in 1821 Hydra was economically isolated and did not receive its fair share of assistance from the new state and a period of hardship and unemployment set in causing many of the inhabitants to abandon it leaving behind large mansions and beautiful residences that fell into ruin.
With the success of the Hydriot sponge-fishing fleet at the end of the 19th century the island again began a period of prosperity which lasted until 1932 when Egypt forbade fishing along its coast and corruption in the industry caused profits to dwindle and loans to mount. By the second world war the Hydriotes were again leaving the island, many of whom went abroad.
In the 1950's Hydra was discovered by the early tourists, many of whom had read of it in Henry Miller's Colossus of Marousi. Since then the island has prospered, living off its beauty as the mansions and homes have been restored. It is a popular place with artists as well as writers who come for inspiration and sometimes never leave. Hydra is truly one of the most beautiful islands in Greece.

For more on Greek History see my site A History of Greece