Cafes, Restaurants and Nightlife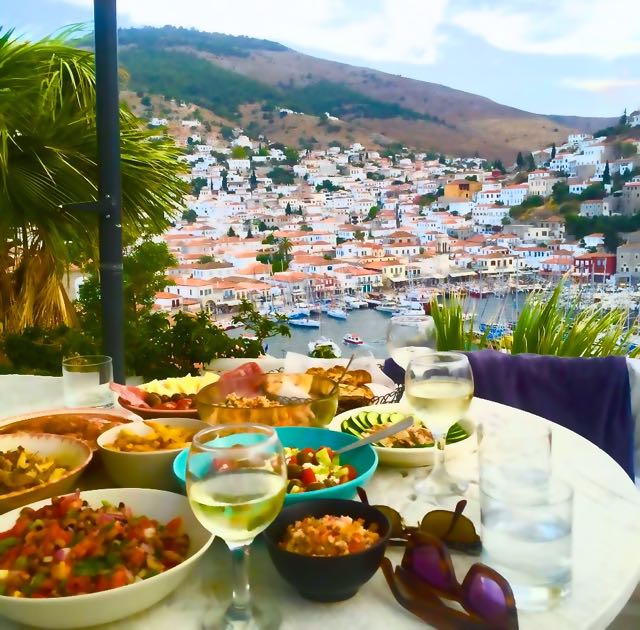 The food in Hydra is mostly good, even in the cafes on the waterfront which have a lot of choices but are a little expensive as so many waterfront cafes on the islands are. Then again you know how it is when you are at a place where the main entertainment is people-watching. You pay for the good seats and except for possibly Mykonos, these are the best seats in Greece. For a cheap night out your best bet is to go to one of the restaurants on the back streets and do your eating and drinking there. In the daytime people eat along the shore where the sea breeze keeps them cool and they can take a swim before, after or during lunch. Kryfo Limani or Secret Port of Captain Andreas is suitably named because you will never find it if you are not looking very diligently. If you walk up the street from where the donkeys hang out and take the right fork and then after about two blocks begin asking directions then you may get lucky and spot the sign.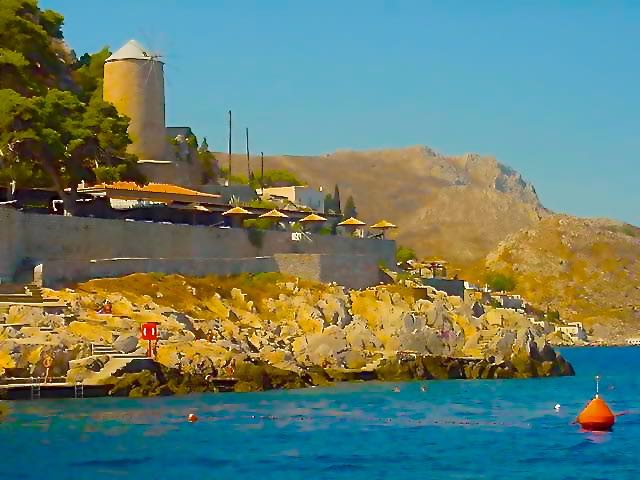 Easy to find is the Sunset Restaurant which sits on the ramparts overlooking the western horizon, below the windmill and above the rocks at Spilia where everyone swims just beyond the harbor. The food is excellent and the view is too. Great place for dinner or lunch and an ouzo and meze while you watch the sunsets that Hydra is famous for. Say hello to George, an old friend and North Carolina resident who cooks and helps run the place during the summer. Lots of fish dishes and great kalamarakia as well as grilled meats and traditional oven cooked dishes using extra virgin Greek olive oil and the higest quality fresh fish and vegetables. Try the Garides saganaki which is shrimp cooked with cheese in tomato sauce as a starter and continue from there. They have an extensive wine list of some of the best bottled wines you will find in Greece. In the summer of 2017 well known chef Panayiotis Papanicholau took up residence in the kitchen of Sunset Restaurant. Panayiotis, for those who don't know him, was the chef and mastermind behind such restaurants in Athens as O Bakalogatos (My Top Restaurant in Athens), The Butcher Shop, Sardelles, Pepperies and several others. If you want a pre-dinner drink watch the sunset at nearby Hydronetta.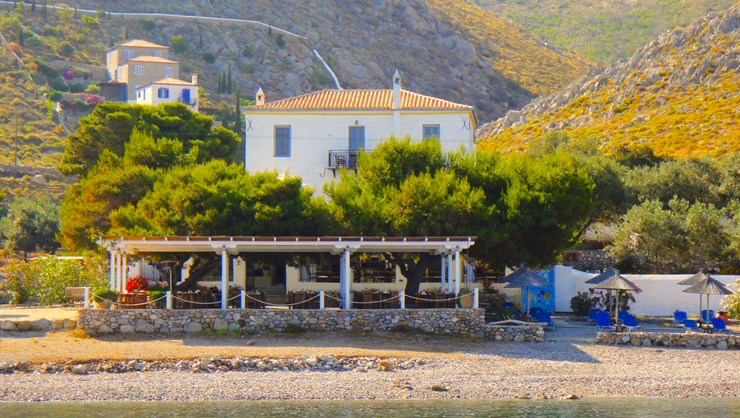 If you are tired of Greek food and want Italian for a change try Da Barba Dimas, a family run restaurant with great pizza, or Il Casta, owned by the same family for pastas and more fancy plates. Christina's get's great reviews on Tripadvisor but as happens that means more business and sometimes a wait for food or even a table. Kodylenia on the waterfront in the village of Kamini looks over the small fishing boats in the harbor and is known for its fresh fish and sunset views. It is popular for weddings and baptisms so if you want to be sure of good service, or any service, you may want to make reservations. (22980 53520 or 6972 814078). For those hiking along the coast the Four Seasons Restaurant (photo)has homemade wine, fresh fish, oven dishes and grilled meats right on the beach at Vlichos. You can also get back and forth by boat. Paradosiako is a semi-traditional style ouzeri which means they have an assortment of traditional mezedes (snacks to eat with ouzo) but also have large plates that are less traditional like risotto or pasta with shrimp or lobster. They also serve the the kind of inexpensive fish I like to eat like grilled fresh sardines and kalamari. Geitoniko (aka Manolis and Christina's) does oven cooked dishes and grilled meats and is a former hangout of Leonard Cohen, though choosing a restaurant because a poet ate there 40 years ago can be like choosing a wine because they served it at your baptism or Bar-Mitzvah. But my friend Marc Dubin likes it and says "try their signature dish – veal in quince sauce – or grilled fish in the evening." It is beyond the Hotel Bratsera.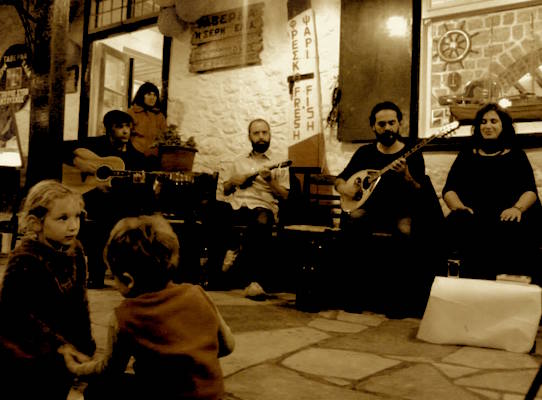 Xeri Elia Douskos is another restaurant where Leonard Cohen used to go in the 70s- it is in the back streets on a square and if you wander around you will find it eventually. They still have local men playing live bouzouki and accordion. It is said to be the oldest restaurant in Hydra, over 200 years old. Ed Emery holds his Rembetika Supper here on Saturday night during the annual Rembetika Gathering in Hydra and they play at the restaurant (photo by Peyman Heydarian) and the musicians and audience fill the entire square. They usually play Friday night at Lulu's, another traditional family run taverna that is popular with locals and foreigners. It is also where the famous Leonard Cohen photos singing with friends under the platanos tree were taken.
Also Zephiros, near the port, has a limited menu but it changes every day and the lady who runs it is very nice. The cleanest, freshest and best souvlaki is at Kremidi. For paidaikia and other grilled meat dishes go to Ta Gefiria right by the Hotel Mistral.
Hydra After Sunset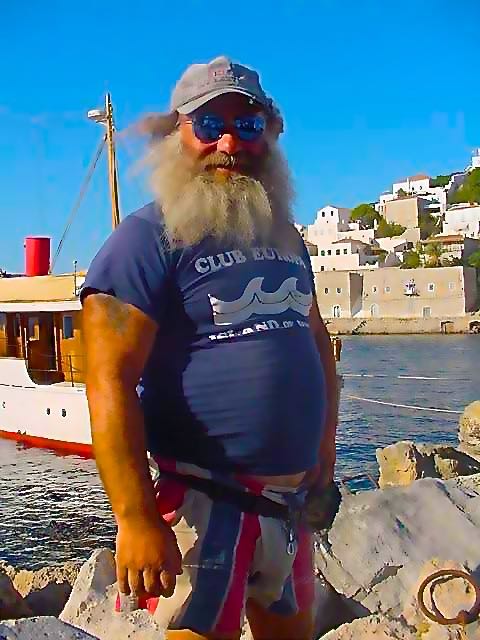 In the late seventies and early eighties there were two popular bars on Hydra. One was called Pan's and was named for the owner, a five foot two boulder of a man with a beard and hair down to his waist who could talk faster than most people think. He had supposedly been a Green Beret in Vietnam and the bar was decorated with US license plates from various states, American flags and the kind of art you find on t-shirts that you order from Soldier of Fortune magazine with grinning skulls and mottos like "Kill them all and let God sort em out later." Pan would show up in our town of Northport, Long Island, to visit his buddy Nikos Voulgaris who left Hydra with a broken heart and opened several successful Greek restaurants in NY and North Carolina. When we visted Hydra in the early eighties we would sit in Pan's Bar watching the beautiful young foreign girls doing shots and chugging beers, getting louder and drunker by the minute, the room a cacophony of voices and rock music. Afterwards we would wander home to Pan's basement where we slept in our sleeping bags on the unfinished floor, listening through the floorboards, walls and windows to what sounded like everybody in town having sex, except for us. Pan's Bar was packed every night and was famous in Greece and all over the world, but one day it just closed and that was the end of that. But there are several generations of Hydra lovers who are still awaiting the day that Pan's Bar reopens again.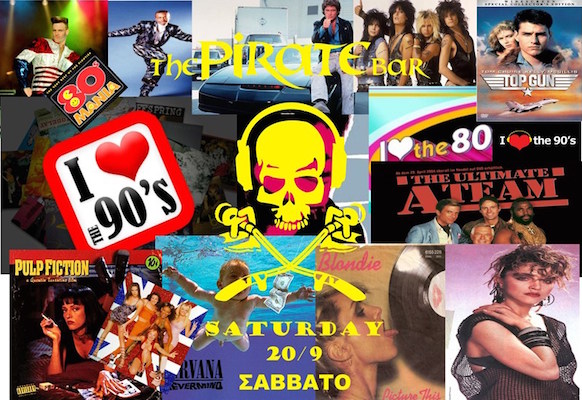 The other was The Pirate Bar, owned by Takis, another friend of Nikos Voulgaris, who treated me like a long lost friend or relative from the first day I met him, which happened to be on the night he opened. In the years that followed the Pirate became our central meeting place at night, though by then it was so busy there was not time to get more than a surprised hello and a big smile from Takis as he sweated behind the bar in the days before air conditioning when people drank to forget how hot they were. In the years that followed, people who I thought were strangers have reminded me that we had met years before at the Pirate, telling me of events on a particular night that would open the floodgates to a river of lost adventures and forgotten romances . And the best thing about the Pirate is that it is still there. "Takis makes such great drinks that after a couple I could not help but notice that I did not care how loud the music was or that I couldn't hear half of what my friends were saying to me. I was content to half listen and look at the young people around me having a wonderful time, and wonder to myself if they could actually hear what they were saying to each other. After one more drink I didn't care and was dancing happily with them." The Pirate is also known for its theme parties which can turn a normal weekend into Apokreas (Carnival). They also have a great food menu and like any waterfront cafe a long list of coffees and drinks.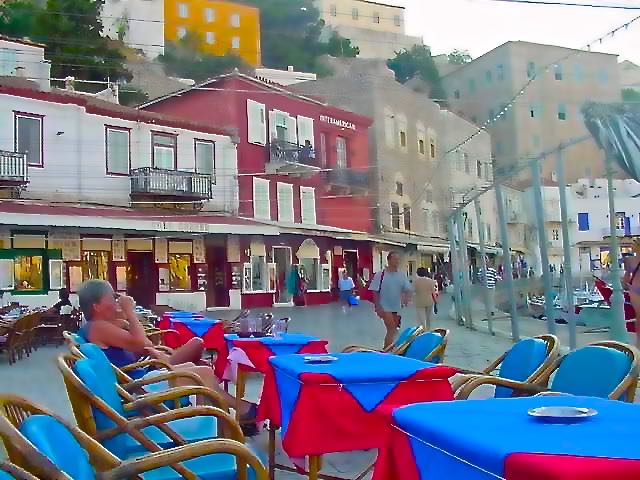 Throughout Greece, the bars are mostly expensive in comparison to what you will pay in the restaurants and the cafeneons where the locals usually drink. But in Hydra the locals drink in the cafes and bars and you won't find many traditional cafeneons, at least not in the port. The bar drinks are about what you would pay in New York City, the music can be loud and very un-Greek so if you came for the conversation your best bet is to get a drink and move outdoors where there are plenty of tables and chairs for this very purpose. Most of the bars get pretty wild in the summertime. Nightlife-wise Hydra is similar to Mykonos, a smaller version of the most famous island. It's just a matter of choosing where you want to party if that is what you came for. There is no shortage of bars and discos, whose clientele include super and not so super-models and varying species of Euro-trash mixed in with some very genuine people. If you want to party you will have fun here, no doubt about it. For dancing, the young and restless yacht crowd assemble late night at Omilos, formerly the Yacht Club, Amoudi and a number of other incarnations. It is a restaurant-cafe-bar located above the sea between the harbor and Spilia, the kind of spot any bar owner would love to have.
If you are not the partying type, after dinner, go to the supermarket and buy a bottle of wine or a couple bottles of beer and walk around the port and up the hill until you get to the small fort that overlooks the mainland. If you want to go for a midnight swim, there are diving platforms down below and the sea is lit by phosphoris. But there are benches by the cannons and nobody cares if you drink there if you are mature about it. Or just head back to the cafes where the people watching continues til late and they will stay open as long as there is someone to serve