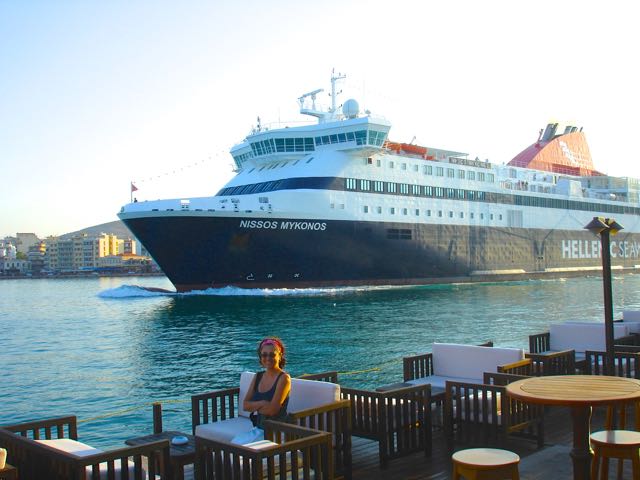 Our trip back from the northeast part of the island ended at the Bourtsi, the old customs house (or something) that is on the dockside of the breakwater and is now a hip-cafe, though it would make an even hipper ouzo-mezodopolion. You can sit here and the ferries pass around twenty feet from you on their way in and out of the port. The boats to Pireaus (Athens) leave between 10pm and midnight. The boats coming from Pireaus going to Lesvos and beyond arrive at about 4am so as you can see it is a lot more civilized to visit Chios coming from Lesvos. We drove the car over to the loading area and parked with the others going to Athens, crossed the street to the Tsabaeri Ouzerie-taverna and had a nice dinner until the ferry Mytilini sailed into the harbor and I had to drive the car on, always an enjoyable experience. We went to our cabin and did not leave it until we arrived in Pireaus.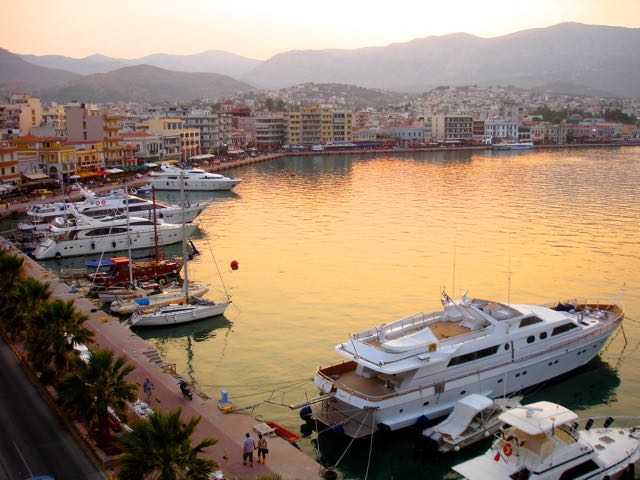 So what's my take on Chios? First of all I have to say my first impression of Chios was not a good one as you know if you have read my Arriving in Chios Page. Let us just say that Chios and I got off on the wrong foot, as the expression goes. Rough Guide had written that Chios Town was similar to Mytilini Town but more charming. I didn't find the charm that they were writing about on that first night. If you wanted to create a town that tourists would come to and go back and tell their friends how awful it was so that nobody would ever come there, then they did a good job with Chios town. But if the person got fed up after the first day and left he would have missed an exceptional island. After a couple days here even Chios town does have its good points though I could think of better ways to describe it other than having charm which makes it sound like Hydra. I might say "Like Athens, the charms of Chios town are not immediately apparent but spend a little time here and you may come to discover the scattered treasures of this bustling port city".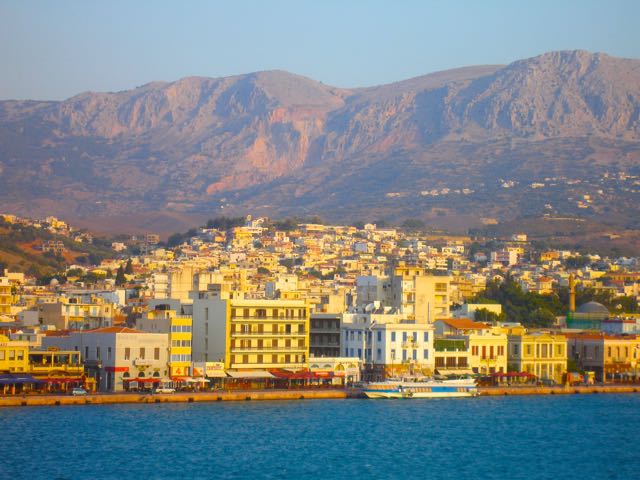 The good things about Chios town are:
1) A really cool central market. Not as good as the one in Mytilini but a great shopping and watching experience.
2) A long waterfront that has unlimited potential if they can figure out how to get rid of all the cars. The whole waterfront should be pedestrian-ized. In fact they should deter cars from coming into the city at all. The narrow streets are not made for the kind of traffic you find here on weekends and in August. It was bad when I visited here in 1986 and it certainly has not gotten any better.
3) A really great central park and platia (square). We got off the boat last August during the Chios festival and it was like arriving at a big party with local dancing, free ouzo and food and lots of local arts and crafts.
5) Lots of great restaurants and ouzeries in the town. We did not have a bad meal the whole time while on touristy islands it is often hard to find a good meal. And for young people there is tons of nightlife.
6) The Kastro (castle) offers a world of potential, an entire walled city of traditional dwellings within the modern town. The gallery in the main entrance is just the beginning. While I was there restoration of the hammam (Turkish baths) was going on. They should open these to the public, not as a museum but as baths, as they have done in the old city of Rhodes.
A cleanup of garbage and rubbish along the coast, not to mention waste water in the bay, would make Chios town a choice destination to all travelers, not just Greek-Americans whose ancestry comes from here. There are enough wealthy Greeks and Greek-Americans who can chip in money to make Chios-town a model for other large island ports. You can't count on money from the government or the EU. Sometimes you have to take responsibility for your own neighborhood. If you want a good example of what a responsible person with a little generosity can do go to Emporio and see the beach facilities at Mavra Volia that were built as a gift from Nicholas Lo of Scarsdale, New York.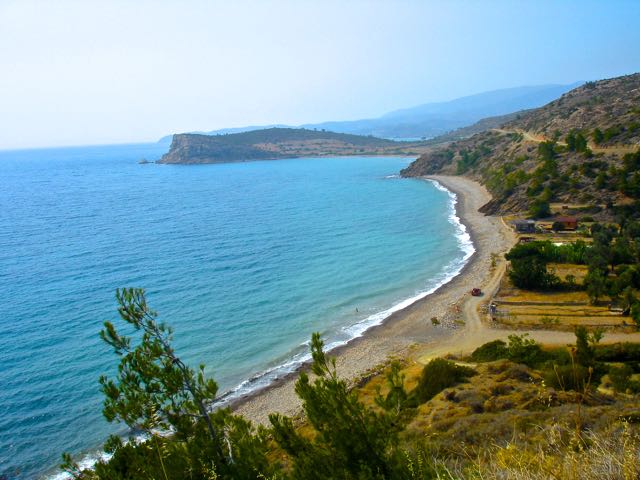 Truth be told, Chios-town is a major port, not a tourist Mecca and people have written worse about Heraklion, Crete. But if you view these towns as just the entrance way to somewhere that has a beauty and magic far beyond the port, then they are merely places to pass through. Not to take anything away from the Chandris Hotel, which I enjoyed very much and has to be one of the better hotels in the North Aegean, but if you are coming to Chios in the summer to stay in Chios-town, go to another island instead. If you want a unique island experience, stay in Mesta, Emporio, Kampos, Megas Limnionas, Karfas, Volissos or anywhere but Chios-town. OK, a night or two is fine either upon arrival or on the way out and as long as you know what to expect you will probably be happy in cosmopolitan Chios-town and you can see the museums, the castle and have a few nice meals and experience the abundant nightlife.
But if you are coming for peace and quiet, tradition, beautiful clean beaches and seaside tavernas then stay out of town. Be sure to rent a car. You will need it on Chios. It's a big island and there is much to see. If you love beaches, medieval fortresses, Greek island cooking, souma and mastica then you will love Chios. I did.