Amorgos – Island of "The Big Blue"
By Marc Dubin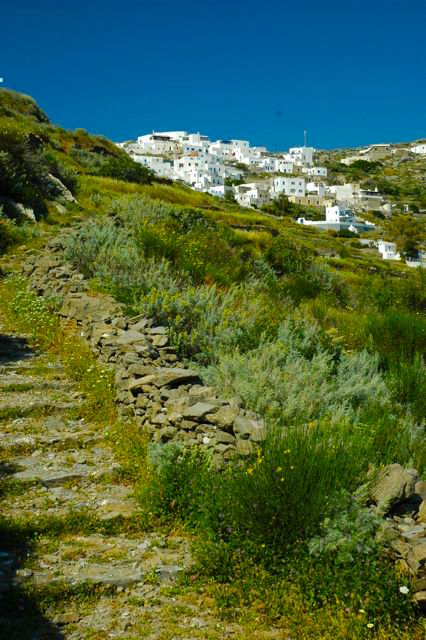 My first visit to Amorgos happened in spring 1981, with the novelist Frances Oliver. It was not so long since the junta had used the island to internally exile political dissidents, including George Mylonas, Minister of Education in the mid-1960s George Papandreou government, who vividly described local conditions in his memoir Escape from Amorgos (he was spirited off the south coast in October 1969 by a small, Italian-crewed cabin cruiser organized by his son-in-law). We found these little changed, both at our primitive, cold-water-only quarters in Hora, and walking in all directions on the still-intact network of paths, assisted only by a monochrome map prepared by a German enthusiast. Our last, most ambitious attempted hike, from Hora to Egiáli in the northeast, ended ignominiously with being blown into a thicket of spiny bushes by Force 7 winds and spending much of the evening removing thorns from ourselves with tweezers and sewing needle.
I returned alone a decade later, three years after the release of The Big Blue, partly shot here. Thanks to this, Amorgos had hit The Big Time in a small way; I still had only the same cheesy map for guidance, but a fair amount of company en route, and no problems reaching Egiáli even with a full pack.
Since then I've been back several times, for the spring Yperia conference-for-travel-journalists organized by the Hotel Aegialis, and the main November festival. Long, narrow, steep-sided Amorgos – the name almost certainly related to the modern Greek amorgá, the longitudinal beam of a roof gable – is still not an island-hopper's fave, but it has a devoted fan-base and a substantial expat community as part of its official population of 1800 – plus an estimated 25,000 goats. Although there are various beaches, people really come here for walking and the still-vivid village life.
Amorgos is something of a two-headed beastie, with two ports (southwesterly Katápola and northeaserly Egiáli) at opposite ends of the island – a legacy of the time, before 1980, when there was no lengthwise road, and the only alternative to walking from one end of the island to another was taking a kaďki.
SOUTHWESTERN AMORGÓS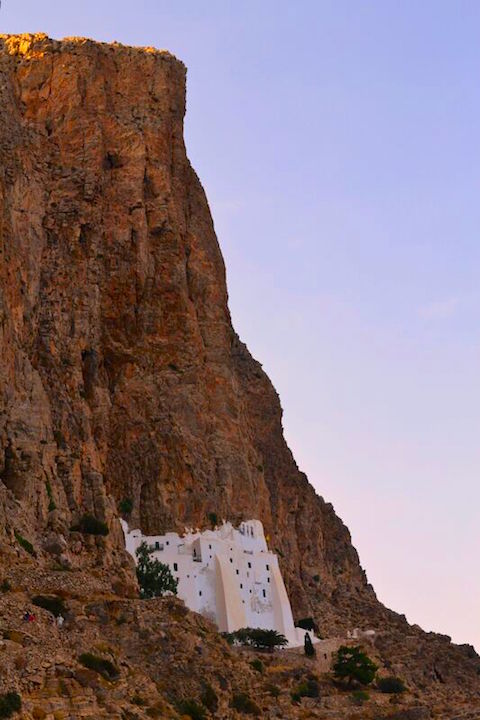 Katápola has functional nearby beaches and most of the accommodation in the southwest, but little beauty to lose – especially as it's the one area where second-home real estate is beginning to proliferate. Proximity to Hora and several marked paths (read on for more on that) are the main strong points.
Hora, 7km uphill by road (or a more enjoyable hour's walk along marked trail #2, "Photodotis") is another kettle of fish: an exquisite Cycladic village of arched passageways, bulbous church domes, ancient stelae worked into modern housefronts, a serpentining high street, stepped platíes with trendy cafés, and the constant moan of the wind in fanned-out power cables. Everything is wrapped around a strategic rock plug, fortified by the Venetians and doubtless by earlier occupiers. The best of several taverna/ouzeris here is To Hyma, on the agorá street, with tasty, abundant and cheap mezédes dished up by owner-chef Theodoros, working out of a two-burner kitchen in a converted bakáliko (general store). He's open all year but best ring off-season beforehand (697 4786376).
Some 20 minutes' walk beyond is the island's top attraction: the cliffside monastery of Hozoviotissa (8am–1pm & 5–7pm), clinging to the palisade 300m above the Aegean like a "chest of drawers" (so said French explorer Pitton de Tournefort) since establishment under Emperor Alexios Komnenos in 1088. Le Corbusier was also much impressed on his early-20th-century visit, no doubt by the enormously long entrance stairway hewn through the rock, and the tiny katholikon constrained by the same formation. Although built for 30 monks, the monastery is today home to just 3 – including the friendly abbot Spyridon; one of them (or a lay worker) greets pilgrims with the customary loukoúmi and shot of rakí psiméni (Amorgian hootch heated with honey and spices). From the terraces you can easily glimpse Astpálea and Anáfi to the southeast and southwest respectively. The ground-floor cellar has a worthwhile, 2008-inaugurated ecclesiastical museum, but opening hours are erratic. The main annual festival is 21 November (Isodia tis Theotokou/Presentation of the Virgin), which people from across the Cyclades (and the large Amorgian community in Athens) make an effort to attend despite often threatening weather.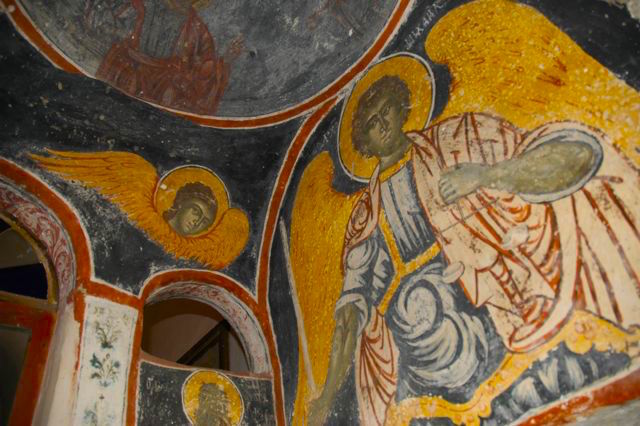 The only other Orthodox monument in the southwest with remotely comparable prestige is the little oasis-monastery of Ágios Georgios Valsamítis (usually open), about 3km southwest of Hora; a prominent but un-waymarked trail beginning south of the village allows you to avoid most of the road there (but beware en route grazing cows belonging to Hora's butcher – they are unpredictable, and one attempted to gore me). The monastery itself is built on the site of a water-oracle, used since ancient times; James Theodore Bent, after an 1884 visit, noted that water was collected in a tumbler and the petitioner's fortunes interpreted according to the behaviour of the "floaters" visible therein. The ever-tolerant Orthodox Church cemented over the collecting basin in the 1960s to stop such "pagan" practices. Fortunately you can still see the water of the agíasma in the narthex, as well as some fine frescoes – both in the baldachin over the ex-oracle, and the masonry piers before the ieron.
From Ágios Yeorgios, marked trail #6 –"Valsamítis" – heads down to Katápola within an hour via ancient Minoa, which despite the suggestively Cretan name today offers mostly Hellenistic ruins excavated by the indefatigable Lila Marangou of the University of Ioannina.
Minoa also marks the start of trail #3, "Itonia", an ambitious, 3-hour undertaking via ancient Arkesini on Kastrí headland, and more rewardingly the Classical fortress at Agía Triáda, also restored under the supervision of Professor Marangou and winner of the Europa Nostra award for such work, in April 2010. The route ends at modern Arkesíni hamlet, with accommodation if needed and a summer-only taverna where you will likely also phone, and wait, for a taxi to take you back – buses out here are rare.
With an early enough start back, you can detour from Kamári hamlet down an access track to Moúros beach, typical of the sheltered coves on the southeast-facing coast. Another, more popular beach is Agía Ánna, below Hora and Hozoviotissa, where scenes from The Big Blue were filmed.
NORTHEASTERN AMORGÓS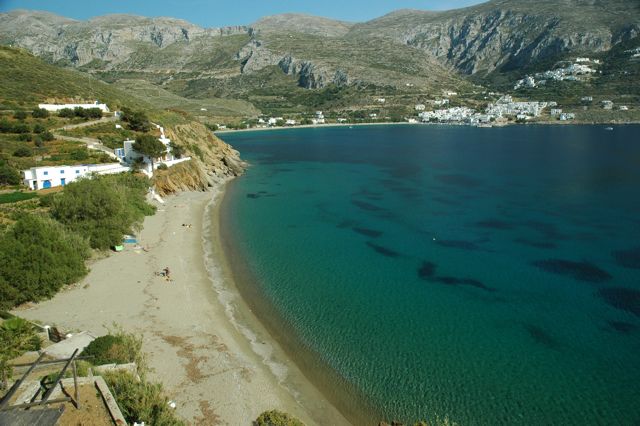 Egiáli has a long beach, great sunsets and good tavernas; my picks among these are To Limani tis Kyra Katinas, one lane in from the jetty, an excellent all-rounder with fish, good bulk wine and several dishes of the day, and Hondros behind mid-beach, with heartier fare, a lively music bar and all-year operation, with an open fire in the winter.
If the main beach doesn't suit, a trail leads north, then west, 10 minutes to superior Levrosos (with rooms to rent behind), continuing another 10 minutes to Psilí Ámmos, which catches late afternoon sun and seems to be clothing-optional. Still not enough solitude? A rougher path carries on to definitely naturist Hokhlakás, 45 minutes in total from the port.
Plenty of walks start from Egiáli; the one everbody seems to do, trail #4 "Melanía", makes an easy, 2.5-hour loop from Egiáli via Langáda village, the tiny pastoral hamlet of Stroúmbos, Astrátios chapel built amidst the ruins of Classical fortifications, and Tholária village.
Langáda, with 220 inhabitants, is the "capital" of the northeast – but with no particular sights other than Iamata, the essential-oil distillery and herbal-infusions centre run by Vangelis Vassalos. The better of two tavernas is Nikos, with popular terrace seating under the wisteria, though it's on the expensive side.
Stroúmbos' eight houses have been completely bought up and restored by foreigners; its signature is the little chapel of Aď-Nikítas at the outskirts, almost hidden by a pine tree. The marked trail takes a longer course via Drý oasis, with its remnant of island forest that the goats haven't eaten, and fairly unintersting Epanohorianí monastery; the shortcut via Patéla passes one of Amorgos' many springs, this one issuing from a deep man-made grotto, possibly Roman-era judging from the masonry.
Tholária is even more atmospheric than Langáda, though rather windy owing to its setting atop a pass. In the undercroft of Ágii Anárgyri church is an excellent ecclesiastical museum (open on demand) of unusual icons and icon-screen pieces rescued from country chapels; the long arcade beyond Ágii Anárgyri, roofed with fídes (cured juniper trunks), is much photographed. Tholária is lucky to have three serviceable tavernas: Iy Kali Kardia; To Santouraki; and To Panorama, run by the inimitable Niko Theologitis, acknowledged as the island's best composer of mantinádes (rhyming couplets).
From Tholária a clear, signposted cobble-path heads steeply down to Mikrí Vlyhádha inlet – go for the scenery as much as for the swim. Trail #4 returns to the north end of Egiáli bay, passing another elaborate fountain at Léfkes.
Tougher hikers can return to Langáda the next day and embark on trail #5, "Pan", which climbs sharply through the maquis for 45 minutes to Theologos monastery (usually open), a 15th-century architectural gem with an arcaded, whitewashed interior, carved marble icon screen, ancient colum-capitals supported the altar, and a fine apsidal fresco of St Paul. It's as much time again, largely along a spectacular corniche route skirting the base of Mt Kríkellos (821m), the island's summit, to somewhat anticlimactic Stavros chapel. Probably not a walk to do alone or in high summer, as there's no water or shade en route and nobody but goats for help.
PERÍFORA ALONG THE PALIÁ STRÁTA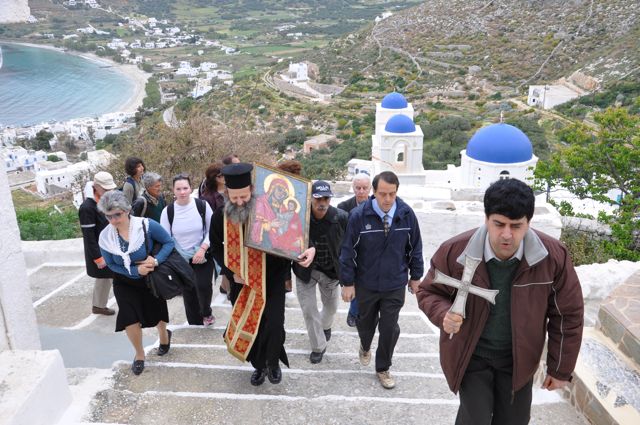 The week after Easter is an excellent time to visit Amorgos, not least to observe the custom of the periforá tis ikomas – the procession of the holy icon of the Virgin from Hozoviotissa (plus several less valuable substitutes), which are taken walkabout to various village churches and rural xoklísia to confer blessings. Lay people – not just priests – take it in turns to have the honour of carrying the icon for some distance.
Among the most renowned, and impressive, processions is the one returning an icon from the church of Potamos, just above Egiáli, to Hozoviotissa along the "Paliá Stráta", the millennial longitudinal trail dubbed, unsuprisingly, as #1 on maps and descriptions. Nominally this can be done in 3hr 30min maximum with a daypack – a long, but not really difficult, hike – but the periforá takes its time: 4hr 30min in 2010. There are stops for various reasons: at Ágios Mámas chapel for a brief chant, at a cheese mándra for a gift of myzíthra from the proprietors, at another isolated farm that's requested a blessing, and longest halt of all at the abandoned pastoral hamlet of Asfondilítis, with its little monastery of Ágios Nikolaos and strange white petroglyphs of musicians and dancing figures – not Neolithic, but executed during the 1890s, apparently by a cripple who was poignantly excluded from the scenes he depicted. Demeanour and decorum en route varies. On the one hand there are women penintents, who do the entire route in bare (okay, stocking-ed) feet; on the other delinquent teenagers who rush ahead despite the priests' admonitions, hurling firecrackers and rocks at the hillside goats; and somewhere in between the photojournalist-guests from the Yperia event, lately perhaps 30% of the walking contingent, snapping away at anything and everything. At the end they all pour river-like down the final descent to Hozoviotissa, just before the main, most prestigious icon appears from Hora, with Abbot Spyridon standing in greeting.
RECOMMENDED WALKING MAPS AND GUIDES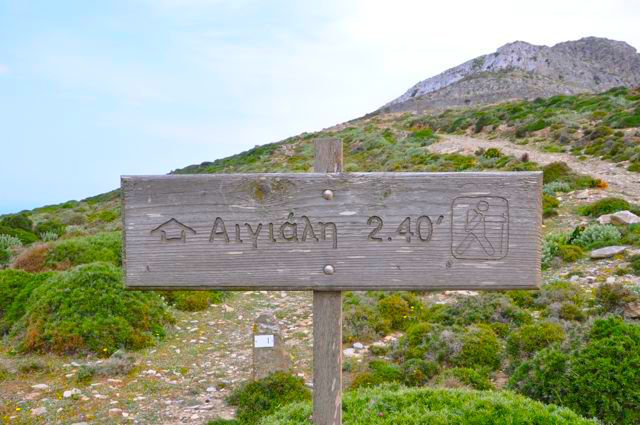 Two commercial topographic maps are available for Amorgos, both at 1:35,000 scale: one issued by Anavasi (www.anavasi.gr), the other by Terrain (www.terrainmaps.gr). Better than either if you can snag a copy – and proving the old adage that an accurate sketch map will be more usable than an overly busy topo map with extraneous detail – is the 1:10,000 "Amorgos, Footpaths of Historical and Cultural Interest" set of 4 sheets prepared by the municipality about 5 years ago and possibly still obtainable locally for free or a notional cost.
If you'll be around for a while, score a copy of locally resident Paul and Henrietta Delahunt-Rimmer's Amorgos – A Walker's and Visitor's Guide (available through the usual UK outlets or on the island).
GETTING TO AND AROUND AMORGÓS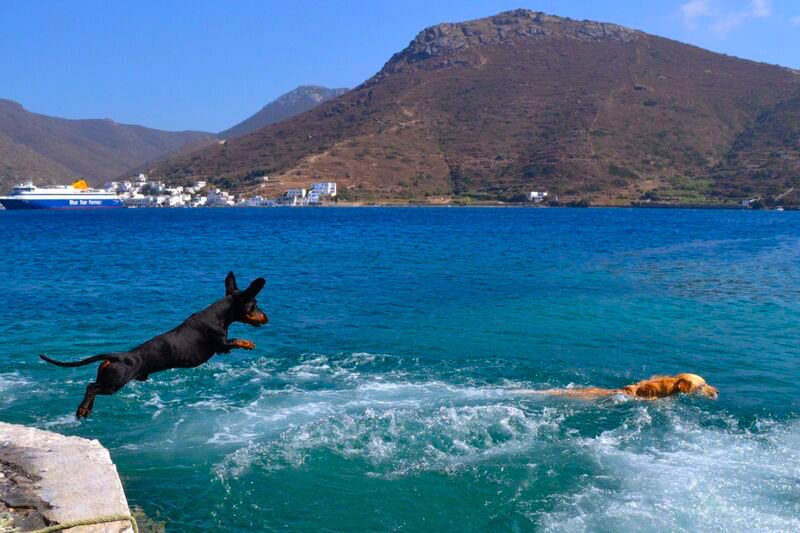 With its knife-edge topography, Amorgos has no airport and never will have one. From Piraeus, Blue Star Ferries call year round several evenings weekly (leaving at 5.30pm), via Páros, Náxos, usually Sýros, and a selection from among the little "Back Islands" between Náxos and Amorgos. Arrival is typically 1.30am in either Katápola or Egiáli – have your room prebooked and they will fetch you. The same boat continues to Astypálea before turning around immediately, so that's the Dodecanese connection (albeit at 4am).
Departure back towards Piraeus is typically 6am; if you just can't face that, the alternative is the little Skopelitis Express, which heads off at 7am from Egiáli or Katápola alternate days via all the "Back Islands" before reaching Náxos at about 11.30am. Then it sets off at 3pm in reverse itinerary, reaching Amorgos at about 7.30pm, where it overnights.
There are also a few weekly random sailings on conventional ferries based on Sýros, and in peak season only, a high-speed ferry or catamaran from Piraeus or Rafína in the morning, arriving early afternoon at Katápola and returning immediately.
There are a few car- and scooter-hire places in Egiáli and Katápola, but remember Amorgos is a walkers' island. The only semi-useful bus service links Katápola, Hora and Hozoviotissa. Taxis are few, much in demand and as expensive as anywhere in Greece – eg 20 euro from Hora to Egiáli.
Marc Dubin first visited Greece in 1978, fell in love with it, and returned almost yearly until he began living much of the time on Samos in 1989. He has written for numerous travel publishers – notably Rough Guides and Insight Guides – and on a variety of topics ranging from renovating old Greek houses and Greek cuisine to back-country trekking and Greek music. Marc has also compiled two CDs for World Music Network, Rough Guide to Rebetika and Rough Guide to Greek Café. He is an accomplished photographer and most of the pictures accompanying the articles on greecetravel.com are his. (You can click on his photos above to see them full size.) To contact Marc with offers of writing jobs or praise you can e-mail him through matt@greecetravel.com
Thank you Sabrina Polo for some of these photos!
Helpful Information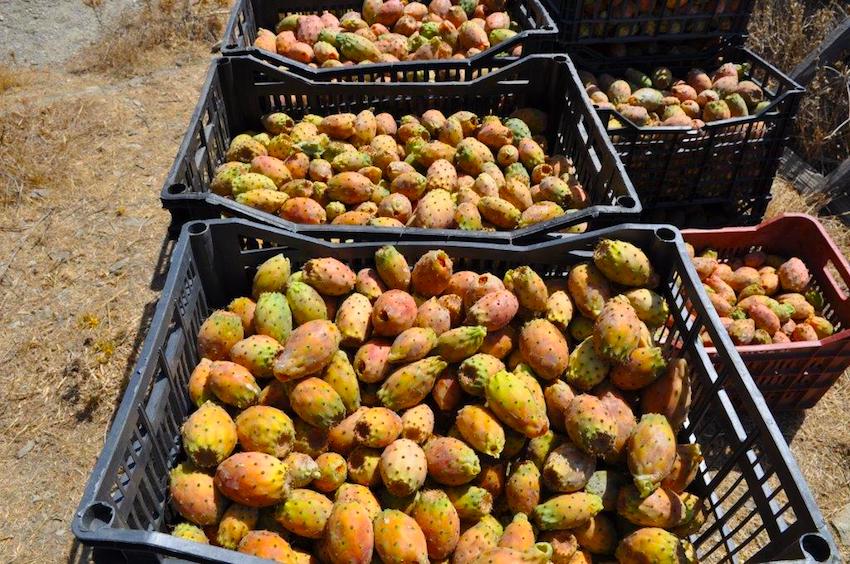 Be sure to try the local Mekila Amorgion, a distillate of 100% wild fruit of the prickly pear cactus that grows in Amorgos. Amorgion is the first company in Greece to create Amorgion rakomelo and psimeni raki, back in 2003. It was awarded three patents and turned rakomelo into a trend both in Greece and abroad. Five years ago, the company built its second factory in Amorgos, a distillery/liquor company/winery. It is there that organic wines, Mekila, prickly pear honey, organic raki and a quite distinct ouzo are produced. Visitors can take guided tours, learn how our liquors and wines are made and try all of the products (liquors, wines, loukoumia, pastelia). The factory is on the Katapola-Chora road.
For Car rentals contact Aegean Thesaurus Rent-a-car
For booking hotels, ferries and holidays in Amorgos and other Greek Islands contact a recommended travel agency at www.athensguide.com/agency.html or visit Matt's Best Hotels in Amorgos Page.

Use Ferryhopper to find all direct and indirect ferry routes for the islands of Greece, Spain, Italy & Turkey, compare ferry companies & prices, and book cheap ferry tickets with no hidden fees in one go!
Hotels in Amorgos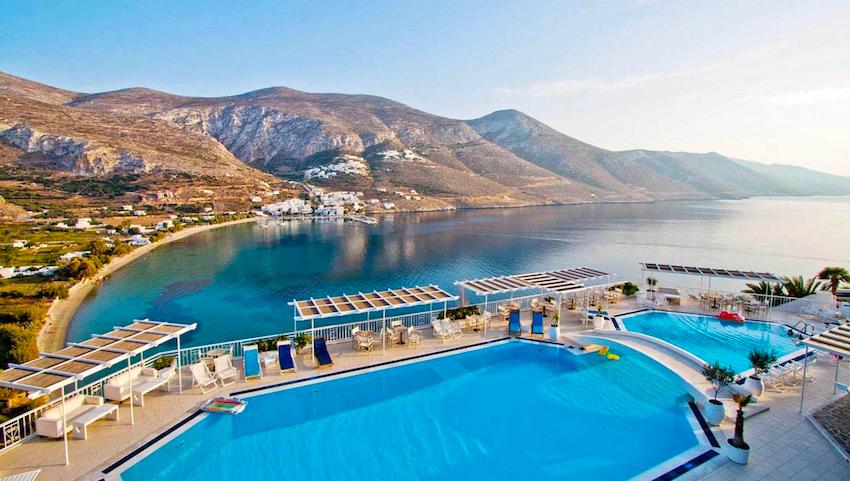 Aegialis Hotel and Spa is one of the best that Amorgos has to offer. Between the main sandy beach of Aegiali & the sandy beach of Levroso, Aegialis hotel is a maximum 7-10 minutes walk away from the crystal clear waters of Aegiali bay. The Aegialis Hotel is a kilometer away from the Aegiali port, a pleasant walk if you choose to take a stroll to the town or a two minutes drive with a car. Public transportation or taxi cabs are at your doorstep so you don't need any wheels of your own, although scooters and cars are available to rent. The overall location of the hotel is so unique that will amaze any visitor at first sight. The hotel is built on a hill, at an altitude of 80 meters, overlooking the deep blue waters of the Aegean Sea and two of the most beautiful beaches on the island. The beautiful area of Aegiali, situated in northwestern Amorgos, includes Aegiali Bay and three mountain settlements : Tholaria, Langada and Potamos. The area is rich in quaint houses, winding streets, churches and archaeological sites. Along the beachfront and in the mountain settlements visitors can spend their time relaxing at tavernas and cafés, and dancing at bars and clubs.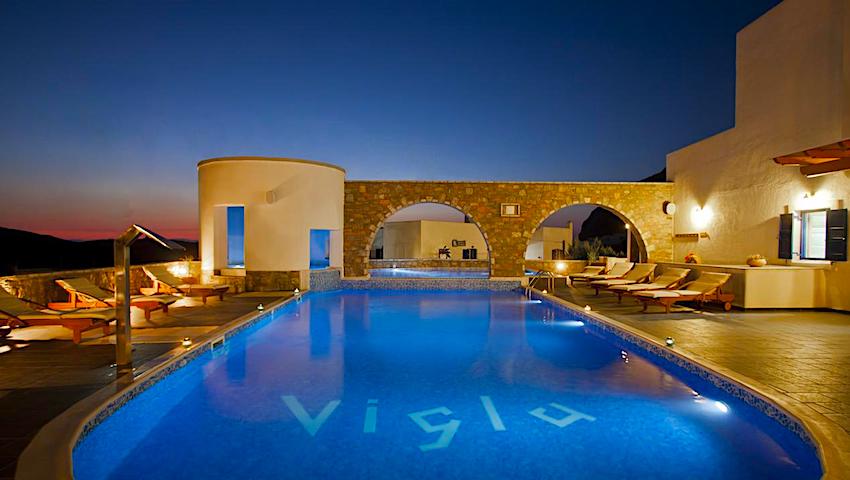 Hotel Vigla is located in the entrance of the traditional village of Tholaria, overlooking Aegiali's bay with its beautiful, arch-shaped, sandy beach. We called it Vigla in reference to the nearby site of the Acropolis of ancient Aegiali. Hotel Vigla - Amorgos is a complex of three buildings with 25 comfortable, modern rooms, built according to the traditional Cycladic architecture. At Hotel Vigla - Amorgos you can enjoy traditional greek hospitality. In our restaurant, you may also enjoy the traditional homemade dishes of our island, lovingly prepared using wholesome, pure ingredients in our cuisine. Hotel Vigla - Amorgos features 25 comfortable, bright and beautiful decorated rooms with panoramic view. There are single rooms, double rooms and triple rooms with the option of adding a forth bed to accommodate a family of four. All rooms include air-conditioning, TV, refrigerator, telephone, hair–dryer, safe deposit box and radio.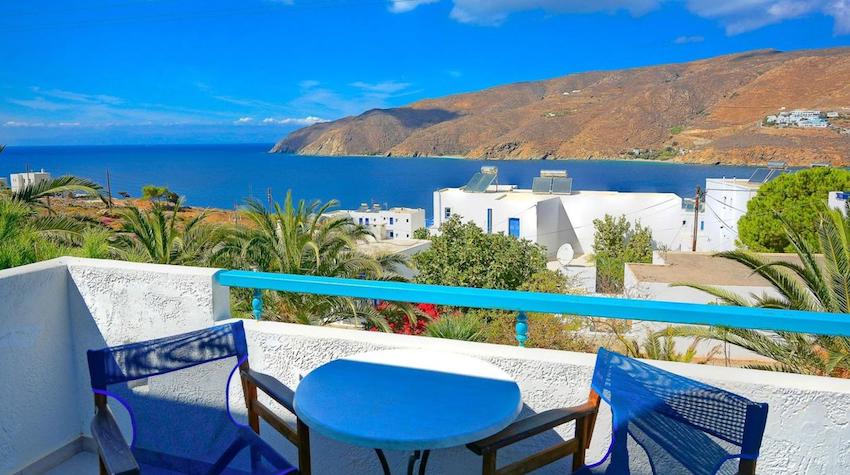 Gryspo's Hotel is located in the north of Amorgos Island, in the seaside settlement of Aegiali, at very close proximity to a stunning sandy beach and the many restaurants, cafes and bars beside the sea . The Aegiali region is a charming bay area with a port and a stunning view of the Aegean. The Gryspo's Hotel in Aegiali, Amorgos is built according to traditional Cycladic style, in shades of white and blue. It is comprised of commodious double, triple and quadruple hotel apartments. The hotel also provides guests with a variety of first rate facilities and services, in a hospitable and enjoyable environment. The Gryspo's Hotel Apartments in Aegiali, Amorgos operates from April 1 to October 30. All hotel apartments are air-conditioned (heat/cool) and include: a private bathroom, a kitchen with all the necessary utensils, a fridge, a mini bar, a phone, a TV, a radio. Several apartments also have a spacious veranda or a balcony with a spectacular view of the Aegean Sea or the countryside.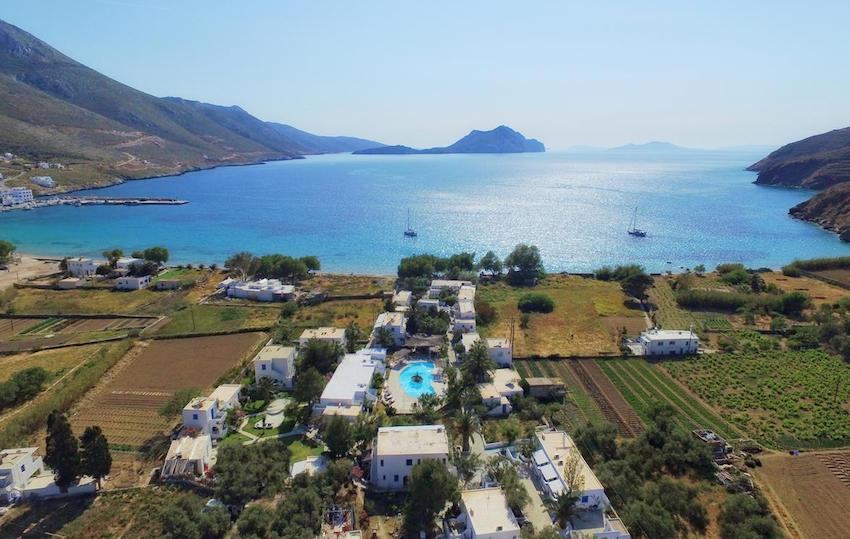 Lakki Village Apartments is a completely renovated complex located right on the sandy beach of Aegiali 300m. from Aegiali port. The complex is built in a big garden with trees, vegetables and flowers, consisting of 18 buildings of different style and size, all of them with level floor and first floor. Managed by the Gavalas family. All rooms have radio ,refrigerator, telephone, air-condition ,hair dryer, TV and all of them have a private balcony. There is a restaurant, offering tasteful Greek food, served under the trees, in front of the sea. A place ideal for anyone and a paradise for children. It's natural position on the beach promises the most unforgettable holidays. The rooms in Lakki Village in Amorgos are in harmony with the Cycladic tradition in a natural environment, all have their own entrance with terrace or balcony, view of the garden, the villages or the sea. Lakki Village tavern is open all day long and offers charming mornings romantic sunsets and tasty home cooking besides the waves. Aegiali village its located 25 kilometers away from Katapola village and Amorgos' main port, and is known for it's sandy beaches.
You can book these and other hotels through Aegean Thesaurus Travel, Fantasy Travel and Dolphin Hellas Travel. Because of the difficulty in combining Amorgos with other more popular islands it is suggested that you do book with a reliable Greek travel agency who can coordinate hotels and ferries and deal with any complications which may come up. For those who want to book directly go to Booking.com's Amorgos Page or Matt's Hotels of Greece Amorgos Page
Amorgos Diving Center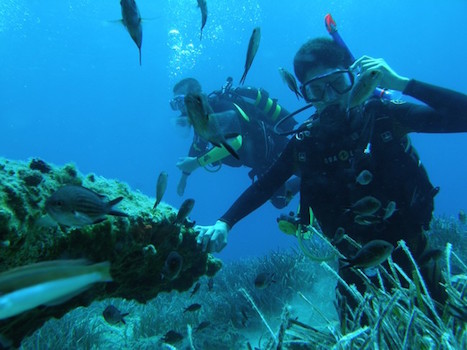 With Amorgos Diving Center you'll discover the hidden treasures of the island: shipwrecks, natural reefs and underwater caves full of colorful sponges and fishes. As a PADI 5 star Diving resort, Amorgos Diving Center offers all levels of recognized dive education from novice to professional. The international staff is very professional, friendly and always ensures the clients have a memorable time. Free diving, underwater photography, nitrox, peak performance buoyancy, night diving are some of the many proposed activities. The center and the Pro-shop are easy to find and located in the very center of Aegiali. Additionally, they can also help you organize your accommodation or transfers to the island and create programs for your activities, depending on your requirements
Tel: (+30) 22850 73611
Mobile: (+30) 69322495338
Fax: (+30) 22850 73611
Email: scuba@amorgos-diving.com
website: www.amorgos-diving.com