By Alexia Amvrazi & Adrian Vrettos
UNLIKE the other islands in the Sporades group – Skiathos, Skyros and Skopelos - Alonissos is not often expounded on in travel guides or even glossy conversations about the Greek islands. Sailing into the Alonissos harbor you instantly sense the singular atmosphere, non-pretentious elegance and relaxing appeal of this island. The colors of the sea, sky, pine and olive trees tumbling into waters, and the architectural style, immediately present a special, more individual character. Upon stepping onto the port of Patitiri, every encounter with the sociable locals only proves that here the people are surprisingly genuine, down-to-earth and tranquil, seemingly unaffected by the tourism-oriented country's prime drive to simply make money from you.
In Alonissos one really feels they are experiencing the exquisiteness, innocence and unassuming charm of how Greek islands were before the mass tourism boom, when eating fresh fish, sipping iced ouzo at twilight and listening to Syrtaki was not yet burdensomely clichéd. In fact, practically everywhere we visited we heard old bouzouki classics piping through the speakers rather than the usual dance / lounge / pop / rock songs, and although this did sound a bit cheesy it was actually also very sweet to be unassumingly transported through time.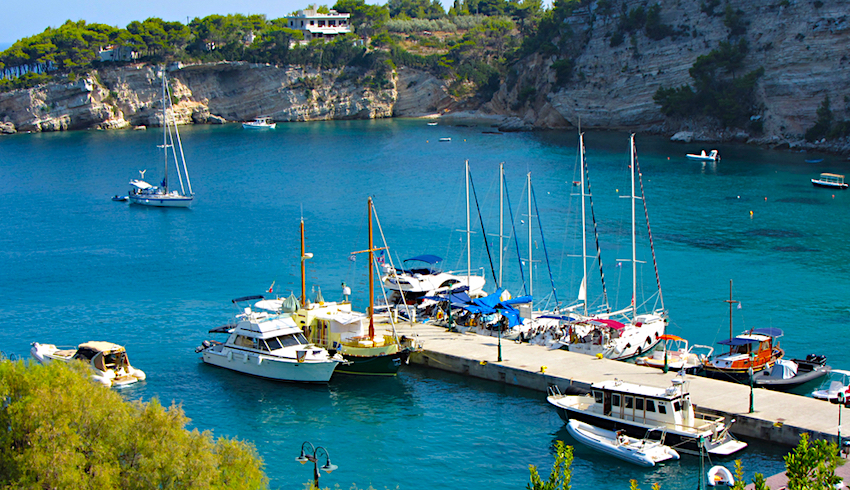 Patitiri
Patitiri
The port town of Patitiri is the island's most lively spot, but even so, manages to retain a sense of simple fun rather than turning into a mad, crowded people-watching orgy. Upon arriving at the port we opted for a refreshing glass of chilled white wine at Aesop's Cave, a café / bar with a shockingly tacky but (to be fair) original exterior where the service was so accommodating and the prices so reasonable that it became our main hangout whenever we swung that way. The café is an ideal place to meet locals and expats who have settled on the island, such as Thomas and Belinda from England who related to us how they fell in love with Alonissos when there on an accidental visit and have now retired there, enjoying long walks along the island's many (there are around 14 in total) pathways and being part of friendly Greek-foreign community. The port is lined with cafes and tavernas, and further towards the right becomes quite cosy with a small strip of smaller eateries and bars, which at night are wonderful to sit in as they face the sea and are right beside a large, limestone rock facade lit up in a soft green light.
At the port you'll find all your essentials – foreign and Greek press, the island's one and only internet café, beach and swimming gear (including fishing guns, flippers, snorkels), some trendy clothes shops and the usual tourist trinkets. The tourist offices there offer a variety of day-trips to the Marine Park (we favoured Ikos Travel Tour with the legendary Captain Pikos, whose enthralling tales about the island's history, mythology and culture are not to be missed) and other destinations, and there are also several car / bike rental places.
Once there, it's also well worth visiting the Women's Association of Alonissos, where the 15 or so women sell homemade sweets, pickled tuna, olives as well as fresh herb, spinach and cheese pies, and pasta all of which are made from traditional recipes passed on through the generations. The Association opened in 2000 and welcomes customers year-round throughout the day, aiming to keep the island's food culture alive. We were surprised to not see more use of the island's overabundance of herbs as Alonissos is renowned throughout Greece for its plethora of herbs, as they only had the usual dried sage, mountain tea, oregano, thyme and chamomile, but we found out that since the '70s the island's main industry is tourism and fishing, and that "no one can find the time to cultivate and pick herbs". The prices at the Women's Association shop are reasonable, with herb-smoked pickled local tuna at 10 euros for a large jar and traditional wedding and celebration almond and flower-water (amygdalota) sweets or walnut and honey (bourekia) sweets sold by the piece.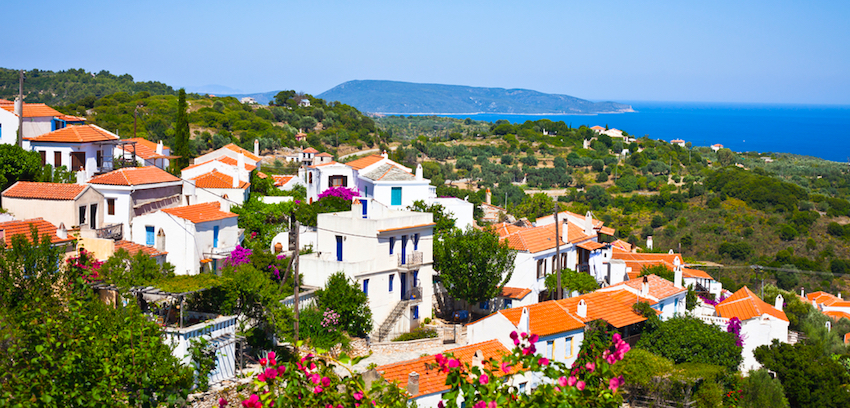 Alonissos (or Old Town or Hora)
The Old Town (Hora)
Hawks, rare passion flowers, butterflies, honeysuckle and ripe apricots make up only a part of the vibrant paradise-like environment of the old town and the island overall. In our first day in the Chora we came across an adder scuttling across the pathway and instead of feeling alarmed we were pleased to be surrounded by real, living nature, going about its own life rather than being in an environment solely controlled by man.
Even if you choose not to stay there, the Old Town is a must-see place, but try and avoid it between 11-1pm when bus-loads of tourists on cruises take over. Enjoy a leisurely ouzo or coffee at Haiati with its dramatic views of the valleys and sea. The café-restaurant, which also offers live music at night, is owned by a lady from Thessaloniki whose family originated from Capadocia in Eastern Turkey, and as both those places are known for their spell-binding cuisine it's no surprise that her food holds secret treasures from her roots (it is said that Capadocia is the place of origin for tortellini – a fact hotly disputed by the Italians) but trying the cheese and herb pitta or the minced meat pie, topped with yogurt or spicy red sauce made according to her grandmothers recipes it is easy to see why (you can order these and have them made there and then, but be prepared to wait 20 minutes).
Strolling through the Old Town is a mesmerising experience because of its distinct traditional style, with cobblestone streets, stone stairways sharply leading you into veiled pockets where you'll discover small, long-established stores with homemade food products or wines and hand-picked medicinal herbs. Take in the Venentian-inspired golden and rust-coloured architecture and above all, a sense of calm, easy living, where, as locals will tell you, a sense of innocence and trust pervades. Within one day of staying there we were on first-name basis with various shop-owners and taverna waiters, and our second favourite café, Aerides, set in a shady, green-filled little square and decked out with wooden benches, tables and chairs, had no qualms to lend us their backgammon set for a couple of days. The nightlife is more on the quiet side, but you can head to the newly opened Sofrano bar near the main square, where you can stay long enough to soak in the awe-inspiring sight of sunrise over the sea and mountains.
In the Chora you will find two mini-markets and several tourist shops selling toys modelled on the Monachus Monachus seal and on dolphins, T-shirts themed on the marine park and traditional food, cosmetic products and trinkets.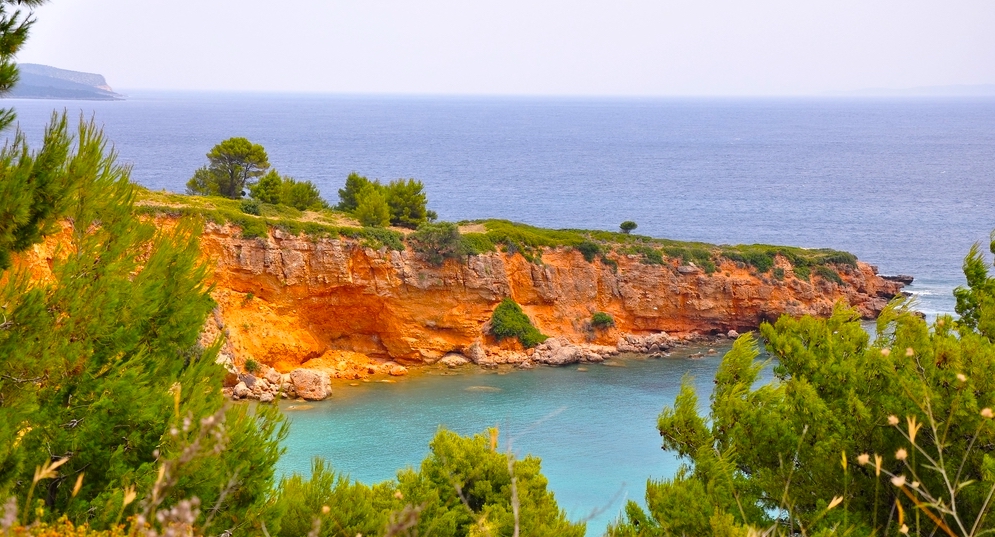 Kokinokastro
History of Alonissos
History maintains that the Cretans, led by the legendary hero Staphylos, established colonies on Alonissos (then known as Ikos) during the Minoan domination of the Aegean Sea, circa the 16th century B.C. The Minoan colony, which later became Mycenean, stood on the site today known as Kokkinokastro. History says that the Geometric period finds Ikos under the domination of the Dolopes, who emerged eventually as a pirate group that terrorized the Aegean, until the Athenian navy crushed their force under the leadership of Kimon, who in 476 B.C. annexed Ikos to the first Athenian Alliance.
During the classical period Ikos is said to have been made up of two cities, Kokkinokastro, where ruins of a fortified wall remain today, and the village of Old Alonissos. During this period the island was renowned for its vineyards and its exceptional wine. In 190 B.C. Ikos was occupied by the Roman navy, and, the next period documented historically, fell into the hands of the Venetian Ghisi family in 1207, after which it was occupied by the Turks in 1538 under the control of the savage pirate Khair-ed-Din Barbarossa, who is said to have slaughtered the entire population of the Old Town. The Turkish domination continued until 1830 when Alonissos became part of the new and free Hellenic State, together with the rest of the Sporades Islands.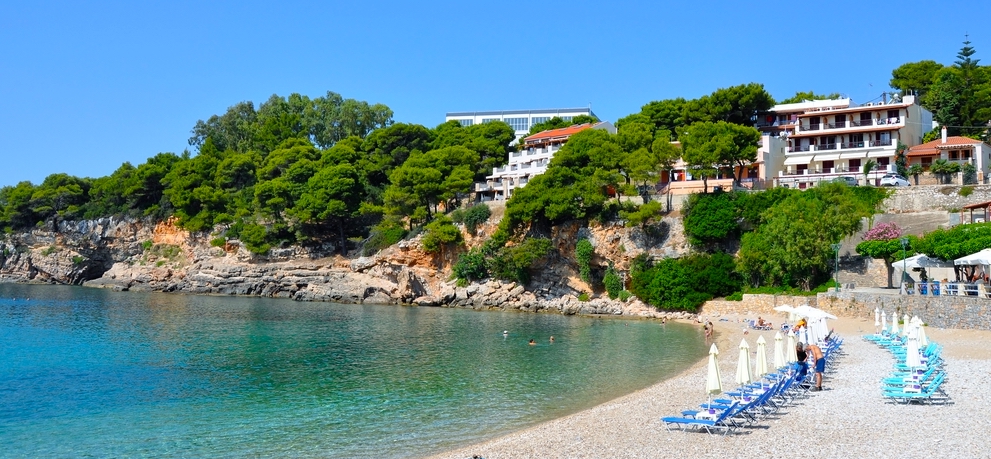 Rossoum Gialos Beach
Beaches of Alonissos
The Island's beaches are generally characterized by their exceptionally clean, cool, crystal waters, most of which are a sparkling emerald or turquoise colour. Every beach we visited, however, has its own distinctive character. Here is a listing of our top 5:
Megalos Mourtias: Lounging on the foothill below the Old Town in the neighbouring gulf, this beach has flat stones and is flanked by rocky walls. As with most beaches on Alonissos there isn't a mass of chaise longue and beach umbrellas taking over the beach, but there are a few straw umbrellas and chairs and there is a patch of olive groves behind the beach where you can take a snooze. We had lunch at the prettily decorated Meltemi, surprisingly it was rated by Athinorama magazine's gastronomic supplement as serving the best lobster pasta.
Milia: This long bay emerges after a small trek through a thick pine-forest and has both sand and stones. The sandy sea-bed feels crunchy when you step on it and you might smell something that reminds you a little of sulphur, which locals offer various renditions to explain: some say it is indeed beneficial sulphur, while others say it's the black seaweed growing in the sea bed, is considered to be very rejuvenating for the skin and even able to treat cellulite. The beach has no umbrellas or bar but its crystal clear waters offer a refreshing respite from the summer heat.
Kokkinokastro: The deep blue sea, imposingly tall red rocks, yellow sand, pine trees and colourful pebbles make this ancient settlement one of the most impressive beaches on the island. On this reasonably large beach you can also rent out a pedalo or canoe for some beach action.
Yialia: This tiny cove is characterized by the windmill that stands on its left-hand edge and pebbles in different shades of grey. As you enter it suddenly plunges into deep, cool water, and we found it was the perfect beach from where to watch the sun set, while inside the sea.
Tsoukalia: This archaeological site is most unusual as it used to be the home of a pottery factory, and until today the entire beach is scattered with broken bits of pottery from vases and vessels that look new but are actually at least 2000 years old. If you go snorkeling you will also spot large vessels broken into chunks and serving as fish hotels as they sit lodged between rocks. Simmers will also enjoy a little cove off the left hand side of the beach where one can lie on the pebbles in complete privacy after a 15 minute swim.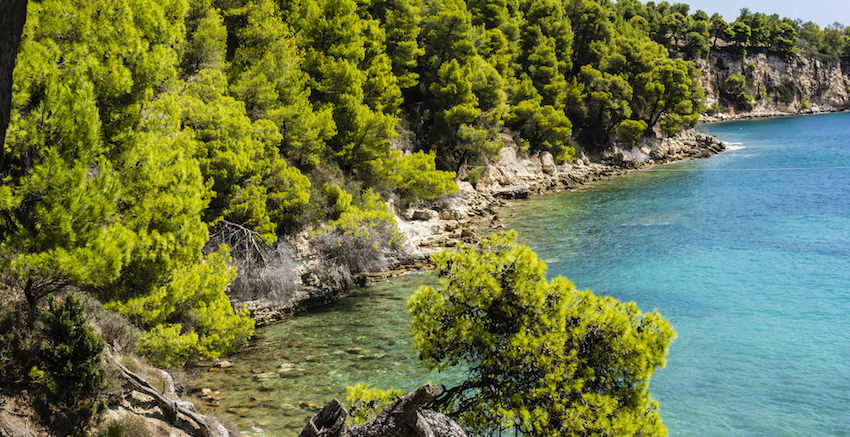 MARINE PARK & DAILY EXCURSIONS
The National Marine Park was founded by Presidential Decree in May 1992 and protects 10 percent of the world's endangered Monachus Monachus seal population, which is one of the largest seal species in the world, with a length of 2-3 metres and an average weight of 250 kg. The Mediterranean monk seal is represented on ancient Greek coins and passages by Homer describe it basking in the sun on sandy beaches. The Alonissos municipality writes that "Today, the largest population of seals in the Mediterranean is found in Greece, spread out over the whole of the Aegean and Ionian Seas, while it is significant that the species has essentially disappeared from the industrialised Western Mediterranean. This makes it easy to appreciate the importance of the Park in protecting the seals. Because of its morphology and position, the Park is an ideal habitat, rich in food. The active participation of the region's fishermen and the fishing Cooperative of Alonissos in the protection effort is significant, and has largely contributed to the elimination of the deliberate killing of seals in the area of the Park."
Alonissos is the largest island in the Park, which also encompasses six smaller islands (Peristera, Kyra Panagia, Gioura, Skantzoura, and Piperi) and 22 uninhabited islands and rocky outcrops. The day trip includes visits to all these places.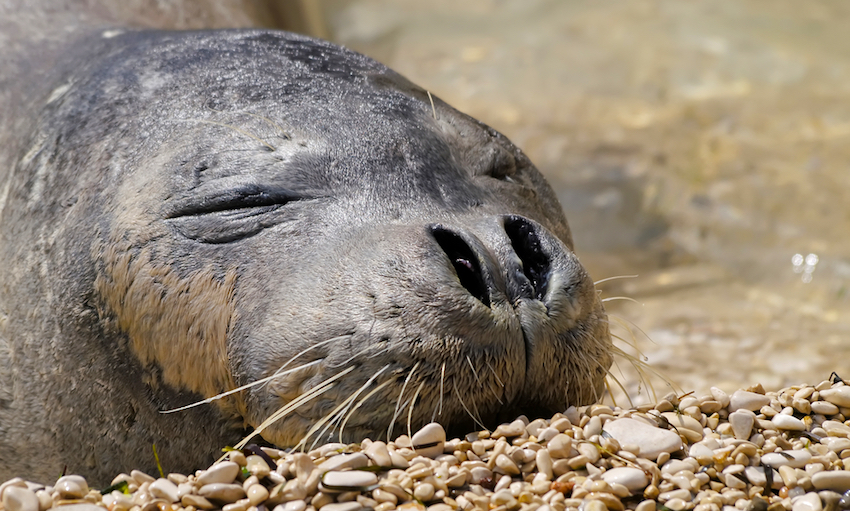 WHERE TO STAY
Alonissos offers a broad choice of accommodations around the island: rooms-to-let (you can find the Association of Rooms-to-let Owners at the port) and studios or apartments, especially in Patitiri, the Old Town, Rouroum-Yialo, Votsi, Steni-Vala, Milia and Kalamakia. You can also find quality A to C class hotels and bungalows, as well as two camping sites, at Steni-Vala and Plakes near the harbour. The latter campsite, called 'Camping Rocks' had come highly recommended by nature-loving friends, as it is set in 13 stremmata of pine forest only 50 meters from the beach of plakes, (flat rocks). It has W.C. and shower facilities, a kitchen area with a grill and sinks while, from next summer ('08) it will also open a cafeteria serving breakfast and snacks. Upon visiting the site we spoke with owner Giorgos Agalou who was sweatily busy renovating it for the high season. There was no one staying there at the time and although such circumstances can be ideal for some we opted to stay in the peacefully serene Milia Bay and later the wonderfully picturesque Chora instead. See Booking.com's Alonissos Page and for villas, holiday homes, self-catering apartments and Air BnB style accomodations see Matt's Alonissos Villas page.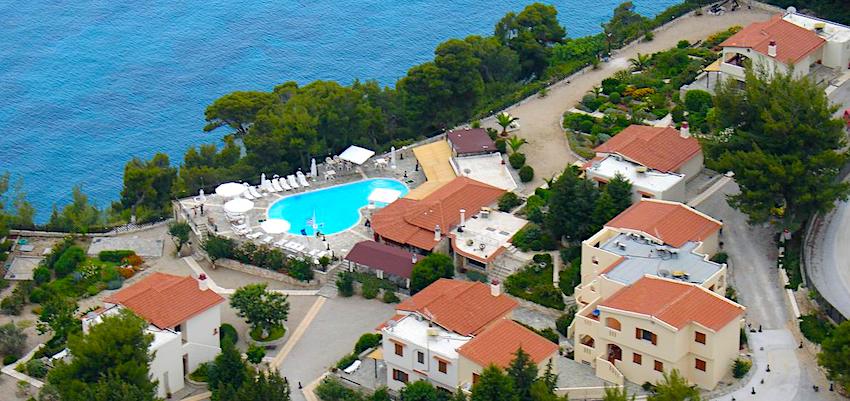 Milia Bay Hotel and Apartments
Milia Bay Hotel and Apartments, with its breathtaking views of Milia Bay and the Aegean archipelago, is set in a lush, whispering landscape and offers sunny studios as well as one and two bedroom apartments decorated with traditional and antique furniture. Its overall style and décor reflect its owners, the Meyanas family, who are low-key, graceful and friendly individuals with a long experience in hospitality and a great connection to every aspect of life on Alonissos. You can enjoy tasty, homemade-style breakfast, lunch or dinner at the Sifandas restaurant veranda by the pool, overlooking the serene seascapes, or even choose to cook your own dinner in the summer villa-like ambience of your own apartment, since each accommodation is supplied with a kitchenette, (all cooking materials and fridge included). Andreas, who runs the hotel with his Belgian mother and sister, is also the Tourism Director for the Alonissos Municipality, and will generously offer you any kind of advice and information on what to see and do. In our first encounter he offered us a hand-painted map of the island and instantly got on the phone to help us book a brand new jeep for a bargain price. Everyone we met on the island had only the best things to say about the family and the scenic hotel. Another plus is that Milia Bay is only 10 minutes walk from Milia beach (see beaches). For Photos, Reviews and Booking Information Click Here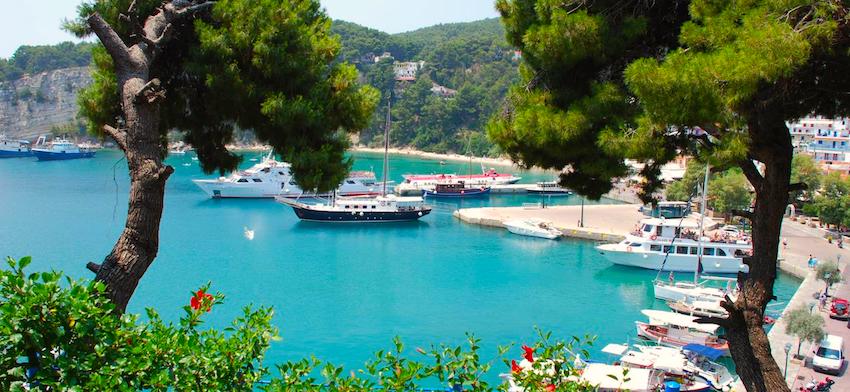 Pension Nina
Pension Nina is 2 minutes walk from the beach and overlooks the port of Patitiri, with its cafes and tavernas. It features traditionally styled rooms with free Wi-Fi and views of the sea. Pension Ninna's colourful rooms include handmade iron beds, a TV and refrigerator. Each is air conditioned and has a private bathroom with hairdryer. Apartments and studios with kitchenettes are available. For Photos, Reviews and Booking Information Click Here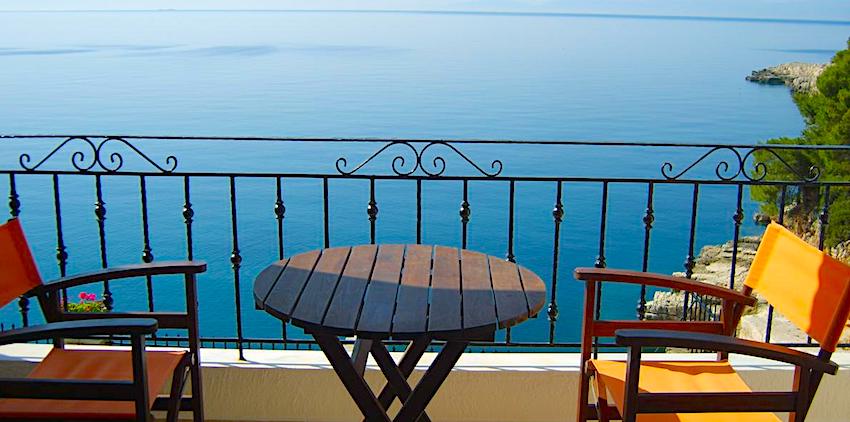 Yalis Hotel
Located in Vótsi, Yalis Hotel features a seasonal outdoor pool and sun terrace. Guests can enjoy the on-site restaurant. Free WiFi is featured throughout the property and free private parking is available on site. Each room has a flat-screen TV. Certain units have a sitting area where you can relax. Certain rooms include views of the sea or garden. Each room is fitted with a private bathroom. For Photos, Reviews and Booking Information Click Here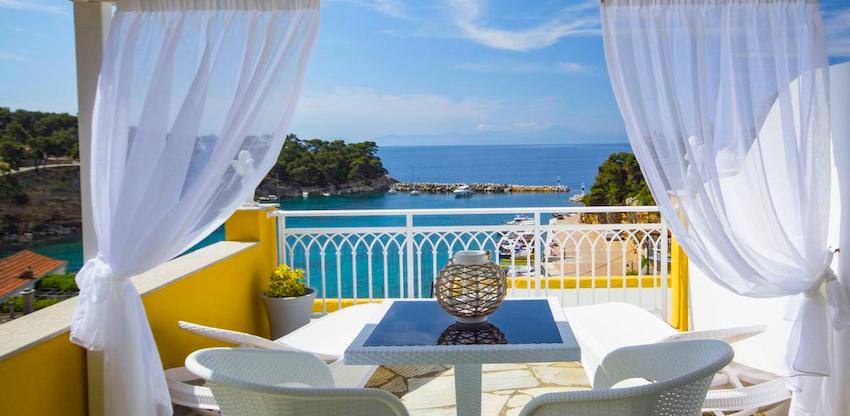 Pension Votsi
Located in Vótsi, just a 2 minute walk from the beach, Pension Votsi features free WiFi, a garden and sun terrace. The property is air conditioned and features a satellite flat-screen TV. A refrigerator and coffee machine are also featured. There is also a kitchenette in some of the units equipped with an oven and stovetop. Every unit is fitted with a private bathroom with free toiletries and a hairdryer. Bed linen are provided. For Photos, Reviews and Booking Information Click Here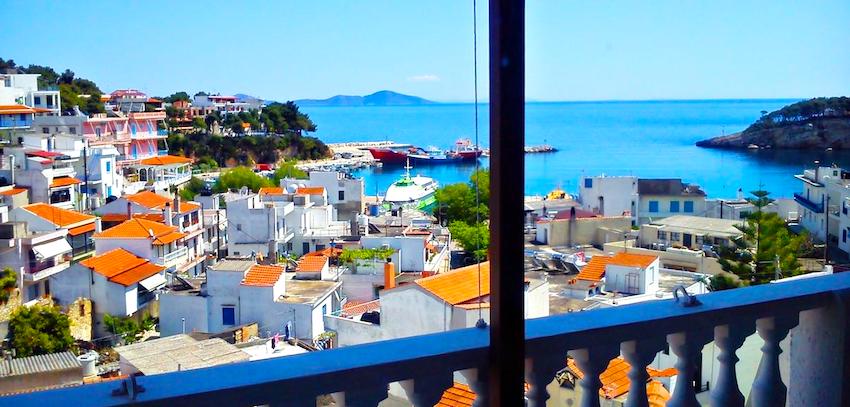 Angelos Apartments
Showcasing a sun terrace and views of the sea, Angelos Apartments is located in Patitírion a one minute walk from the beach. Featuring a balcony, the accommodation has a dining area and a sitting area with a cable TV. There is also a kitchen in some of the units equipped with a refrigerator. There is a private bathroom with a shower and slippers in each unit. For Photos, Reviews and Booking Information Click Here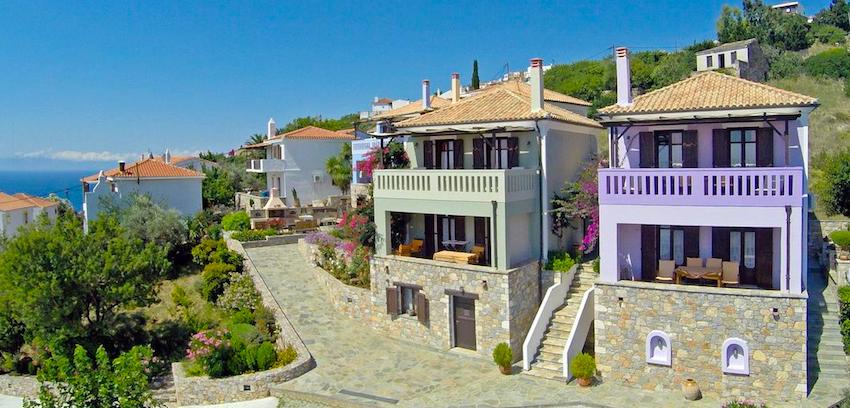 Old Village
Old Village is in the village of Alonnisos. With interior stone finishes and wood beam ceilings, the 2-story villas feature free Wi-Fi and a furnished balcony with mountain and Mediterranean Sea views. Modernly decorated, the units include an open-plan living, dining and functional kitchen area with a ceramic top stove. Each features a fireplace, flat-screen satellite TV and CD player. They include 2 bedrooms and air conditioning. Old Village provides private parking on site. The main port of Patitiri, traditional taverns, cafe-bars and shops are all 2 miles away. For Photos, Reviews and Booking Information Click Here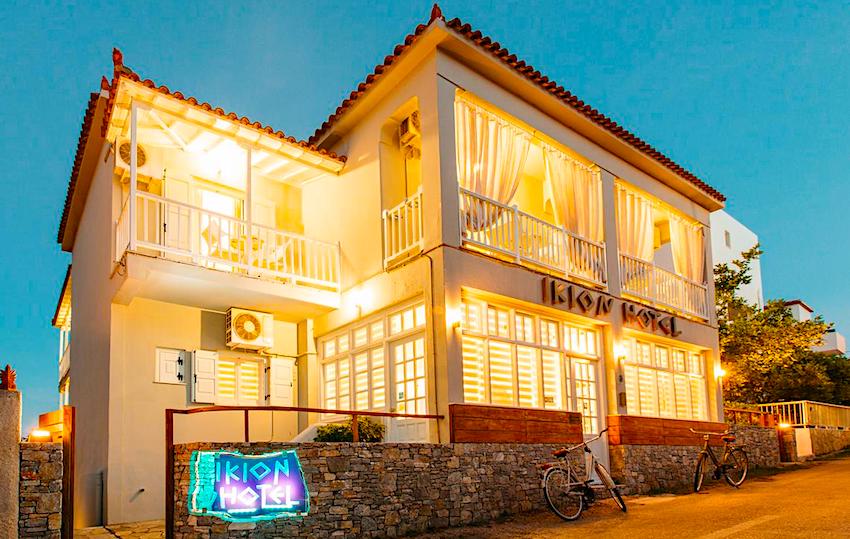 Ikion Eco Boutique Hotel
This fully renovated green hotel in Patitiri, is only 500 feet from Roussoum Gialos beach. It features a spacious breakfast lounge and luxurious rooms with free Wi-Fi. Ikion Eco Boutique Hotel is comprised of bright and airy rooms with furnished balconies with view of the sea or the mountain. Family rooms are also available. All units are air-conditioned and feature a multitude of amenities including anatomic mattresses and pillows. A healthy breakfast, prepared with local ingredients and enriched with homemade Greek flavors, is served daily at the dining area. Restaurants and mini markets can be found within a short walk of the property. The bus stop and shopping area are just 300 feet away. The port is just over a quarter mile from the Ikion Hotel. The front desk is open 24 hours, offering information on car rental, excursions, tours, activities, ticket reservations and more. For Photos, Reviews and Booking Information Click Here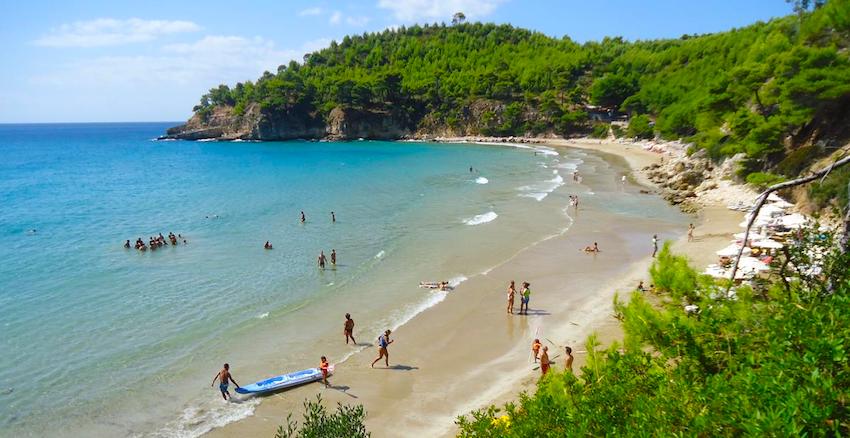 Alonissos Beach Bungalows And Suites Hotel
Right on its private beach area of Chrisi Milia, the 4-star Alonissos Beach features elegant accommodation, an outdoor pool and tennis court, amidst lush greenery. Dining options include a rooftop restaurant, poolside bar and snack bar. Fitted with light wood furnishings, all air-conditioned rooms and suites open to a balcony, some with Aegean Sea view. Each has a satellite TV, mini fridge and free toiletries. Some also offer a private pool or outdoor hot tub. Guests at Alonissos Beach Bungalows And Suites Hotel can start their day with a buffet breakfast. Greek and Italian dishes, enriched with local specialties are served at the on-site restaurant. Enjoying sea views, the 2 bars prepare snacks and cocktails. Sport facilities include a 5x5 soccer field, well-equipped gym and games room with billiards and table tennis. Guests can spoil themselves with a massage treatment, steam bath or sauna. Free Wi-Fi is available in the reception. For Photos, Reviews and Booking Information Click Here
Elma's Houses
Wishing to experience various aspects of the island, we chose to also stay in the quaint Chora (the Old Town of Alonissos). During a visit to the shop Gorgona, a three-storey antique shop showcasing a great deal of the island's but also the country's culture and tradition, we discovered that its owner Elma, who is an architect and photographer (you'll find postcards with her pictures in various spots around the island) had just finished renovating three traditional houses designed to accommodate eclectic vacationers. Elma's Houses, located on the hillside of the Old Town and reachable via a short walk down characteristic lovely cobblestone steps heading towards the Old School, were exactly what we wished for before knowing they existed. With support from the European Union and the Greek National Tourism Organisation, Elma fully renovated the houses (joined by a pretty courtyard and overlooking the sea) following strict guidelines to not disrupt or change any element of their traditional style. The result is fully self-sufficient accommodations suited to modern needs with unique island old-style charm – such as the raised bed, the fireplace decorated by hand-painted plates, and the ceiling-door that separates the downstairs from the kitchen and sitting room upstairs. We relished sipping our Greek coffee and eating fresh bread slathered in apricot jam made by Elma's husband on our little balcony overlooking the sea, red ceramic tiled rooftops and trees while staying in the Blue House.
For these and other hotels in Alonissos see Booking.com's Alonissos Page and for villas, holiday homes, self-catering apartments and Air BnB style accomodations see Matt's Alonissos Villas page and also Matt's Suggested Hotels in Alonissos.
WHERE TO EAT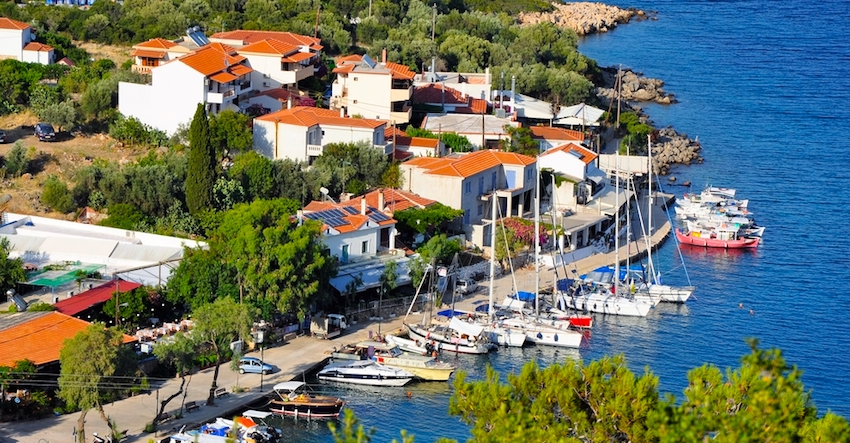 Steni Vala
There is no doubt in the Alonissian universe that 'Tassia's Cooking' in the lovely, tiny fishing village of Steni Vala serves the most scrumptious food. In our 10-day stay on the island we went there three times, and it is really one of those places that you know you'll dream nostalgically about after you leave. Head to Steni Vala just after sunset and as you approach along the curvy road, stop to get a birds eye view of the fairy-tale like village: the glittering sea, dim lights and thick greenery where fishing and sail boats huddle together in the marina. At Steni Vala, where one can also find accommodation, there are another two tavernas and a café. We hit the culinary jackpot by following the travelers wisdom that you should opt for the restaurant where you see the most locals, although many foreigners step off their sail-boats to enjoy the restaurant's fresh seafood and fish dishes, creamy feta cheese, crunchy salads such as the very rarely found kritamo, which usually requires acrobatic skills to pick as it grows on the craggy edges of rocks towering over the sea and feeds chiefly off the salt and iodine rich sea air. Although lobster is the island's trademark seafood, for us the main attraction was Tassia's amazing crayfish pasta (karavido-makaronada) which even by Alexia's raised-in-Italy standards was cooked to perfection and exactly as teasingly spicy as we indulgently requested. We did also try the lobster pasta (a Greek obsession and never below a biting 60 euros in price on islands & mainland alike) and although tasty it paled in comparison. The service at Tassia's is very friendly, with waitresses comfortably chatting to us about their careers in athletics and a maitre'd / sports trainer, and the décor is perfectly cosy, with the large veranda bedecked by a multitude of robust local plants like gardenia, jasmine and basil, the smells from which waft through the air as you smile into your hima wine.
In contrast, Kalamakia, the island's other small fishing village, was a disappointment. Although aesthetically this too is attractive enough, with its marina full of local fishing boats and tavernas named after the sea hunters, the taveras here were so obviously geared at tourists, and the service and food so average, that there was simply not enough magic to tie in with the rest of the island. Plastic signs advertising food in English are set outside each place and the lighting is neon striped, something which we frankly will only tolerate in the Athinas meat-market in central Athens at 5am.
Art, Artists and Healers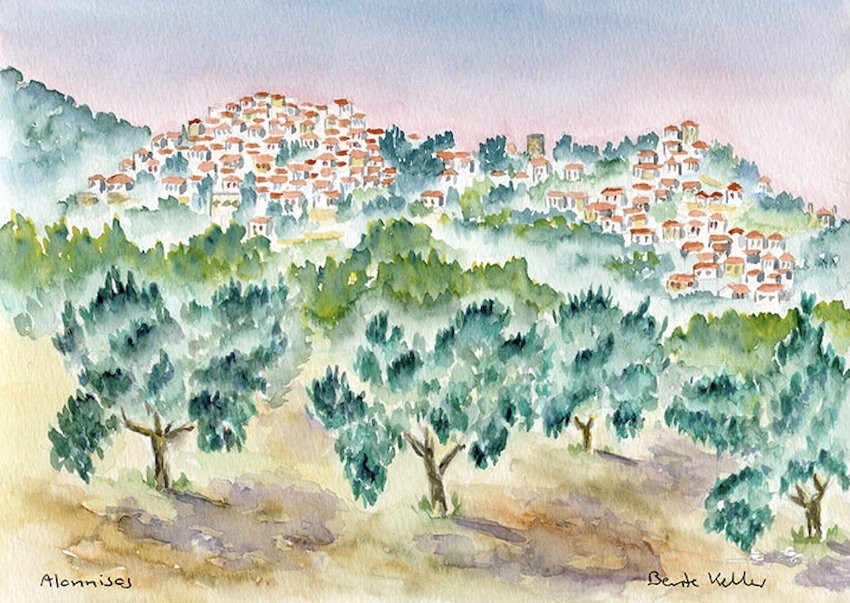 Old Town by Bente Keller
Bente Keller & Ilias Tsoukanas: (www.bentekeller.gr) are hot stuff on the island, and you will inevitably hear about them during your visit or spot one of their two comprehensively researched and colourfully informative books, 'Alonissos on Foot' and 'The Alonissos Guide' at some point. The Danish-Greek duo (Bente arrived on the island 20 years ago and eventually married Ilias, a former fisherman) are youthful and energetic. They have intimate knowledge and understanding of the island which they express in their books. These are filled with Bente's landscape watercolours depicting Alonissos. You can visit them at 'gallery 5' in the Old Town. There you will find original artworks, prints, homemade candles and ceramic art from the Sporades islands.
Professor George Vithoulkas at the Academy of Homeopathy: In Alonissos you can find The International Academy of Classical Homeopathy (I.A.C.H.), directed by Professor George Vithoulkas. Doctors from around the world flock to the island for his seminars courses, and locals speak of him with awe. Even though he is extremely busy, his very capable and organised staff will show you around and advise you on any books of his you might be interested in buying.
Bibi and Lee Hamblin have just built their house / yoga studio / therapy space called Kali Thea (Fine View) (www.kalithea.org) on Alonissos where they moved to from London. The dynamic and charismatic couple offer a series of alternative therapies such as hot stone, Swedish, Thai and reflexology massage as well as 1-week-long Ashtanga and Hatha yoga classes catering to groups or individuals. Both Lee, who used to work as a song writer and music producer at Island Records and practices Ashtanga at least two hours per day, and Bibi, who met Lee at the same workplace in 1989 and in her gradual attraction towards healing went to London's College of Psychic Studies, are both highly qualified and fully live their art. We tried the Thai and Swedish massages, which had profound energising and relaxing effects respectively, and enjoyed speaking with them about their new life adventure on the island.
Scottish-born John Simpson settled in Alonissos seven years ago, having fallen head over heels with the island and feeling he was answering a calling to create art there. With a background in social services in England and dairy farming (as well as learning and successfully practicing Bioenergetic Farming) in New Zealand, the youthful, spiritual and charming Simpson has become quite a legend on the island, where his art is exhibited in the museum. Find out more about the sculptor and his work on: www.sculptinglight.net or call him directly at: +30 6972 127 405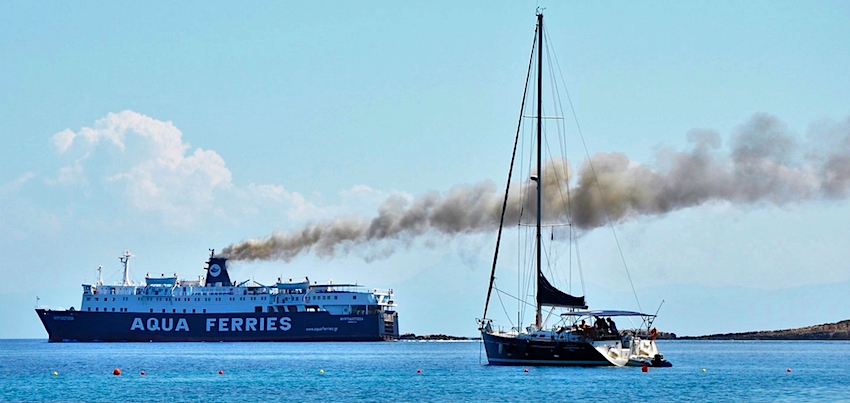 How to Reach Alonissos:
Ferryboats connect the island with Volos and Agios Konstantinos (maybe). During the summer it has also connections with Thessaloniki (maybe) and Kymi. These connections link also Alonissos to nearby Skopelos, Skiathos, Skyros, Evia, and to the Peninsula of Halkidiki. For ferry schedules see Ferryhopper.com
For help with ferries, hotels and travel to and from Alonissos contact Aegean Thesaurus Travel
For transfers to and from Agios Konstantinos or Volos from Athens contact George the Famous Taxi Driver
You can also take the bus from Terminal B at At 260, Liossion St in Athens. They run just about every hour. To get to the bus terminal from the airport take the 93.
One way to see the island of Alonissos is by sailboat. See Sailing in Greece
You can usually visit Skiathos, Skopelos, Skyros and Evia from Alonissos, by ferry and by sailboat. For assistance in booking an itinerary with these islands please use Matt's Create-an-Itinerary Form
For more articles by Alexia Amvrazi & Adrian Vrettos be sure to visit their website at www.athensguide.com/journalists/

Use Ferryhopper to find all direct and indirect ferry routes for the islands of Greece, Spain, Italy & Turkey, compare ferry companies & prices, and book cheap ferry tickets with no hidden fees in one go!