Symi: A Local Perspective
In June 1991, I went to Symi with my husband for a two week holiday through a tour operator. The villa we had booked was overlooking the harbour and had, according to their brochure, 'spectacular views'. As we arrived late at night, after a long journey from the UK, we were obviously unable to see if this was true. I therefore couldn't wail until the following morning, so as to see it properly. No brochure description, however, had prepared me for what I was about to see and experience the following morning after opening the shutters. I was literally stunned by the view! Not only was it breathtaking, I felt as if I had stepped into another world entirely; I could not have asked for a better and more rewarding first visual contact with Symi in the daylight. Added to that, the villa itself was a beautiful old house and authentically rustic. The whole holiday could therefore not help ending up being truly unforgettable and I remember upon leaving on the ferry, as the wonderful harbor gradually disappeared in the background, I made myself a promise that we would have to return 'soon'.

Life has a way of turning out different to one's plans, however, and even though we talked about it several times, one thing or another dictated that it would be eleven years before we set foot on Symi soil again.

It was during 2002 that we put plans in motion to leave the UK and move to a Greek island. We were considering several, but funnily enough Symi was not one of them: as we thought it might be too small and too inaccessible in the winter. Rhodes, however, was one of our choices and so when we came over to undertake some 'research', Symi was too close not to at least take a day-trip over for 'old time's sake'. The rest though is, as they say, history.

We ended up staying a week and during that time, we had made friends with the couple that we would eventually start the Symi dream website with, amazingly re-acquainted ourselves with islanders and ex-pats who had been on the island back in '91 (and remembered us) and rented a house from January the following year; which gave us three months to go back to the UK and actualize our plans. Thankfully when we were on the island, we had been looking at it not through rose-tinted glasses, but with the stark reality as to what it would actually be like to live on such a small island out of tourist season. This held us in good stead, as after we moved here, the island experienced its worst winter for thirty years, but thankfully this did not diminish our enthusiasm.

Fate still had one card up its sleeve, however, and that was during the first summer I was offered work as a rep by the very same tour operator we had traveled with all those years ago. I therefore ended up looking after guests staying in the exact villa we had stayed in all those years before.
Now that I have been here for nearly two years, I can say that for me living in Symi is a very valuable experience; productive but challenging at times, easy going yet exhilarating at others.
As for visitors to the island, they are always stunned by the natural beauty and architecture of the place, as well as the welcome they receive from the locals. Most café and Taverna owners will remember you even if you have only visited the island once and it was a number of years before.

It is now time to hand out some info though…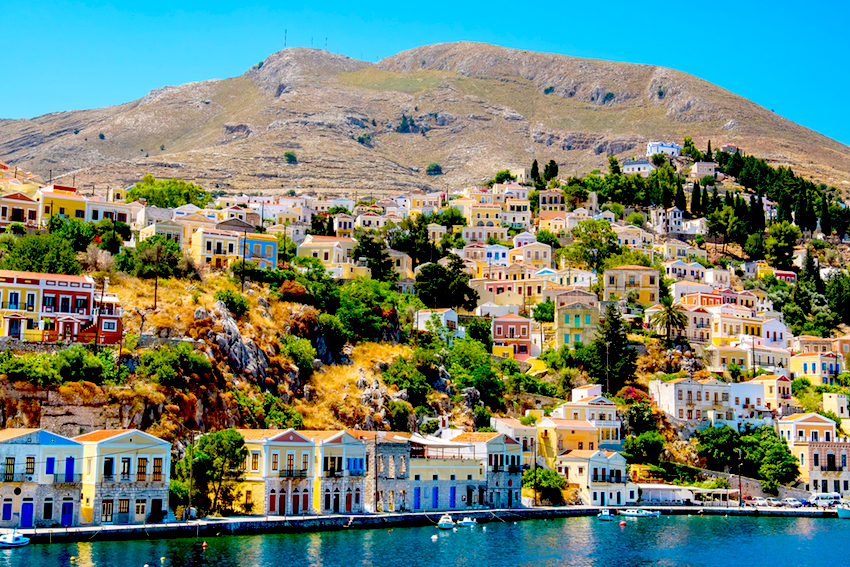 GETTING THERE
As the nearest airport is on Rhodes, all access to the island is by boat. During the tourist season you can probably reach Symi from the majority of the surrounding islands, but the most usual way will be on the various ferries, hydrofoils, or catamarans that leave from Rhodes to Symi on a daily basis and take between 1-2 hours depending on the type of boat. If you plan to travel outside the tourist season, however, be warned. Symi can, and often does, get cut off for up to a week during the winter due to bad weather and also much fewer boats serve the island. For ferry information try www.ferryhopper.com

Getting to Symi is a little easier these days, There are two ferry company options (although there is rumours of a third starting in 2018).
Blue Star ferries between Symi and Rhodes: Every Wednesday and Friday, leaving Symi at 8.15am or 7.45am (roughly)and departing Rhodes at 3pm and 7pm respectively. The journey takes around 1.5hrs and the company operates pretty reliably throughout the winter also (weather permitting).
Dodekanisos Ferries: They have schedules during the winter (less reliable) and during the summer. They tend to operate at least 1 boat a day during the summer season.
It is also possible to fly to Kos and take a ferry from there, operating most days during the summer season but best to check the schedules at www.ferryhopper.com
You can also fly to Athens and take the ferry to Symi directly from Piraeus with Blue Star ferries. it is best to check the timetables at www.ferryhopper.com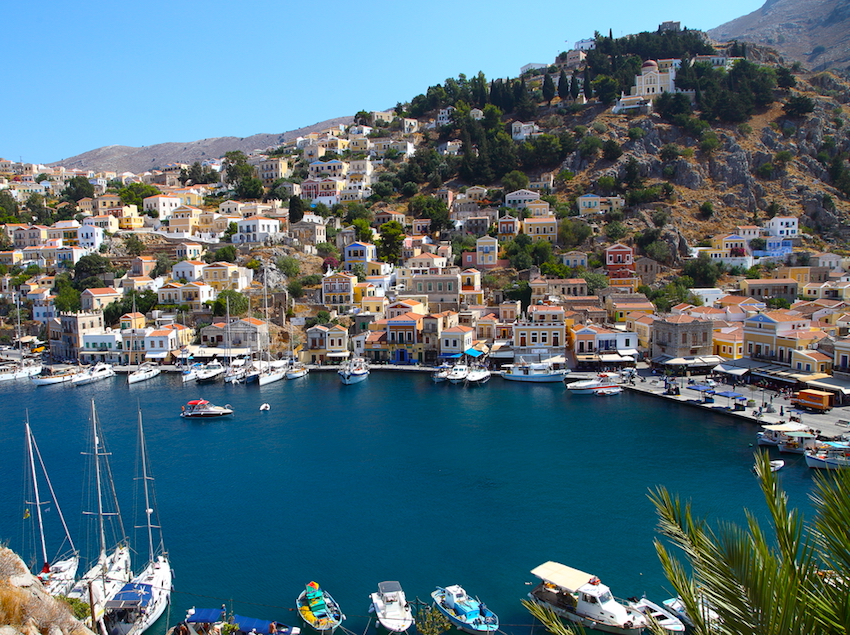 THE ISLAND
Symi is located in the Southern Dodecanese, situated between the larger island of Rhodes and the Turkish coast. Arriving at the main harbour sees Symi at its most spectacular; with its outstanding architecture and beautiful hills surrounding it! The majority of the island's population (approximately 3.000) live in the two districts, Yialos and Chorio, which make up the main settlement on the island: Symi Town.

Yialos (or bay, in Greek) contains the harbour; a beautiful small port, cosmopolitan in character, with a diverse variety of tavernas, bars and cafes strewn around the quayside, while the Chorio (village) further up, although less developed, retains a sense of the old Greece, with its narrows passages, traditional kafenions and its numerous old ruins. The two districts are connected by the famous Kali Strata; a spectacular set of 375 or so (opinion varies!) stone steps.

OTHER SETTLEMENTS OF THE ISLAND…

NIMBORIO: Up to an hour's walk from Yialos, depending how leisurely you want to take it, although also accessible by taxi boat. This is a small centre with a few houses and one taverna that is open during the summer season. In the old days this used to be a commercial harbour, hence the name Nimborio, which stems from 'Emborio' meaning commerce. The only sign of commerce nowadays, however, is a fish farm further into the bay, where sea bass and sea bream are bred.

PEDI: A quiet bay easiest reached by bus or taxi from Yialos or Chorio. There are a few tavernas by the water's edge, making this spot an ideal place for an enjoyable lunch or dinner. From here access can also be gained to two of the island's beaches (St Nicholas and Aghia Marina) either on foot or by taxi boat.

PANORMITIS: This is the name of a very important and stunning monastery(photo) on the south side of the island. As well as a place with a strongly religious atmosphere, it is also the location of an old people's home. The monastery no longer operates but its church is available for weddings, baptisms and ceremonies in general. The Saint's name day on the 8th November, commonly known as Panormitis day, is widely known and a very big celebration on the island. During the three day festival thousands of visitors and pilgrims, not only from Symi but also the surrounding islands, flood its grounds to get cured or to be blessed by the Saint. During the summer, however, it is still an interesting place to visit in general, although not necessarily to stop for long. It is accessible by car or taxi and occasionally (but only occasionally!) by bus. The ideal way of visiting, however, is to join a 'round the island' trip that makes a stop at Panormitis (see next section).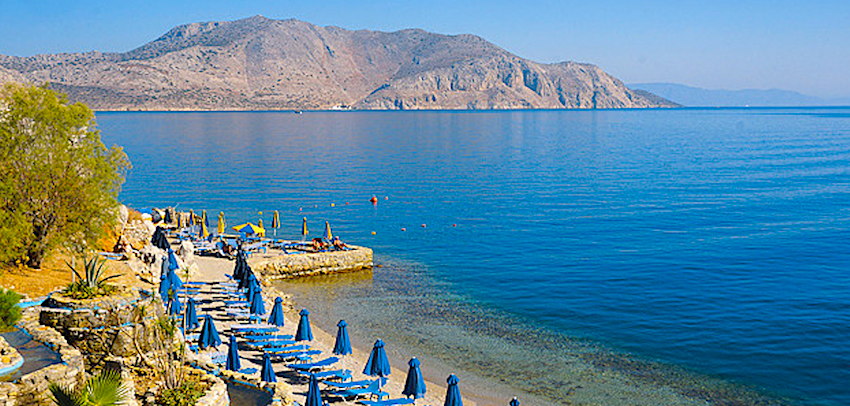 BEACHES AND 'ROUND THE ISLAND' TRIPS

Although Symi does not have sandy beaches (apart from Aghia Marina), the sea is spectacularly clean and clear, giving it a turquoise hue. Most of the bays on the south side of the island can be reached either on foot or by taxi boat. The north side has not been developed much, as it can become inaccessible at times to boats due to rough seas and strong winds. Added to that, is the fact there is no road to the various bays; although if you are a keen walker you can reach some of them on foot. If you do manage this, chances are you will have the beaches to yourself.

The main beaches on the south side, apart from St George's, all have tavernas and sun loungers with umbrellas. They are as follows:

AGHIA MARINA: A beautiful bay with the only place on the island you can walk into the sea on a bed of sand (although the sand has been imported!). The area has been tastefully developed and it could almost be anywhere in the Med, as there is a 'foreign', or at least non-Greek aspect to it. This is no doubt due to the fact that it is run by an Italian lady and a French man. The surroundings are truly beautiful and there is a little island with a church that one can swim across and visit. It is accessible by taxi boat from either Yialos or Pedi. Although it can be reached on foot from the latter, it is a rather demanding walk.

SAINT NICHOLAS: A small bay that is mostly pebbly, like the rest of the beaches listed below, although tends to be quite popular with Greeks and tourists alike. There are also tamarisk trees there. This is easily accessible on foot from Pedi (about 20-30 mins walk) or else either taxi boat from there or Yialos.

SAINT GEORGE: A dramatic cliff at the back of St George's bay makes this place hot during the summer months, although it does become shaded mid-way through the afternoons. No taverna or facilities here whatsoever, but for many people this bay is truly special and 'the best place on the island'. It is only accessible by taxi boat from Yialos.

NANOU: This is a large bay, giving visitors a sense of space. The water is spectacularly clear and clean, so is a favorite amongst those who like snorkeling. If you go to the taverna you may feel caged in, as it has literally all been fenced to keep the goats out! The goats therefore roam the beach for appetizers, so it is always wise to keep one eye on your belongings (food, hats, towels etc) if they venture too near. They do become more cautious if frightened off though.

MARATHOUNDA: This is the last in a string of bays on the south side. The water is much like Nanou; clear and clean. The bay is narrower, but the place has great charm and beauty. It does tend to get very busy in August though. An organic farming scheme is underway here, with visitors hopefully being able to buy the products when it is up and running. As well as taxi boat from Yialos, it is also accessible by road.

'ROUND THE ISLAND' TRIPS: One way of 'trying out' a number of these bays, including those on the north side, is by doing a 'round the island' day trip. These are usually undertaken by the caique boats, but of course are always dependent on the weather. Usually on the outbound journey, around the north side, they will stop at a bay or two for a swim, before then going to visit the Panormitis Monastery. Afterwards they head to Sesklia Island (a small uninhabited islet just off the south tip) where they provide truly wonderful BBQs. The boat then completes a full circle round the island on its way back to Yialos.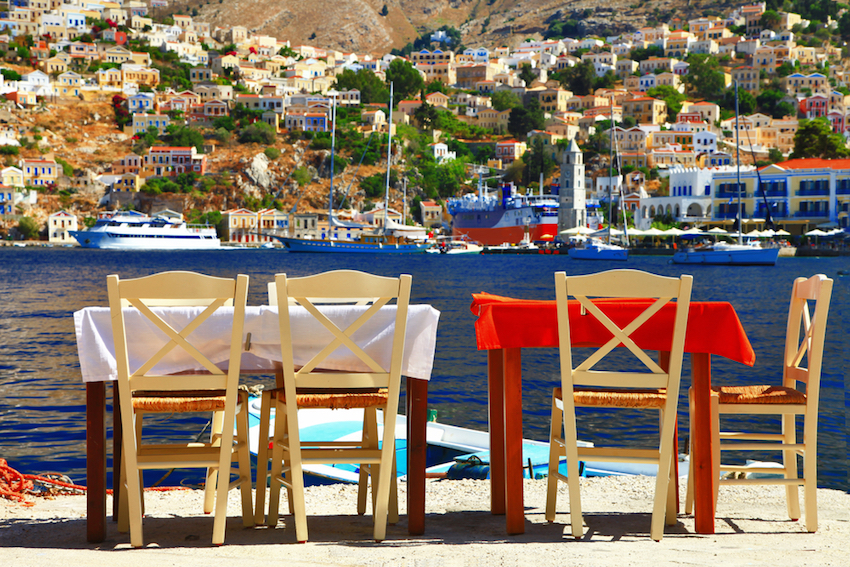 RESTAURANTS

Symi, especially in Yialos, has too many restaurants and tavernas to list all of them. Thank you Leda and Symi Yoga Retreat for these reviews.

YIALOS

THOLOS: Pass the Clock Tower at the far end of the harbour's north side and follow the boat yard around, one comes across Tholos, a taverna by the rocks, with has lovely views looking back into Symi . It has become so popular now though, that it is advisable to book in high season. The food is reminiscent of Northern Greece dishes; with spices, sultanas and interesting sauces.

MYTHOS: This is more like chef's cuisine as opposed to mere cook's food. International-known Stavros gives you a choice of how to select your food, but one way is to have dishes brought out one by one. Done this way it is truly a mouth-watering experience, and before ones know it they can end up having 9 or 10 courses! Both his main courses and puddings are excellent! Good value for money.

MANOS FISH RESTUARANT: As one would gather from the name, Manos specializes in fish. Very popular with the yachting fraternity, at least the ones that bother to come ashore, but tends to be expensive. People either love it or hate it.
Pantelis: Delicious food in an excellent location; watch the boats drift into the harbour from one of the most popular restaurants on the island. Pantelis, a Symiot chef, offers a traditional menu with a few twists. All the pork products come from his own pigs.
Tholos: There's not a more romantic restaurant in the Dodecanese than this lovely restaurant, poised at the tip of Harani Bay, along the quay from the centre of Symi town. The views from its waterfront tables are stupendous, and so too is the food, which includes local meat and vegetables as well as fresh fish.
La Vaporetta: Visit this waterside restaurant for a culinary journey of Greek-Italian fusion dishes. Dine on delicious dishes, served by the lovely owner himself Giorgio, right on the water with the twinkling lights of the port as a backdrop. This wonderful restaurant is also connected with the Aliki Hotel.
To Spitiko: There's little to distinguish this small, family run harbour-front taverna from its neighbours – until you sit down to eat. Quite simply, Spitiko gets it right, with no-frills but top-quality home cooking and exceptional service from the lovely Jordana.
Odyssia: Not far from Tholos, and a little away from the main harbour action you'll find delicious, fresh seafood at this family run restaurant. Manolis, Angeliki and their lovely daughter Katholiki provide exceptionally warm service at this waterside restaurant.
To Steno: Tucked down a small side street, this tiny meze eatery provides a beautiful atmosphere to sample traditional, freshly made, home cooked meze at a reasonable price. Located in a little shaded courtyard with just half a dozen tables, it would be easy to miss this lovely family run restaurant. If you are lucky, the owner may be persuaded to bring out his guitar and perform a few traditional songs!
Petalo: Located on a quiet spot of the harbour, right by edge of the water, this beach bar/restaurant caters to those looking to enjoy a meze meal and a cocktail as the sun sets across the bay. Fresh, homemade food with attentive service, and the chance to sample the local dessert akoumia.
Mythos: This fantastic restaurant, with dishes prepared by internationally known Chef Stavros has one of the most spectacular terraces on Symi. Choose to dine a-la-carte or dive into the tasting menu that will take you on a journey of Greek cuisine with Stavros' own unique twist. Done this way it is truly a mouth-watering experience, and one your guests will not forget!

PITINI

HARITOMENI: This would be a must if only for the view. Add to that the excellent food, reasonable prices & good service and one can see why it is busy most nights. Family run and like most restaurants mentioned takes pride in their cooking. Perched half way up a hill, in an area between Yialos and Chorio, it is not that difficult to get to but may cause trouble trying to find it the first time. To confuse things many people also know it as Socrates taverna.

CHORIO

GIORGIO'S: Although a typical Greek taverna, it is worth listing because of its atmosphere and its well-known proprietor. It has a wonderful vine-covered main courtyard and the tradition of going to the kitchen to look at the food still operates here. Laid back and popular, the prices are reasonable but opinion varies on the food: from fantastic to average. Portions are very filling though. This is how all Greek Tavernas used to be.

ZOE'S: Home cooked food and a favourite amongst many people. Zoe, as well as cooking, also comes to your table to take your order. The dining area is on the roof, but if windy is well protected by breakers.

BARS / CAFES

An abundant number of bars and cafes are to be found, especially, once again, in Yialos. They are all much about the same, although the ones located around the actual harbour seem to lend themselves easier to just watching the world pass by. At night, however, some of the bars compete to see who can play their music the loudest! Elpida's, Mediteraneo Cafe and Kantirimi Cafe Bar are popular throughout the year with locals and tourists

JEAN & TONIC: Known by everyone simply as Jean's. Jean is English and has been here since coming on holiday several years ago and never going back. It is fair to say that her bar is unique on the island; an indoor, late-night cozy place, where people come in for one and end up staying all night! It lends itself for talking and relaxing, but spontaneous dancing has been known to break out. Two nights are never the same.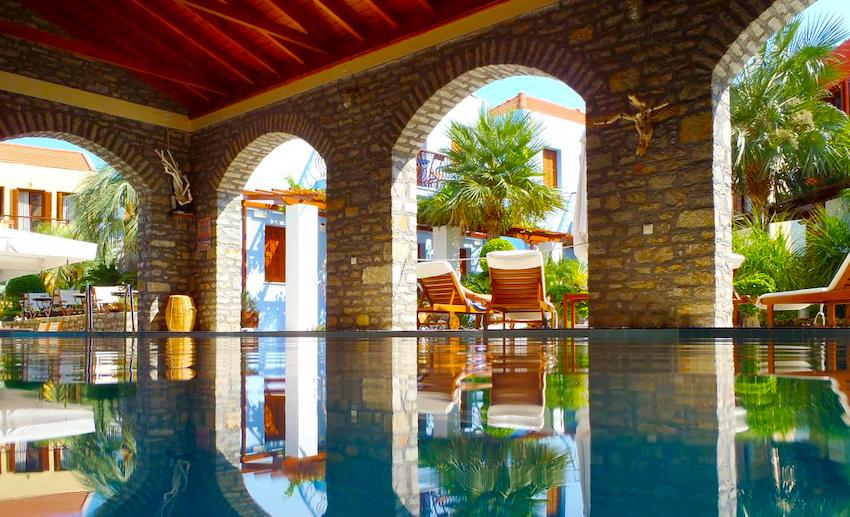 ACCOMMODATION
Centrally in Symi Town, Iapetos Village (photo) is surrounded by a garden with palm trees and stone-paved courtyards. It offers traditional accommodation and free Wi-Fi throughout. A free-form pool with a sauna and poolside bar is provided. Housed in the old market place of Symi, the stone-built Old Markets is a 5-star boutique hotel offering uniquely decorated units with free WiFi access. It includes an elegantly decorated bar and a furnished sun terrace. Massage and beauty treatments can be provided on request. Located on the seafront in Charami, the traditionally built Odyssia is 100 metres from NOS Beach and a 5-minute walk from the port. A kitchenette with cooking hobs, fridge and dining area is included in all the air-conditioned studios at the Odyssia. It offers a snack bar and studios with free Wi-Fi and balcony overlooking the Aegean Sea. Set on a sheltered cove, between the beaches of Agia Marina and Agios Nikolaos, Pedi Beach Hotel offers free towels, lounge chairs and sun umbrellas on the beach. All air conditioned rooms have balconies. All rooms at the Pedi Beach offer sea or mountain views. Each is equipped with satellite TV and radio, as well as a minibar. In-room Wi-Fi access is provided for a charge, and air conditioning is available during the summer season. In Yialos, the main town of Symi, offers accommodations with cooking facilities and furnished terrace overlooking the port and the scenic surrounding area. Also in Symi town and just 3 minutes walk from the beach. Dorian offers accommodations in Sými with free wifi, a flat-screen TV. Some units feature a terrace and/or balcony with sea views. A refrigerator and stovetop are also featured, as well as a kettle. There is also a kitchen in some of the units fitted with an oven. Traditionally built Grace Studios is a 4 minute walk from the scenic port and central Symi. It features air-conditioned units with free Wi-Fi and a balcony overlooking the Aegean Sea or the Castle of the Knights. A TV, electric kettle and fridge are available in all accommodations.
For more hotels, apartments, villas and studios in Symi see Booking.com's Symi Pages and use the search options to find exactly what you want.
You can get assistance with hotels and ferries by using Matt's Create an Itinerary form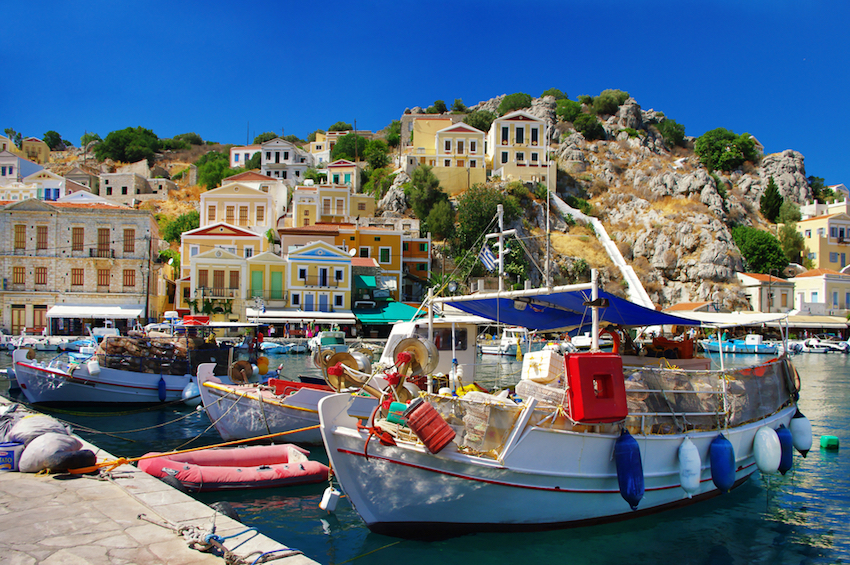 OTHER SYMI INFORMATION
SYMI YOGA RETREAT: 10 days on a tranquil island, surrounded by ancient history and turquoise seas, delicious food, yoga and mindfulness, cooking classes, hiking, snorkeling, dancing, and more…. Sounds heavenly, doesn't it? Come to Symi Yoga Retreat, Greece and leave your worries behind. Set sail on a journey with purpose and passion, to a hidden island gem in the Aegean for a holistic yoga and wellness retreat designed to restore and revitalize your spirit. Reconnect with yourself and those around you on the beautiful island of Symi, Greece. You'll join fellow adventurers and yoga enthusiasts of all levels for a once-in-a-lifetime opportunity to reflect and renew away from the hustle and bustle of daily life. They offer a 20% discount to anyone who mentions Matt's website.
Visit Their Website


Symi Yoga Retreat
SYMIDREAM: 'Symidream' is a collective venture that runs creative courses during the summer months on the island. These include: Creative Writing, Personal Growth, Musical Theatre and Astrology. For more information and complete programme visit: www.symidream.com or e-mail ledadea@hotmail.com

SYMI VISITOR NEWSPAPER: There is an all-year round monthly newspaper (in English but with a small Greek section) published by the Symi Visitor. It not only has essential information on the island for visitors, but interesting articles related to the Symi's past, present and future, as well as photo sections, letters page and real estate section. Free on the island but subscriptions to have it sent anywhere in the world can be made.

SYMI ANIMAL WELFARE: Set up and run by British ex-pats who now live permanently on the island, it includes organizing a feral cat neutering programme once or twice a year as well as providing food and general care to the animal population during the winter. Since SAW's inception, the feral cat population has been kept in check and its general health has vastly improved.

SYMI FESTIVAL: Taking place during the summer months, the Symi Festival is free to locals and visitors alike. Performances range from music (including classical, rock and Greek) through various types of dancing, to theatre and cinema, as well as many other types of artistic events. The standard of the performers is consistency high and the festival's reputation now attracts some of Greeks biggest and most established stars. July and August sees the festival at its busiest, but events usually run from June until September.

EASTER: Easter on Symi is not for the fainthearted. As the festivities get nearer, so the loud bangs that come to dominate the island at this time increase. These originate mainly from 'bangers' that the school children buy from local shops. They are supposedly harmless (which they probably are if handled properly) but the kids have a habit of throwing them at you if you happen to be passing by! When Easter arrives proper though, that is when things really hot up. Not content with bangers and fireworks, some Symiots let off dynamite (procured surreptitiously during the previous few months). Although usually restricted to the mountains and surrounding hills, this 'tradition' has been known to cause structural damage to houses and most windows are kept open during Easter to stop them shattering. That aside though, Easter week has some interesting traditions and displays and the council organizes a free 'nosh' for everyone on Easter Sunday. See also Matt's Guide to Easter in Greece.

TRIPS TO TURKEY: Being so near to the Turkish coast, there are a few interesting trips worth taking across. The main one is visiting Datca and its colorful Saturday market, although just a bus ride up the coast is Marmaris; a beautiful seaside resort with much to offer.

VIEWS AND WALKS: The more one walks upwards, the more spectacular and truly amazing Symi's views become. One of the best ways to see the island through walking, however, is with a guide. There are several on the island, each knowing the island well, but the most well-known has to be Hugo.
I hope this information is helpful to your readers.
Sincerely
Leda

Thank you to Leda and Athena for info and photos and thank you to Fantasy Travel for photos too.