About Skiathos
Skiathos is the most popular of the Sporades, the islands to the east of Volos and north of Evia. It has much to offer people of all ages and nationalities most of whom find themselves returning year after year. The island is actually the extension of the wooded Mount Pelion and the scenary reflects this. Skiathos is a green island with forests and abundant water. There are fig, olive, plum, and almond trees as well as grapes. Lately the success of the movie Mamma Mia has created a sort of mass-hysteria as people who loved the movie come here and to the neighboring island of Skopelos, looking for the island depicted in the film. They may never find those scenes they were looking for but nevertheless people visiting Skiathos should not be disappointed. It is a beautiful island and really the only criticism of it, which many of the Mamma Mia cultists will soon discover, is the difficulty in getting here. It is almost as if they don't want tourists to come. For some that is all the more reason to go. But you won't find an unspoiled, remote island stuck in some sixties or seventies time-warp. Skiathos embraced tourism many years ago and on some of the best beaches and wooded hillsides you will find some of the finest hotels in Greece, and in July and August you may have trouble finding a room if you don't book early.
There are over 60 beaches in Skiathos, all sandy including Koukounaries rated 7th best beach in the world and best in Greece. Also Banana Beach just around the headland is the island's only Naturist Beach and is fantastic and very sheltered. Check out the Cantina at the naturist end of Banana or just sit and watch the sunset. Most of the beaches are easy to get to by bus or moped as they are mostly found on the only main road on the Island. Others include the fantastic Lalaria beach which is accessable by excursion boat. There are all manner of water sports available at most of the beaches and even a diving center. As a rule, the closer you are to town the busier the beach will be. If you are looking for serenity go inland.
Beaches of Skiathos
Walking in Skiathos is wonderful. The green and mountainous interior are worth all the effort. Check out Kounistras Monastery in the hills behind Troulos for a cooling mid day drink and simple food. A lady called Roula takes care of the place. She is very poor and lives only on what she makes from the sale of candles so give what you can. Also worth seeing are the ruins of Kastro which can be reached by excursion boats, and the Evangilistria Monastery, a haven for revolutionaries during the war for Independence against the Turks. It is said that the first Greek flag was flown here. It is located among pine and cyprus trees in a beautiful and dramatic setting and can be walked to from town if you are of reasonably good health.

Skiathos Town
Skiathos Town is the place to eat and to be seen eating. The beautiful people meet up here, have a meal in one of the harbour-side restaurants and just pass the time over wine and cocktails. Friday and Saturday nights are best after 10pm. Check out Nicos at Taverna Varthalamis just behind the harbour for a real Greek Taverna that wants to stay that way. Try Messogia in the back streets for an other real taverna with character. As for nightlife Skiathos has plenty of it especially in July and August when the island becomes the Mykonos of the Sporades. By day Skiathos has it's share of tourist and postcard shops, travel agents, bars, motorcycle rental agencies and hotels.
In the words of the Lonely Planet Guide "Most people come to Skiathos for the beaches and the nightlife-if you have come for anything else you may want to depart quickly". While this is true in late July and all of August, the warm months of May, June, September and October are fine times to visit and even in the cooler months the town is hardly deserted because of the number of foreigners living here.

Transportation in Skiathos
Getting around is very easy. The bus runs the length of the main road every 20 minutes in the summer. Moped and Scooters are easy to hire from the town (make sure you get Full Insurance). Car Hire is also available. There are excursion boats leaving from the old harbor to Lalaria, one of the most photographed beaches in Greece, and the caves of Galatzia, Halikini, and Skotini which can only be reached by boat.

Hotels in Skiathos
Rooms are relatively easy to find especially in the town except in the months of July and August when the island is busy and it is best to have a reservation and have it booked well in advance. If you book your August holiday in mid-July the pickings will be slim. The coast of Skiathos is lined with resorts, hotels and villas and you can expect to pay conciderably more for a room during the peak summer months. The best time to come is in the off season when finding a room is easy and cheaper. May, June and September are excellent months to be on Skiathos. Booking through a reliable travel agency in Athens is a good idea because of the assistance you get for coordinating buses, taxis and ferries or flights to get to the island plus in most cases you will need a hotel in Athens for the first or last nights of your trip, if not both.. For travel agencies who can book hotels in Skiathos I recommend Dolphin Hellas and Aegean Thesaurus Travel.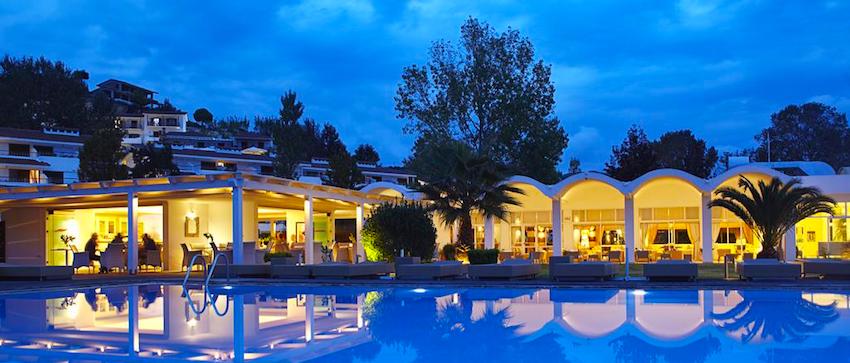 Among the most popular hotels in Skiathos is the 4-Star Bourtzi Boutique Hotel with its spacious and carefully designed rooms and suites just a few minutes away from the harbour, in the heart of Skiathos. This hotel has free wireless, a pool, and soundproofed rooms for total rest and relaxation. Those looking to take it a step higher can stay in the Aegean Suites Hotel, a luxury hotel for adults and families with children aged 14 years and above. Built on the hill overlooking the sandy beach of Megali Ammos, these are traditional style buildings combined with contemporary Mediterranean chic and an exclusive atmosphere. The large swimming pool is framed by tall green palms, white umbrellas and wooden sun loungers, where you can sip champagne or exotic fruit cocktails. Likewise the 5-Star Skiathos Princess (photo) is on the beach of Agia Paraskevi, surrounded by gardens and offers direct access to the white sandy beach. There are also 3 restaurants, 3 bars, and clubs and activities for children and of course a swimming pool. For those on a budget there are a number of 2-Star and apartments. The 2-star Hotel Lalaria is only 700 metres away from Skiathos town and 100 metres away from the beautiful beach of Megali Ammos. The 2-Star Cape Kanapitsa Hotel is on an 8-acre private peninsula overlooking the Aegean Sea and the magnificent Bay of Kanapitsa. Stelios Studios 350 metres from Skiathos town centre and 70 metres from Megali Ammos beach has rooms for well under 100 euros and the 3-star Hotel Paradise is right at 100 euros for a twin room with sea-view. You can find more hotels at with photos and descriptions at www.hotelsofgreece.com/sporades and you can search for hotels and compare rates at Booking.com's Skiathos Pages
Also check out the Villa Zorbathes, owned by Lida and Geoff Baldry, a great place to stay for groups, honeymooners, friends or families. The Villa is highly recommended by all the people who stay here and Lida and Geoff will make sure you feel right at home. By popular demand they have added a beautiful swimming pool. Lida and Geoff can also help you get information on getting to and from Skiathos and introduce you to some of the large expatriot community on the island. They are also super hosts and can help you with information on the best tavernas, beaches and secret places so that by the time you leave you will know more of Skiathos than the ordinary tourist and maybe as much as some of the residents.
There are also camp sites at Koukounaries beach, Megali Aselinos beach, Kolios beach and Xanemos Beach near the airport. Of the four Koukounaries is the most highly recommended.

Helpful Skiathos Information

Planes from Athens fly daily and relatively cheap but seem to leave and return at strange hours. You can also get there by Ferry from Volos or Agios Constantinos or by Charter Flight from many cities around Europe. There are numerous highspeed boats from Volos and Agios Constantinos on the mainland and several a week to and from Thessaloniki, as well as daily connections to other nearby islands in the Sporades chain though usually just in the high season summer months. Check out Skopelos and Allonisos. These are easy to reach by ferry but be aware that, because of the timings, you may not be able to return the same day so take an over night bag.
How to get to Agios Constantinos to catch the boat seems to be the most common query I get for Skiathos. You can take the X93 bus from the Athens Airport to the Terminal B Bus Station. (It was E93 but then it became X93 so whether it is E or X, take the 93). You can see schedules at www.athensguide.com/practicalinfo/busschedulesB.htm but always take any schedule you see with a grain of salt. Most local people though go to Alkon Travel on the corner of Kanigos Square (97 Akademias Street) for a special bus that connects with the ferry at Aghios Konstantinos usually at around 7am but it depends on the ferry schedules. Most people and particularly families who don't relish the thought of two buses and a ferry, take a taxi from the airport to Ag Constantinos. Contact George the Famous Taxi driver through his website at www.greecetravel.com/taxi for prices.
If you are planning to rent a car and drive from Athens to Skiathos check out Swift Rent-a-Car . They will pick you up at the airport or your hotel and drive you to the National road and let you by-pass the notorious Athens traffic. See their website at www.greektravel.com/swift
For transportation and hotels and more information about a holiday in Skiathos contact Dolphin Hellas and Aegean Thesaurus Travel.
For a couple very nice packages which feature Skiathos, Skopelos and Alonissos take a look at those offered by Aegean Thesaurus: The 7 Day Sporades Program and the 14 Day Sporades Program.