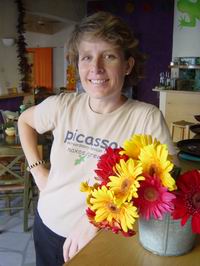 My eating experience in Naxos was a relatively good one. There were places I will definitely go back to and one that I will avoid forever. My favorite restaurant was the Picasso Mexican Bistro and not just because I had been traveling for two months and was weary of Greek food. This was a really terrific Mexican restaurant, as good as any I have been to in the USA, (and I go to a lot-it's my favorite food). Picasso is owned by Debbie Richards and Stratos Perakis and after the first margaritta and chips and salsa I was ready to commit myself to eating all my meals here. By the third pitcher I knew that if I did my life would be in danger. We came with our Slovenian friends, Darko and Zonka and their kids who are not as into spicy foods as my family is, but there was something for everyone and we all left happy and they left with an appreciation of Mexican cuisine which they had never tasted. If you have a yearning for jalapeno poppers, chicken wings, burittos, tacos, sizziling fajitas, great nachos and a few frozen margarittas then go here. They have moved their restaurant from Naxos town to Plaka beach which is a good enough reason to stay at a hotel there. Mexican food on the beach in Naxos? Count me in! You can e-mail them at sdperakis@hotmail.com or see their menu at www.picassoismexican.com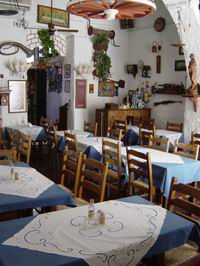 Popi's Grill in the port is one of the most famous of the island and except for a couple immigrants clearing the table the restaurant is unique in that it is an all-girl staff. Single guys don't get your hopes up because their average age is about sixty, but it is run in an organized yet chaotic way and specializes in grilled meats. What attracted me was the whole lamb and kontosouvli turning on the spit and I dragged everyone back to it though they wanted to eat elsewhere. Nobody has raved about the food though, in fact the few comments I have gotten from travelers have said it is mediocre. But I am a sucker for psistarias and I will check it out next trip. The Lucullus Taverna(photo) is the most famous taverna on the island mostly due to an article in the New York Times from 1998.The tavern, the oldest on the island will celebrate it's 100th Anniversary in 2008. It is located up the Old Market Street on the way to the castle and is decorated with antiques. All the small ouzeries in a row on the waterfront had octopus grilling and a wide variety of mezedes and you will probably be pleased with any of them. If in doubt try Stis Irinis Cafenion-Ouzerie. There is also an Asian restaurant that was recommended to us called East-West which featured Chinese, Indian and Thai food. The Anemos Ouzeri is closed and has been replaced by Ellis which has live rembetika music on weekends. It is in the Grotta neighborhood on the north side of town.
La Vigne is owned by two french women, Elizabeth and Frederique, who have been living in Naxos for 3 years and were inspired to open a french wine bar in Chora just a few steps up from the harbor. They sell french wine directly imported from France as well as cheese, pâté from france, proshutto, and differents mezzes...and sweets, all home made. They are open every day all year, and have tables outside in front of the church of PANAGIA KRISTOY.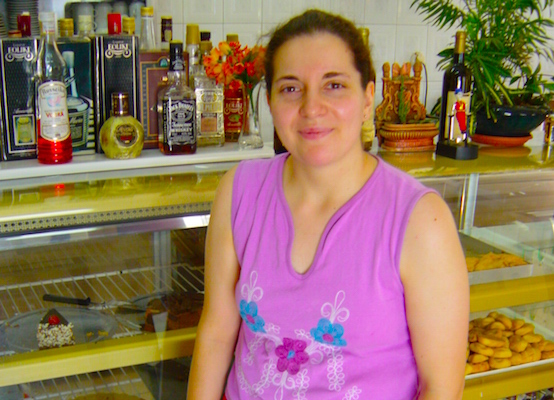 For breakfast in Agios Prokopios we liked the Golden Beach or Xrisi Paralia Zacharoplastion (sugar-shop) mostly because Anastasia (photo) and the other girls who ran it were so sweet and charming and also because they had super-fresh eggs which came from their family farm that were delicious as omelets or fried. It was also our hangout for after dinner because they had a nice selection of local deserts and sweets, all home-made and lots of flavors of ice-cream in case you wanted to top them off. The cafe is right on the beach by all the restaurants and bars. When we moved to the Porto Naxos in town we had their breakfast buffet which was more than ample. So ample that we really did not need to eat lunch. Have their fresh local yogurt with Cretan Honey and the best frappes in town.
In Agios Propkopios there are a number of tavernas on the beach that cater to Greeks and tourists and have wide menus that cover the spectrum from souvlaki and mousaka to pizza, sometimes all in one restaurant. In the Taverna Nikos we had a near religious experience. We had looked at all the restaurants and settled on Nikos, mainly because along with the kontosouvli that the other places had there was a whole chicken turning on the rotisserie. We sat down and ordered the chicken. When it came to the table it was cold, strange because a few moments before it had been cooking. I went to the rotisserie and sure enough the whole chicken was still there. This was either a miracle like Jesus and the loaves of bread or someone was pulling a fast one. I told the waitor that not only was my chicken cold but it was able to be in two places at once since it was still on the rotisserie. He apologized and took it away, returning a few moments later with a piping hot chicken and extra french fries (hiding the bite I had taken). I went back to the rotisserie to see the magical chicken was still turning. But rather than harp on a restaurant that I did not like (as i just did) let me just recommend Spiros Taverna which I unfortunately did not hear about until after I left the island and is rumored to have the best food in Greece. According to Michael and Shannon Hadjis from Chicago: in our opinion (me and my Greek husband's) Spiros Taverna DOES have the best Greek food we have ever had. We tried this place based from your "sadly" missed experience on your website. Next time - go there! We could only compare the food to Aunt Crisoula's homemade food back in Athens. We ate there 4 out of 6 nights. Wished we had just done all six. YUM!
Greek Traveler David Berchoux from France (who was not very happy with Spiros Taverna) has this to share about his favorite Naxos restaurants:

1. AXIOTISSA in KASTRAKI 22850-75107: fantastic setting and service, great menu with original creations using top fresh organic products, I've eaten there the best swordfish of my entire life : juicy and tasty, perfect cooking. For sure the best restaurant in Naxos
2. PIGHI in ANO POTAMIA : in the mountains ; only local people, : in the garden, great BBQ & meat (roasted goat)
3. PETRINO in PLAKA BEACH : nice terrace, excellent fish and all classical greek dishes.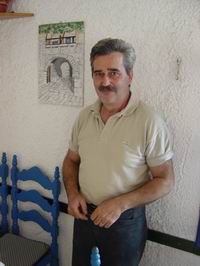 The traditional restaurant Platanos in the village of Aperathou is next to a small church in the shade of a platanos tree and we had a very nice lunch here during our journey around the island. It is high in the mountains and cooler and they had a menu full of local dishes. Try the kokoras (rooster) either grilled or in a red sauce. On the outskirts of the small town of Mesi Potamia is the very nice taverna H Magi Thea owned by the charming Dimitrios Deoydes, where you can find inexpensive local dishes in a beautiful setting. If you are looking to escape the town for a real honest-to-goodness country meal of fresh local meats and vegetables and good local wine in a cool mountain setting with a beautiful view come here one night. (If you drink be sure to have a designated driver to get you back to your hotel). Good news for lovers of potatoes. Naxos grows potatoes for the whole country and when they are sliced large and cooked in fresh olive oil you will forget about all the french-fries you have eaten before.
As for bars and clubs there are many choices and Naxos town literally rocks at night. For Greek music try the Loft. For sophisticated tastes go to Vengera. For rock, reggae and soul there is the Kahlua Music Club at Agios Prokopios and for the wild younger crowd seeking that throbbing disco beat there is the Ocean Club on the road to Agios Georgios. Sante, Rocks and Jam are three clubs open late. There are plenty more so ask your conceirge, waiter or anyone else you talk to. We liked a bar called Tha Katso in Protodikiou Square for no other reason than the draft beer was big and cold and the waitor was friendly. They also had a very large assortment of beers from all over the world so if you miss your favorite you may find it here.
It is no coincidence that the district of Psiri in Athens which is famous for it's ouzeries and restaurants which feature mezedes (snacks eaten with ouzo) is the neighborhood of the immigrants from Naxos. Several of the best ouzeries are owned by Naxiotis including Ouzerie Naxos and you can find their famous sausages and cheeses on the menu there as well as in the General Goods Store of Naxos, or the Geniko Emborio Eklekton Proionton Naxos. During the last days of fasting that lead up to Easter the whole neighborhood of Psiri becomes a market for lamb, cheese and wine from Naxos. Trucks and tractors filled will Naxos produce arrive in the city by ferry. The streets are closed to traffic and stands are set up and goods sold until Saturday evening when they magically disappear. After the midnight easter service the farmers from Naxos return to the ferry and go back to Naxos to spend Easter Sunday with their families and friends. See www.athensguide.com/naxosmarket