Ikaria
Article and Photos by Alexia Amvrazi
For many years I longed to visit Ikaria, having heard so much about it from a close friend who's from there, and from my husband, who had visited several times and even took a bunch of friends there for his bachelor night. Our friend, Dimitris Sofos, who runs the charming and unpretentious eaterie Kapnikarea just off Ermou St in Athens, comes from the village of Raches, which one could objectively state is the most notorious village on the island. Raches is not renowned for its quaint architecture, historic lands or exceptional wines- instead, it is a big talking point amongst Greeks from around the country because it exists beyond the normal confines of time. As in all Ikaria, but more so in this small, characteristic village, the people live exclusively at their own pace; if a shop owner feels like waking up at 15:00 and opening his store at 18:00, so be it. After all, the mentality goes, it's their life, and their store, and there is no need to live life throttled by the 'anchos' that serving others is one's prime purpose.
Tourism has indeed created a slight shift in this area, so one can since the recent years find essential services like pharmacies and minimarkets open from maybe around 10am, but indeed, locals have no need for tourists (in huge contrast to the rest of Greece that thirsts for visitors with thick wallets). In fact, when I mentioned to a few locals that I was writing this feature, my interest in their lives was received with a peppery apprehension, and some went as far as trying to discourage me from doing so. This is not owed to the Ikariotes being unfriendly - quite the opposite, they are open, relaxed, down to earth and passionate people who greet you with a genuine smile and beep hello to you when you drive past, reminiscent of a type of Greek that is very hard to come by today.
Ikariotes are an impressively self-sufficient people, mainly shepards who own goats in the thousands (due to EU subsidies that some are now clamoring to stop in the dread that within 20 years this lush island will be barren as it will have been munched up by the greedy four-legged creatures). They farm their own land - with most households tending its own supply of organic fruit, vegetables and herbs, work as fishermen in the coastal villages, and shop or taverna owners. Youths start learning to tend the land and herd goats, as well as other traditional labour, as early as their adolescent years. I spoke to a few young men and women in their early 20s who told me they work hard and see it as a way to carry on their heritage, rather than a nuisance that prevents them from spending hours in some cafeteria, sipping frappe iced coffee in Athens.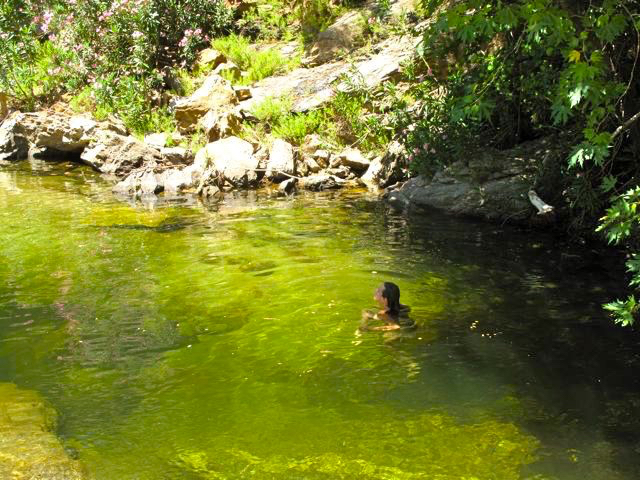 Having travelled extensively around Greece for the last decade to write for Greecetravel.com and Fodor's Travel Guide, I have never been so impressed by the seductive oddity of a place. The island is part of the Cyclades group and could not be more different to all of its neighbours: naturally abundant but very touristy Samos to the east, expensive and glitzy Mykonos to the west, historical and cultured Chios to the north and barren, religious Patmos to the south. Throughout the days (that turned into weeks, as we could not pull ourselves away), I was constantly impressed by the island's rugged, verdant landscapes, plethora of rivers, waterfalls, gorges, giant Neolithic-style boulders perched tentatively atop hills, cool turquise waters and a series of stunning sunsets that blend the sea and the sky into an orgy of resplendent colours. Although the island has (mainly Greek) visitors in July and August, it remains silent enough to stay off the tourist map.
Ikaria seems to laugh in the face of modern life- the greedy rush through time, the loss of identity through globalization and homegenous life styles, consumerism, materialism and an official, or unofficial police state that observes and dictates the rules of living where there is meant to be freedom. In Raches, the police station that had been built has remained unused for the last seven years after the villagers got together and agreed that they didn't want or need cops to run their lives - they could do it perfectly well themselves, thank you. Yet the island remains one of the safest places to live, and local as well as foreign female residents I spoke to emphasized that not only do they feel safe but that they feel free to live as they like.
This independent way of living may also have something to do with the fact that Ikaria was independent of Greece itself for a around seven months in 1912. When the island broke free of Ottoman rule it was not immediately reabsorbed into Greece because the latter was deeply embroiled in the Balkan Wars. The treaty that it signed with Greece at that time expires in 2012, and many locals old and young are campaigning for the opportunity to regain their independence as a state. One facebook group of almost 900 people that's dedicated to this cause, writes: "Lets make another Ikarian Revolution! Let's get free from Greece! We want freedom!!!".
Recently Ikaria became internationally noted through an ongoing health project called Blue Zones (www.bluezones.com), run by Dan Buettner. Buettner visited the island to research why it is one of the few exemplary locations in the entire world where people live such long, balanced lives. In his reports he attributes longevity on Ikaria mainly to diet and lifestyle, as well as owning rather than being owned by time, as most stress-ridden people around the world are today. He writes: "our team has discovered that over one-third of everyone living in the northeastern end of the island reaches age 90. They suffer 20% less cancer and half the rate of heart disease. And there's virtually no dementia. In other words, they're living the good years many of us are missing." A minimal consumption of meat and dairy and a greater consumption of beans, nuts, (home-grown, organic) fruit, vegetables, herbs, honey and olive oil seem to make a huge difference to lifespan as well as quality of life, as does their relaxed sense of time, festive spirit (dance and song) and physical work in the great outdoors.
The literacy level on the island is low, because until the 1960s it was vastly neglected by the Greek state, and left much to care for itself; in fact locals relied on help with essential resources from their compatriots in the US rather than in the Greek capital. Literacy, however, may be overrated as an ingredient for a healthy life, as conversation about everything from philosophy and politics to history and society is easily enjoyed if you sit in the village square. The down side of having little social concience in the traditional sense also affects the treatment of dogs on the island: Ikaria in fact has one of the worst records in Greece for the abuse of dogs, which are pretty much used as nothing more than alarms tied outside the house or field in the blazing sun or pouring rain to guard it from hungry goats. Dogs are said to have an average lifespan of only one to three years on Ikaria, and are generally starved of food and attention. Surely this makes the 'roughness' of the island despicable and a terrible shame.
The island is also famous for its tradition of panygiria, or festivals. Between May and October, the island is famed for hosting between two and four such events per week. The panygiria, which are usually held in various parts of Greece to celebrate a major religious holiday, such as the most major of all, the 15th of August celebration of the assumpion of the Virgin Mary, in Ikaria are held almost gratuitously, for the sake of gathering communities and visitors for all-night dancing and feasting on boiled or grilled goat, garden salads and 16% proof red wine - although in all seriousness most proceeds do go to the Church or for improving the island's infrastructure, like road-building.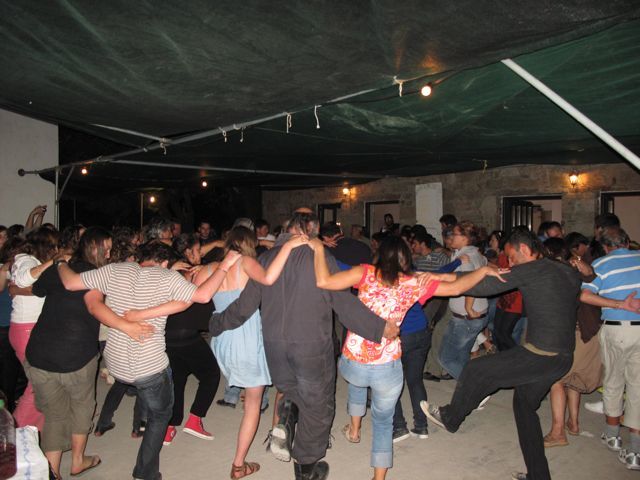 Our trip to the island was studiously timed so that we could relax for two days to gather enough energy to attend the annual Raches festival, which was initiated 15 years ago by our friend Dimitris' grandparents. The day before the event I enjoyed following Dimitris' mother, sprightly and highly independent 95 year-old grandmother as well as a handful of other orderly locals setting up for the big event. I could not imagine how the tiny, quiet church square of Christos Rachon was going to be transformed into the place where my husband described to me he'd danced for 12 hours straight with thousands of others. Then giant cauldrons that cartoon cannibals could fit an entire expedition of captured adventurers in started to arrive, lights were strung up, hundreds of benches were fitted into every space imaginable and a small stage was set up for the live band. Still, I had no idea of what I was letting myself in for, but I dutifully followed my friend's advice to take a solid afternoon nap. When we arrived, I was struck by the delighful sensory overload that overcame me- the food smells, the thousands of people, the lights and the quasi-hypnotic sounds of the frenzied violin.
The Raches festival is known for having a unique Pagan quality, shamelessly Dyonisian in its spirit and wildly alternative in how its events unfold: Tango and Waltz begin the night, followed by hours of feasting and dancing to the dizzying rhythms of local sounds, which literally swirl through your soul and swing you around even when you are sober and still. People of all ages, and even from around the world (there are foreign visitors who return every year just to attend this event) hold hands and dance round and round, snaking through other circles of dancers throughout the night in a celebration of life, friendship and enough acceptance to forget differences and move together. Later in the night people are invited on stage to make up lewd rhymes, while for those who survive til dawn there is the quizzical but hilarious 'Piperi' ritual that involves local youths whipping the behinds of dancers if they don't obey certain orders.
Ikaria is named after Ikarus, who according to Greek mythology was the son of master craftsman Deadalus, and who was escaping imprisonment from King Minos in Crete by flying with wings his father had made. But ignoring sage advice, the youth flew too close to the sun and landed to his death on the island. There is something about this myth that provided me with a strange sense of understanding of the spirit of the people and of the dramatic, lush and vibrant landscape, where communists were exiled during the Greek Civil War. Ikarus was flying with false wings to escape imprisonment by a tyrannical but powerful and civilized king, a life of captivity, and he died by landing on the island; so for some reason, the island has become infused by his spirit of escape to freedom and the bravery of taking flight.
When in Ikaria...
Beach it
Ikaria beaches are not much to write home about, but two particularly attractive seaside hangouts are Nas and Seychelles. Nas, a nudist, somewhat hippie beach, about 5km from Armenistis, is well known for the remants of the Sanctuary of Artemis that sit on its sands. Above it are several tavernas offering good food and lovely sea and sunset views. Top suggestion: Theas taverna. Seychelles (around 25km southwest of Agios Kirikos) is an idyllic white sand / white pebble cove with crystal azure waters, with dramatic limestone cliffs on either side.
Go for a walk
"The Round of Rahes On Foot", an eco-tourist project supported by the Rahes Municipality, has created a great official "Guide Map", of the major hiking, trekking and walking routes. You can find the map for sale throughout Ikaria (around 3 euro). Info: Anghelos Kalokairinos, tel.30-275-41308. Glaros Tours and Dolihi Travel organize walking and trekking trips by experienced hikers.
Dine at Platanos Taverna in Aghios Dimitrios.
Sit under the plain tree in the pretty square and dine on seasonal, organic products freshly picked from the owner's garden.
Go to the Icarus Festival
In its 5th year in 2010, the music festival gathers musicians and singers from around the world at the end of July / beginning of August..
Hot spring healing
Visit Therma (near the main port Agios Kirikas) for some hot spring therapy. Ancient Therma was destroyed by an earthquake in 205 BC when the city slid into the sea. Swimmers can see the underwater remains just offshore from the Roman baths.
Follow the path further and you will find the place on the coast (marked by some concrete boulders) where the hot water spring flows into the sea.
Panygiri the night away.
Enough said.
Village people
Walk around Akamatra village, south of Evdilos, to soak up the quaint architecture and visit the 500 year-old oak tree, once used as a gallows. In the picturesque Arethousa village go see the much-photographed Theokepasti chapel, which has been carved inside a giant rock.
See the Other Side
The northwest coast will show you a completely different aspect of Ikaria; barren, rocky and dusty with stunning contrasts of blue skies and sea. Visit the village of Karkinagri for a break.
Try the wine
The Ikarian Wine Club, in Pigi, Evdilos is an agrotourism unit with an organic farm and winery where small groups of guests stay in two stone houses. The unit was set up by George Karimalis and his wife Eleni.
Honey and Longevity
There is something keeping people in Ikaria alive a lot longer than those of us in the west live. Could it be the honey? Read about Honey in Ikaria
Learn to Speak Greek
Ikarian Center: Greek Language and Art Association: Assists students in improving all their skills (listening, writing, speaking and reading) in the Greek language. The Centre's aim is to make each course a cultural experience. Through a variety of guided activities (interviews, projects, lectures, pair work, etc.) students are brought in touch with the local community and learn more about Greece and its people on the amazing island of Ikaria.
For more articles by Alexia Amvrazi & Adrian Vrettos be sure to visit their website at www.athensguide.com/journalists/
You can click on any of the above photos to see them full size.