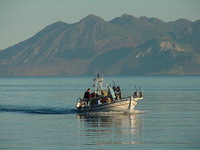 Is it the history? The land that has given us the Acropolis and Delphi and Olympia has been attracting tourists for 200 years since the days of Lord Elgin. Could it be the Greek islands? Mykonos, Santorini, Crete, Paros, Naxos and Rhodes with their beautiful beaches, restaurants, nightlife and archaeological sites have been popular for decades. Or lesser known islands like Sifnos, Lesvos, Kea that have always been attractive to those looking for a more quiet escape. Maybe it is the allure of the Peloponessos with its high mountains and beautiful coast, its rich history and the seaports of Gythion and Napflion which have sent sailors all over the world for centuries. Could it be the Greek food? Maybe the weather in Greece where they say there are 300 days of sunshine, most of it between May and November. Maybe it is the spiritual quality of places like Meteora where centuries old monasteries crown giant rocks.
I think the reason Greece is popular is because it is somehow familiar while at the same time exotic. Whether this familiarity comes from studying the ancient Greeks in school or something deeper or more spiritual I don't know. I can't begin to count all the e-mails from people who have written that they have always had an attraction to Greece and once they had visited felt they somehow belonged there. Places were as familiar as if they had once been home. It is not chance that the slogan for the Athens 2004 Olympics was 'Welcome Home'. It was not just a homecoming for the Olympics themselves but for all those visiting the place that has much to do with who we are today. And maybe some of us once walked the streets of ancient Athens with Socrates and Plato.
For me writing about Greece is not a job. It is like a higher calling. If one's duty on earth is to awaken those around him and so awaken himself what better tool is there than Greece? For those of us who spend long hours a day working or involved in the routine of modern life Greece is an awakening. It reminds us that we are alive. I hope that my Greece Travel Guides awaken something in you that brings you back to Greece.
Questions about Greece? You can e-mail me at matt@greecetravel.com
---
---