Hello Matt,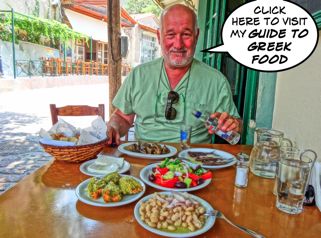 You asked for comments on "was it worth it" ... I found your site via the BBC website when I was just browsing around aimlessly this afternoon. A couple more pages and, I too will have spent (almost) more time on your site than in Greece, but I couldn't help clicking on the link for Sifnos Restaurants, since I have been there.

It was way back in 1985. I stayed in Kamares and walked up to Apollonia on a few occasions. I remember eating most days at a water-front restaurant in Kamares and I particularly remember that the nicest waiter there was
called Yannis. I feel sure it must have been the old site of Giorgos Boulis Taverna. I remember the pastry shop was a couple of doors up from there. Actually, I think it was the same family who owned the room I
rented, which was about 150 yards up the road to Apollonia too.

The photo you have next to that entry ... is that one of the sons sitting
at the table? I am looking at one of my snapshots of the premises I'd
frequented with the owner in the doorway and, even in 1985, he was a
grey-haired man.

Funnily enough, I'd been hopping around other islands and meant to stay in
Sifnos for a couple of days and move on. I ended up staying for the
duration of my holiday because it was just so perfect there. Given that it
sounds like there is now more in the way of nightlife and ferries,
thankfully, it does not seem to have been spoilt.

Anyway, the point is that I wanted to tell you that it certainly was worth
torturing yourself on a diet to put the pages together, because you
brought back some wonderful memories for me today. Thank you.

Kindest regards,
Pamela Heywood

---
Hello, or I should say Yah-sas,I really enjoyed your page of Greek food! I found it on the Yahoo Weekly Picks. I had recently lived in Thessaloniki and boy did your web page make me "home-sick!" I am not Greek, but after living there for 5 years, I think I did become Greek. Now all I can think about is a nice big plate of Marides!! But the photo that gave me a laugh was the frappe and cell phone!! Thanks for the trip down memory lane. Yours was the most accurate and informative page I've seen. Efiaisto!Juli
---
Dear Matt,Just visited your terrific website as advertised by Yahoo! - it will be a
fantastic resource for me from now on.
Enjoy your work,Markos
Melbourne

---
Hi Matt,I visited your site and I have to say: I got REALLY hungry, man! I'm Greek
myself and I didn't even know many of the dishes you presented on your site,
although my mom prepares Greek food very often. I guess it's because I grew
up and live in Germany. I admire the fact that you could resist this
temptation and didn't eat!! How come you are a Greece fan? Or is it just the
food?Bye and take careTonia
---
Epharisto poli for your coffee tip. I'm on Kos and was desperate. Once I got the sound right, your phrase worked like a damn, and I got the best cuppa in a week. I'm off to Rhodes tomorrow, so here I go into your site for more tips.
---
Hi Matt,
Well, thanks a lot for making me drool.
I think my keyboard just shorted out.
<wink>Reminds me that I need to get back to Crete soon. At least that's what my
stomach is telling me.Incidently, your site made my quote of the day:"And unlike the crappy oil that terrorizes the hearts of many Americans,
Olive oil is good for you and will keep you alive long after many of your
friends have taken the next step in their spiritual evolution."And my friends looked at me funny when our family sent us home with a gallon
of the best olive oil from their little grove! Are mediterrenean women not
the most beautiful of all women? Do we need to ask why?Thanks for a wonderful site. It made for a delightful visit and I will
return to it soon...Warm Regards,
TatjanaIf my doctor told me I had only six months to live, I wouldn't brood. I'd
type a little faster. (Isaac Asimov)

---
Hi Matt,My 4-year-old daughter needed to know about some greek dishes for her
homework.Thanks to Altavista search engine I found your very interesting page.So, no need to say it is really worth.Congratulations and keep up with the good work!Paulo Lima
Brazil
---
Hi Matt - Just got a gander at your site from our lovely Terri. WOW!!This area is full of Greek diners and I love the food but your site has so much more - thanks for all the effort. Grew up in an ethnic neighborhood so learned to appreciate all kinds of food; then moved to Westchester to find mostly meat and potatoes - blah. They are more advanced now thank goodness.I have bookmarked of course and when I get the yen for pastitsio....
JEANNE
---
Thanks for the great website! After serving in the U.S. Navy on 2 different ships, we always managed to pull into Greece when we were on a Med cruise. I learned to love Greek food. Out of all the countries I've ever visited in the world, Greece was my favorite because of their hospitality, beauty and most of all, their food
---
To Matt,
love your site - especially the part about the souvlaki. i am greek, and i know too many people who have the same story that is written about on the page - go to greece and get a plate of stuff, not a skewer of meat. anyways, keep up the good work!!
---
Matt,I have been exploring your site and just wanted you to know I really enjoyed it. Great job, lots of homey appeal. Yummy photos.I am a serious fan of olives and spinach, love Lebanese and Greek food, and I am on the hunt for the best stuffed grape leaves ever.I was amazed to find, last Friday, in the little Central PA town of Huntingdon I live in, that a tiny Greek restaurant had opened. I ate there two days in a row and now hope to convince them to serve more native dishes and ditch the American grub that plumps out their menu.Best regards to you, Matt, and thanks for your tasty site.Leslie
---
Matt, I have to say thanks for all the insight into Greece you have given me over the past year.Not only did I plan my trip, stay in your hotels, use George the taxi driver and his friend Yannis, find a hospital when I broke my arm on Naxos, and get a travel agent in Athens to help get us home after that, but now I find that after months of recuperation my craving for Greek food can be satisfied by the page I just found. http://www.greecefoods.com/
You are truly amazing. Thanks for all the insight and great info. I look forward to planning my 7th trip back there as soon as I can squirrel away a few bucks and convince my family it all for the good of my mental health. Keep up the great work!Janet Gregory Canada
---
Hi,
thanks for the insight into so of the site and virtual smells of Greek
food. Its fantastic, I have a Greek Restaurant in Melbourne, Australia and
sometimes visit the net to see the real Agean. Have a look at my web page
if you get time www.kabanabros.com.au.

Regards

Jim Mavros
---
dear matt
hi i just got some info on your
page for my assignment on Greek Food!
and it was really easy so i just
wanna say thanks for everything!
bye!
from Penny Marsh

---
Excellent site!
I worked in Athens a year ago and my greek friends always took the orders
and made me love your food. Now I am going back with my girlfriend and I
will need to handle the orders myself. Your dictionary will make me impress
her! Exactly what I was looking for!

Thanks!
---
hi!

I used to live in Greece because my dad was a diplomat for the Korean Embassy in Athens. And I've been having this crazy craving for Greek Food and looking at your site put me in sheer agony! I wanted to let you know what a friendly and well organized place you have made! and I thank you for making a place such as this so that people can come and learn more about the wonderful flavors of Greece!
Have a wonderful day,, and thanks to you-- I'm going to have dinner at a Greek resaurant romorrow with some friends~

Bowoon

---
dear mr BARRRETT my name is Vaios and iam greek .I found your site very good although your are not greek .i have a fish restaurant in piraeus and i have almost 50 kinds of ouzo and tsipouro ,i apreciate your knowledge about ouzo in mytilini and i agree with you especially with"veto" (very dry and clean ouzo) but i think you have probably forgot "apalarina" and "tetteri nr7" from chios
"pitsiladi" from mytilini and "babajim" from serres which are some of the finest ouzos although the best sellers are 'plomari" of isidoros arvanitis and "mini" of epom.please let me know how can i enter my company in your restaurant guide .hope to hear from you soon

VAIOS PAPALAMPROS
PLATONOS 89
18755
KERATSINI
GREECE

---
Hey Matt- Just a note to say your website is great! I have only just begun to read about the food, but have to take a break and write you (and also to let my watering mouth dry out! lol) anyway- i will look at greektravel.com soon. I am SO interested in greece and its culture, i cant seem to learn enough about it. someday, SOON i am planning on going to Thessaloniki, more specifically Plagiari to visit my friend Markos whom i met on-line (and have since fell in love with-haha)..have you ever been to that area? well, thanks for your thourough, informative, and well written site..
Beth Fullmer
---
I am (finalmente) going to Greece,been planning it for nearly 35 yrs.I love Greek cuisine & your guide is most informative.I hope to eat octopodi,octopodi and more octopodi.Kalinicta
G.J.Pisano MD
---
Dear Mr. Barrett,
What a great page! Brought back a lot of memories to me!
This is Greek food at its best (at least visually)
As a Greek myself (not living in Greece for the last 25 years), I am
impressed.
We are in Japan, creating our own website on Greece, Greek culture, History,
Gastronomy and shopping (We import, Greek Olive oil, Olives, Honey, and
Almond Cookies (kourabiedes) from Greece). The site will be www.nostimia.com
. Could you please give us permission to use some of your material? Also
please could you recommend few restaurants you feel suitable Japanese
visitors?

Best regards
A. Fragkis
---
Hello Matt,
I am a college student and am taking Cultural Anthropology. I am doing a paper on the cultural significance of olives to Greece. I chose this topic after eating at a Greek restaurant in Houston. I had to choose a product. Anyway, that is the type of info I'm trying to find.
To be honest with you I know nothing about Greece, just that I enjoy the food I ate today.
I came upon your website and couldn't stop exploring. You make Greece sound so wonderful that I may actually want to visit sometime.
I want to thank you for the great experience. Maybe one day I'll be able to use some of the very helpful information.
Again, thank you for opening a window to the world.
Sincerely,
Cindy
---
you asked for a favorite shop and I'd like to cast my
vote for O Makis in Sourmena. I lived in Athens about
20 years ago and ate there almost every day.
For the best Saganakia shop (of course it's also in
Sourmena) used to be a little shop on Argonavton
street that is now a beer and liquor distributor. I
was friends with the family that owned it and was even
invited to be "best" man at the eldest son's wedding
Best party I've ever been to! Just marginally better
than when my ex-father-in-law came over to visit and
was the guest of honor at Pandatheis' Easter
celebration...He did manage to eat the eye and not
even look like he hated it!
God I miss Greece!
Robb Botelho
---

I LOVE YOUR SITE..I WORK FOR A COUPLE OF GREEK MEN AND WOULD LOVE TO KNOW WHAT THEY ARE SAYING! LOL..I'VE PICKED UP A FEW WORDS FROM YOU ..I HOPE YOUR DIET WENT WELL..AND YOUR WEB SITE IS NEAT,I'M REALLY ENJOYING IT.
SINCERELY,
PINERDILLY
---
after going through your site, i have to say that i enjoyed myself a lot. thank you for telling me about the frapouzo, i think i might try it with my cousin. thank you from Anastasios and Panagiotis.
---
Hi Matt
Yes it was worth it. I couldnt find a recipe for pastitsio until I found it
here.
Yippe my husband dimitri will be very pleased with his surprise birthday
dinner tonight (as cooked by his Xeno (foreigner) wife!)
Thanks again from Australia
- Tanya
---
This website helped me out alot for researching greek foods for a school project!
---
Thank you so much for setting up that website. My friend and I are doing a report on Greek food and music. This will help us sooo much. Thanks again!
---
Dear Mr. Barrett Jan. 20, 2003

I would like to THANK YOU for your web site. l used it for my book report on Greek food. If you could e-mail me back so I can let my teacher know that I communicated with you I would really appreciate it. I am 11 years old and in the 6th grade. I found your information the most helpful. I have interviewed some restaurant owners that are Greek and didn't get the information that I got from your web site on Greek food. I never saw so much information on my subject and all the other sites it can take you to. If you could write me back I'd love to hear from you.. Thanks again for your help in preparing my book report.

Sincerely,
Maria Picillo
P.S. I'll let you know my grade on my report.
---
Hi Matt, bet u thought you, d never here from me, well i wanted to thank u, was going to take your advise on the shis-ka-bobs but ended up with chicken breast STUFFED WITH SPINACH AND PHILOH? cheese melted over it or maybe the rice was philoh or however u spell it. Tasted all sorts of appetizers including squid and who knows what else, everyone's dish looked wonderful, I really enjoyed it and definitely want to go back, also tasted many different desserts, also wonderful. you made it a little easier for me as I had an alternative, thank you so much.Oh,we went to Pegasus in Chicago, thanks again, Fran
---
I've just been browsing your web site and it made ME hungry. Now all I have to do is try some of these recipes. Keep on eating! Charlotte Whitten
---
Dear Matt,
Thank you so much for your help! I found everything I needed! I hope Melissa and I get a good grade on our project! And if I do I owe it all to you! Thank you again!
Lauren
---
Wow!! Hi, I'm called Scott, I'm 16 and from somewhere in England. I'm planning to go to a Greek restaurant within my area and I had no idea what to expect.. until I came across http://www.greecefoods.com . After looking through your VERY clear and extremely well-written web-site, I am much, MUCH more confident of what kind of meal I can hope to look forward to. The way you use mouth-watering language is nothing short of extra-ordinary! I can't wait to eat what is sure to be a gorgeous meal.
Thanks,
Scott. :)
---
What a lovely website! Hello! I came across your website with all the Greek food mouth-watering pictures (as I was looking for a good Greek screensaver or wallpaper to cheer myself up) and I have to admit that it is wonderful how much ifnormation you have accumulated about Greece, though I am still looking through the food bit! Though I've never been to Greece, my family is from there. Part Greek, Part Thracian. By family I mean my great grandmother, who was from Crete / Rhodes - I have never quite learned the basics of the family history, but am going to find out more things soon, and I may have to consult your travel page again! I was born in Bulgaria - we are very similar to Greece in culture - so I fully recommend a trip to the country. 'My Big Fat Greek Wedding' for us is a way of life, not just a movie.....as I'm sure you know.... Still, its' good to hold onto the traditions - they' re good for keeping a community together and educating people about their peoples' heritage, and your website is very helpful for that. Thank you, and I'll carry on dreaming of that wonderful feta cheese salad..... Best Wishes, and Happy Easter, Linda Hall
London
---
Dear Mr Barrett,
I am impressed from your website greecefoods.com and as a Greek national
may I congratulate you.
I am trying to print a text book for learning Greek to tourists and I would
like to incorporate in the book parts of the text of "Llist of foods and
Descriptions" from this website, without the photos.

The book will be printed in no more than 50 copies and will cover the needs
of Canadians who attend an evening course of 8 lessons of Greek language.
Please reply if you allow me

- to use this material and
- make referrence to your name and website.

Sincerely
Hara Hatzidakis

---
Dear Matt I found this lovely cafe quite by accident, I was looking for a restaurant I remembered from my last visit. Anyhow, your friend's cafe is up near the Akropolis (just below the old university, as a matter of fact). The cafe and spinakotyropita are just fine, and there is a lovely breeze, a delight on a warm evening. The best way to find it is to go to the top (beginning) of Odos Eolous. lean to the left around the wind tower and head upward. The street sort of curves around but you wind up on Odos Klepsydras, which is about two meters long, and there is the cafe on the corner. Their orange juice is squeezed before your eyes, and their wine is OK too. Very friendly, and very convenient to Monastiraki & the Plaka. The Eden Restaurant chose to close for two weeks; the Bee restaurant/pub at 10:30 PM was stil closed; and I never did find the rembetika place. I am now in Brooklyn and I wish I were in Greece (except that my daughter and grandchildren are here)/ Yasoo Nina
---
my mother got caught bringing back a taperware filled with imam baildi (this is a turkish dish, but of course now its greek, much like the rest of the greek cuisine...;-) so she told them to eat it...she said, its really good stuff don't throw it away. the custom officer actually told her her will try it!! when i go back home to greece i always take for gifts a) costco chocolate chips cookies (greece still can't produce good american chocolage chip cookies and my sister loves them!) b) smoked salmon c) rib eye steaks! yes, you read right: rib eye steaks cannot be found anywhere in greece tasting as good and as tender as ours. d) virginia smoked ham (they love that too!) i got them so "spoiled" with all of the above, that they now expect them. and coming back, frankly the only and i mean ONLY things i bring back is kefalotiri, oregano and some pistachios. you are right on target on those. and if could fill my suitcase with souvlaki, i would too!! still can't figure out why greek-americans can't make souvlaki taste like it does in greece. here they put the processed meat. i think its got something to do with the law prohibiting piles of meat hanging around ... ;-) i will check out your new site. i have already passed the one i read over to others. its funny and good.
---
Matt, thank you for the guide. Amanda and I used for her ancient Greek
food project for 6th grade.
We wish there were recipes attached to the yummy -looking pictures and
descriptions.
Thanks,
Mrs. Gloria Bol
---
Mr.Barrett,

I stumbled upon your site looking for a map of metropolitan Athens. I have
to say I was amused and found the content informative and delightful.
However, I believe that you have some slight misconceptions concerning these
Greek dishes. Patsa is first and foremost a concoction of tripe, which is
one of the ruminants (cow or sheep) digestive parts prior to the intestines.
Addition of other meat articles is usually incidental. And you are certainly
correct about people eating it for breakfast. My father would have a big
bowl with some kind of vinegar/garlic garnish while we ate our Cap'n Crunch.
Intestines are important in kokoretsi as they wrap the skewered meat with
them. To my knowledge, mageritsa didn't contain tripe. It was generally a
mixture of other organ meats. Although I am of Greek descent, I don't eat
these "delicacies" and have been known to lapse into waves of near-nausea
when I encounter the smell of such things being cooked. Thanks for the
site. I will recommend it to my friends who ask questions about Athens.


Regards,

K. Belonis.
---
Hi Matt Barrett and thank you for the informative site I found while researching for my next presentation at Chef School - I have drawn Greece - one of the countries I have yet to visit - and therefore cannot rely on my local knowledge / memories!! But good to research. Have to put together two recipe items - Mousaka immediately became first choice - and now I have a range of second choices to draw from. I shall enjoy putting together the presentation and hope I can do justice to my chosen topic cheers Viv Gordon
---
thanks for the work, very nicely done! I'm taking "From Myth to History" class at Rutgers, grad program... now doing ancient Greek food research, yr site helps sooo much. best, nareena
---
Hi Matt,Thanks for creating a great page on Greek Food which I will be putting to an interesting use this summer on an island in British Columbia. I am teaching a computer camp for students with visual impairments, and our theme for camp is the Summer Olympics and Paralympics. For our lesson on formatting Iím having them create an authentic Greek Menu complete with pronunciations and prices. Iím using your page as a primary source of information because the humour will appeal to teenagers and because itís very friendly to JAWS, the screen reader that blind kids use to access the internet. Your pages are very clear and have lots to read and arenít all gummed up with special buttons and lots of frames. Even your photo tour of Greek Food is accessible because of the way you set it up as a table. So...did you have any special training in making web pages accessible or are you just a sensible guy? Thanks again,Mallory Burton
SET-BC Instructor
---
Matt Congratulations on your web page, you must be also a photographer, the shots were intresting, colorful and like you said : it makes you hungry, very nice Thanks
---
oHi! I am doing a project on Greece for school, and i looked up your page on Yahoo. All the food pictures were really helpful for my board. I also have to make 2 dishes for my class, and I chose Baklava, and the Chicken and Araigano... it looked and sounded very delicious. You did an excellant job on the page, and I am sure that this project will be a great hit. Well, thanks again for the help! I will be sure to reccomend your page to others whi are doing the country Greece as well! Thanks Again,
Marrissa Thompson
---
Your web site is worth it! I did a google search on Greek food, and I
selected your site. It is wonderful. The photos of the Greek dishes
are fabulous. I have a friend in Thesaloniki and I am trying to learn
about his culture and your site was very informative. I will place it
in my favorites.
Thanks,
Ruth Ann Tucker

---
Thanks to your site, my 12 yr. old nephew was able to do a research paper on Greek Cuisine.
I liked the pictures of the different foods and the many links you have on your site.
Thank again.
Anita Clark
---
Thank you so much! this website rox! I take a Greek class at my school. I am in 8 grade. I am in a group with my friends, and we're doing a Greek restauraunt for a project. You saved my life! just kidding. thanks anyway! and except for the fish, everything looked so good! now i'm starved! -marissa
---
Let me tell you - THANK YOU - for the great job you've done on your web site. I'm starting a job in a greek restaurant as a waitress and I know nothing about greek food - except they eat gyros, cheese, olives and drink wine! I'm half italian so I have a little basic european knowledge. I haven't had a chance to go through your whole site, but the pages that I felt sooooo helpful were the pictures of dishes and the What it is and How to Say it. So, once again - GREAT JOB and THANK YOU :