Vathy is a beautiful little harbor with rooms to rent and excellent, inexpensive restaurants. The nightlife here is quite enjoyable because it is so small it does not take very long to get to know people and you will always be able to find someone familiar to eat and drink with after the first day or so.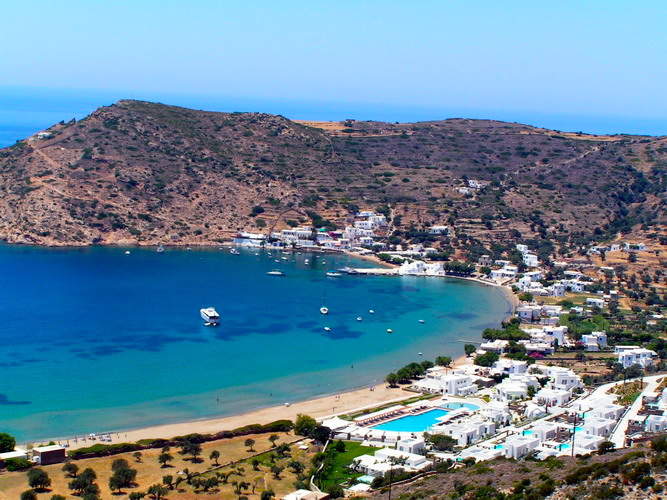 Until a few years ago the only way to get to Vathy was by taking the tiny boat Agios Simeon from Kamares. It left at 10am and came back at around 6pm so you had to spend the whole day there. The trip took about an hour each way. Now you can drive there on the newly completed road from Apollonia in about 15 minutes. Just go through Appolonia like you are going to Platyialos but take a right at the windmills and follow the signs or coming from Kamares look for the signs on the outskirts of Apollonia and you can bypass the town. There is also a bus that leaves from Kamares or Apollonia. There is a parking lot outside Vathi so you can't actually drive in and this keeps the peace in the village and somewhat satisfies the people who were against the road being built in fear that it would spoil life here. While those who have known Vathi in the past will think it is spoiled, most likely you will think it is one of the quietest and loveliest places you have ever been. The saddest part is that the people who were most against the building of the road ended up with the parking lot in their front yard. But these things happen in Greece.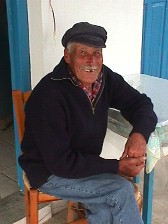 My favorite restaurant in Vathy is Manolis. I can't say it is the best because it is the only one I go to. Manolis has perhaps the best clay oven food on the island. If you are lucky and you come on a weekend night they may even be roasting a lamb. Manolis used to run the restaurant with his son Stellios but in later years became more of an overseer or unofficial host or even a guru figure to the people who came to Vathi every year. Manolis restaurant is really the heart and soul of Vathy. If there is a wedding or a panagiri the celebration is held here. I have an image etched in my mind of Manolis sitting at a table closest to the sea, gazing out. He was one of the most fun-loving, spirited people I have ever met and a favorite of everyone who visits the village. Stellios raises rabbits in the back yard which sometime find their way into the delicious stifado that they serve. It is still a rite of summer that at least once during our stay we will jump in the car for an afternoon of eating and drinking at Manolis after a swim. Every year I was surprised to see him still sitting at the restaurant and every year he made me feel happy I came. One year I came to Vathi he was nowhere to be found and I was actually worried that perhaps old Manolis had left us for good. Then I spotted his oxygen tank next to his favorite chair. I don't think I have ever been so happy to see an oxygen tank in my life. The following year though he died and now his son Stelios carries on. Life continues.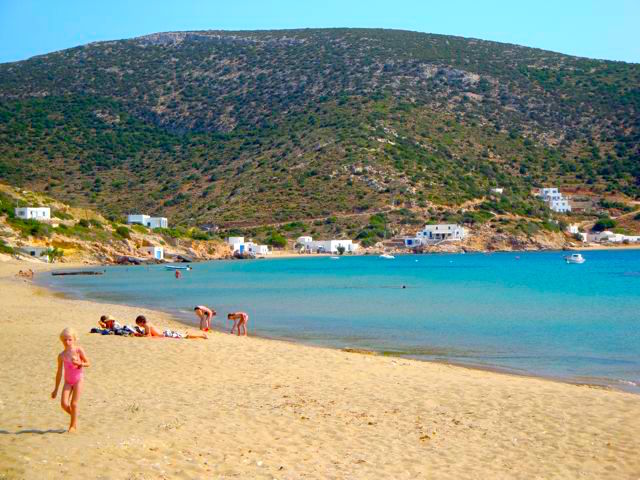 Vathi is a very popular place for sailboats to stop, with a perfect sheltered harbor. The beach stretches for about a mile and though not officially a nude beach, you can get far enough away so that nobody will care. Like Kamares it is also shallow and very safe for children. There are several of the islands potters located here including a very impressive workshop on the far side of the bay. There has recently been a hotel built here which boasts the largest pool in the Cyclades. Most old Vathi fans would be aghast at this. But the Elies Resort has been done with good taste and the individual apartments look like a Cycladic Village and fits in with the rest of the Vathi. Even those who mourn the passing of little Vathi from tiny fishing village to ..... well, tiny resort village, have to admit that the Vernicos family did a good job and rather than destroy the village, Elies Resort has given it new life. I am going to go out on a limb and suggest that when you first arrive in Vathi you will say to yourself that this is the most beautiful village you have ever seen.
Vathy from "Spearfishing in Skatahori"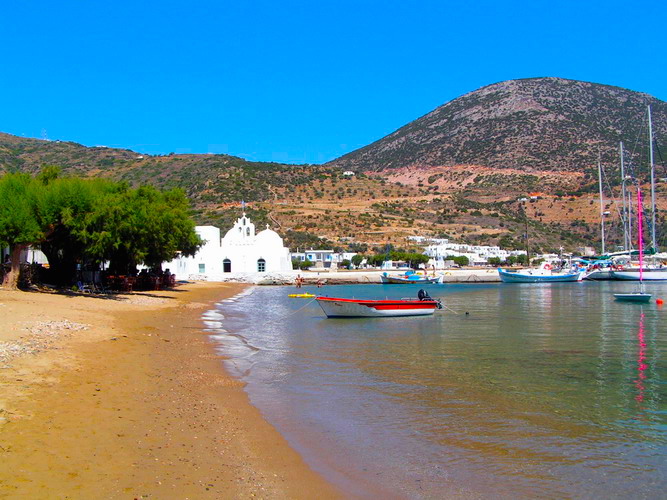 The following comes from the journal I kept during the years I lived in Sifnos, right around the time my daughter was born.
For the last couple years we have spent ten days in the small monastery that rents out it's Spartan rooms for a few dollars a night. There was only a long dusty dirt road passable only by jeep. It's a popular yacht stop and there is a daily boat that comes at 11am and leaves at 4 that deposits tourists on the long beach. Few of them spend the night. It's a very quiet place except that every restaurant has a gasoline powered generator because there is no electricity. When they are all cranked up it can sound like Charlotte Motor Speedway. Still it's a lovely place and the people are wonderful.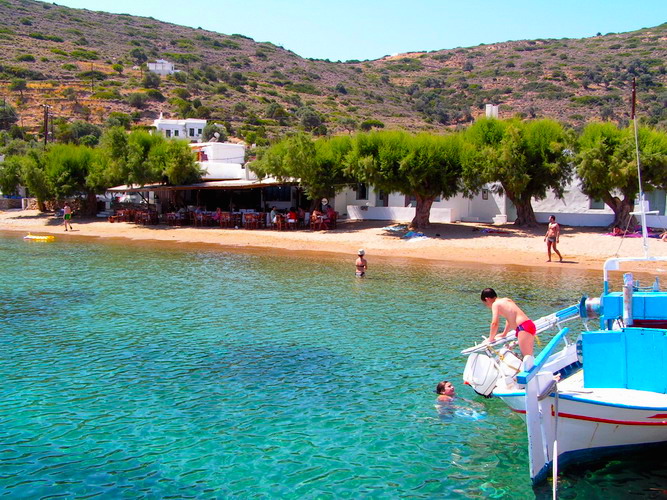 We have had many adventures there. Last year we found a rabbit that had swum to shore. Don't ask me from where. It had an epileptic fit and died in our room. I had also seen a smyrna as wide as a telephone pole. I had caught my largest octopus ever and impaled my foot on a rock while I was trying to get him off my spear, so badly that I could barely walk for two weeks. We had become buddies with old Manolis and his son Stellios. I had even gotten a job herding sardines. Manolis and Andreas would throw out their net from a small rowboat. While they splashed the surface with the oars I would chase the sardines into the net. My payment was as many sardines as I could eat in their restaurant. There were also some sponge-fishermen from Kalymnos. They would go to deep waters with their ancient diving helmets and air pumps, walking around the ocean floor, picking up octopus, which they would sell to the restaurants. They would also find these orange lichens that they would put in glass bottles with vinegar. They gave Andrea and I some to taste. It was fishier then fish. I couldn't eat mine and hid it in my hand the whole time we were talking to them. Then I could not get rid of the smell for days.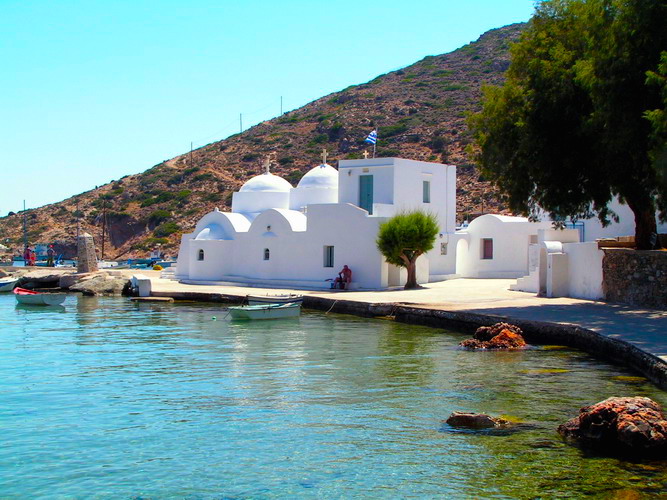 Every morning a fishing boat from Milos would sell it's catch on the small pier right outside our window. By seeing who bought what fish, we would decide upon where we were having dinner that evening. It was usually Manolis. He had built a huge clay pot oven that swiveled on ball bearings. Manolis was about 80 years old and always happy. He ran the clay oven and the grill. Stellios and Andreas waited on tables and Manolis wife, who was deaf did the cooking, potato peeling, string-bean cutting, cleaning and everything else.
Manolis wife does not hear very well and I can barely understand what she says. But she has the nicest smile in Vathi. They also have a farm with lots of rabbits, chickens and most anything you might find on your plate. Now They have built some really nice rooms behind the restaurant. Stellios built and landscaped them. With the road finished they know they tourists will be coming. I can't blame them. I'll be there. I can't think of a better place to be with a dozen of my closest friends.
Matt Barrett 1993
Read Spearfishing in Skatahori
Hotels in Vathi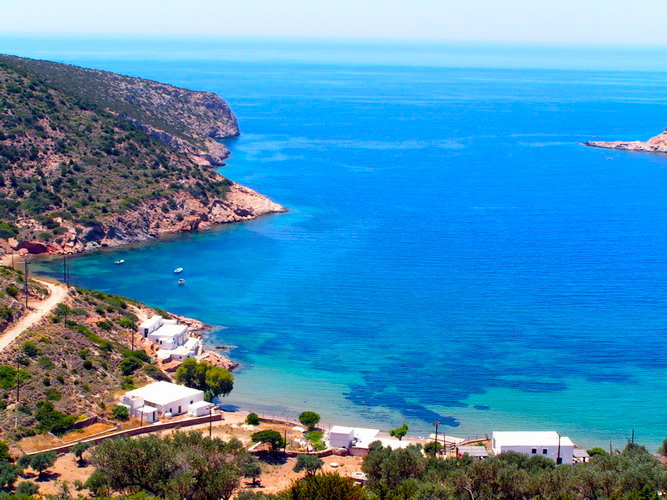 Vathi has changed since I wrote the above but not so much that you will notice, especially if you have never been here. They have electricity so it is actually quieter without the gas fueled generators. There are more restaurants and more sailboats and more rooms to rent but it is still a beautiful, quiet out of the way place that I recommend for families, honeymooners or even solitary writers and poets. There are still a couple small family run hotels like Agrilia Apartments, located directly on the beach of Vathi with a lovely view of the bay and quite close to Vathi's wonderful seaside tavernas and shops. Archipelagos Apartments are a small complex of apartments in Vathi, situated only 30 meters from the sandy beach and perched over the sea, offering a breathtaking view of the cove below and the crystal clear water of the Aegean. Archipelagos Apartments have been recently renovated and are decorated with subtle taste and attention paid to every detail. The impeccable aesthetics is evident in every corner of this hospitable guesthouse. Archipelago is perfectly modern, yet in harmony with its surrounding environment and the islandís traditions. Virginia Studios are located in Vathi directly on the waterfront with a lovely view of the bay and quite close to Vathiís wonderful seaside tavernas and shops. The small complex has a charming patio with private sun beds and umbrellas and is just a stoneís throw from the beautiful monastery that sits at the base of Vathiís small pier. See more hotels, apartments and villas in Vathi.
Elies Resort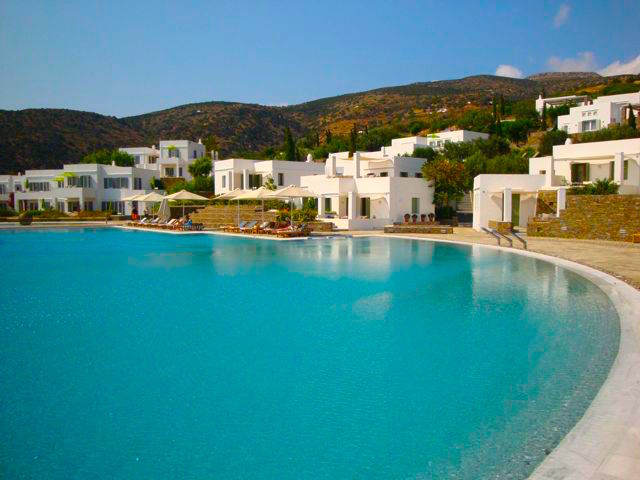 If you are looking for a beautiful resort hotel with an enormous swimming pool, supposedly the biggest in the Cyclades, and a large shallow pool for your children check out the Elies Resort in Vathi, Sifnos. The rooms are actually set up like small individual village houses so you have plenty of privacy and the beach village of Vathi has no cars! There is a parking lot at the entrance of the village and that's as far as you can drive. What could be more safe? Aegean Thesaurus Travel the local agency in Sifnos has the best rates for this hotel. The Elies is one of the best and most beautiful resorts in Greece, similar in quality to world-renown resorts like Porto Elounda in Crete, but in a much nicer setting. It reaslly is like being in a small Greek island village, because you are. Information on accommodations and rates can be had from Aegean Thesaurus Travel the travel agency of Sifnos who can also book hotels in Athens, other islands and ferry tickets. For those who prefer to book without going through a travel agency you can book the Elies Resort on Booking.com