Sikinos is probably the least known and the least visited island in the Cyclades, at least the inhabited ones. Located between Ios and Folegandros, the summer high-speed ferry that connects Mykonos and Santorini stops here to let a handful of people on and off the boat so many tourists have a good idea of what the port of Aloponia looks like though not much else. In many ways it is a perfect place to spend a week or so of your summer if you are looking for somewhere that is really and truly off the beaten path, even though it is kind of on the beaten path. There are a handful of rooms and studios, a cafe and taverna or two and a very nice beach in a sheltered bay, shallow and perfect for families with small children. If the ferry schedules are cooperative you could even stop here for a few hours on the way from one island to the next, though I am betting that if you are reading this you may be the type that after spending a few days here might make this your island and plan to return again, even if you never actually do.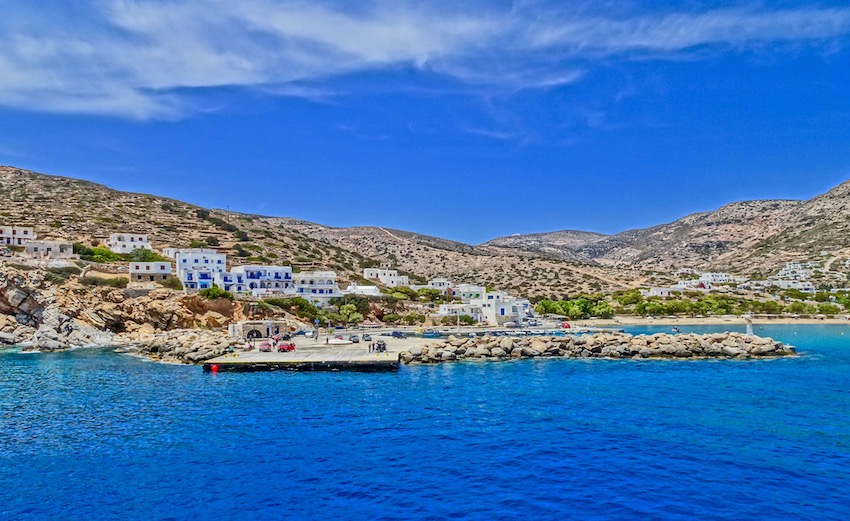 The ancient name of Sikinos was Oenea as in the past it was known for its wine. They also produce a variety of olive, smaller than most, which is known for making very good oil. The name Sikinos comes from Sicinus who was the son of King Thoas of Lemnos. The first inhabitants were probably Mycenean, followed by Ionians from Asia Minor. During the Venetian period it was ruled by the Duchy of Naxos. It fell to the Turks in 1537 and was liberated during the Revolution of 1821.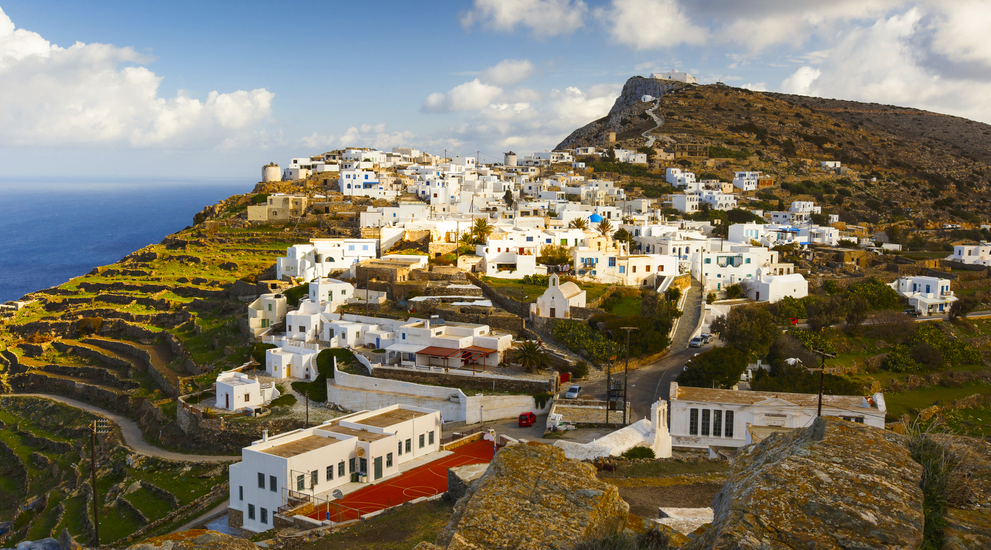 The main town of Sikinos, called Chora (as are many main towns are on the islands since it means village), is a simple Cycladic village overlooking the Aegean Sea. It is actually two villages connected. The other part is called Kastro (Castle), which is where most of the people live.
There are a handful of places to stay, several restaurants and cafes, and as many shops as a town of 200 or so inhabitants would need. If you think of Sifnos and Serifos as "unspoiled" then Sikinos is off the charts. There are several historical churches you can visit. The Church of Pantanassa is the island's cathedral and is located in the main square and has some beautiful historic icons, as do several others in the village. One important building is the old school, an early 20th century building bequeathed by entrepreneur, politician and national benefactor Andreas Sygros (1830-1899).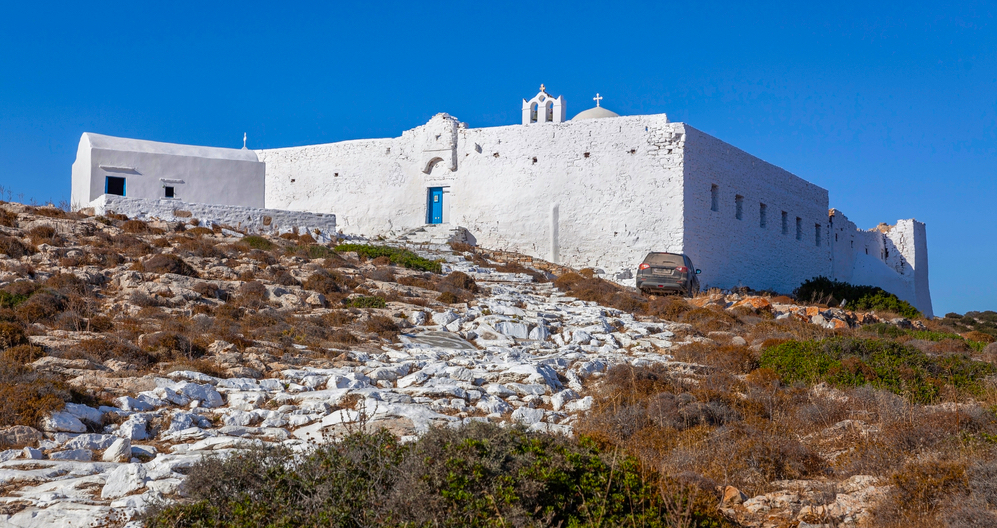 The main attraction, besides the serenity of the village, is the 17th Century Zoodochos Pigi Church in the Chrysopigi Monastery which you reach by walking up a stone stairway on the eastern edge of the village. (You can drive there too). The monastery has a spectacular view and is best visited at sunset. There is an exhibit of religious artifacts and there is a nun who lives there and keeps the place beautiful. They have a panigiri (festival) on May 2nd. Below it, on the path from Chora is another small chapel, Panagia Pantohara, built for the poet Odysseus Elytis, though he never got around to visiting it. There are two museums in town, The Byzantine Museum of Sikinos, located in the main square, and the Folklore Museum of Sikinos, located in an old olive press.
Sikinos, like other islands in the Cyclades, has a system of paths, some used since ancient times, which connect just about every church, monastery, ancient site, beaches and pretty much anything worth seeing on the island.
The Episkopi Monastery is about an hour and a half walk from the town, or you can drive to within a hundred yards or so of it. The monastery was built on the site of a Roman Mausoleum and near a Temple to Pythian Apollo and you can see remnants of it in the building, including entire columns. If you don't mind walking a little more, well a half an hour or so, continue on the path to the church of Agia Marina for one of the best views on the island. The Archaeological site of Agia Marina is nearby with ruins from the Hellenistic and Roman periods and a splendid view.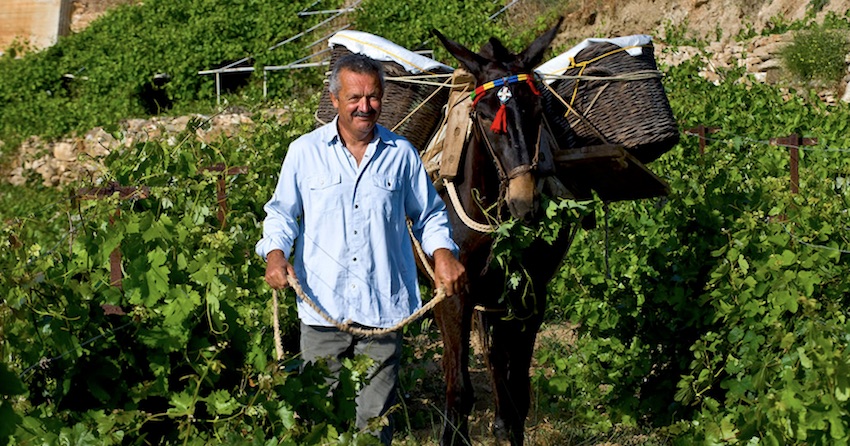 If there is one place you should not miss on your visit to Sikinos it is The Manalis Winery, located on the northwest side of the island in an area that has been producing wine since ancient times. The winery opened in July 2018, is environmentally friendly and uses renewable energy sources. They currently produces four wine labels:
The SIKOINOS White: Assyrtiko, Aidani, and Monemvasia grapes
The SIKOINOS Rose: Aidani and Mavrotragano grapes.
The SIKOINOS Red: Mavrotragano and Mantilaria grapes.
The Liosato: Sweet local wine made from sun-dried grapes.
It also has one of the best restaurants on the island.
Itís open daily, from the 1st of June to the end of September from 6 am to late in the evening. The winery is located 2 km from chora and 6 km from the port. There is afternoon local bus services and a private van owned by the winery that can accommodate 16-persons upon previous request but it is also a very nice walk from Chora.. E-mail: info@manaliswinery.gr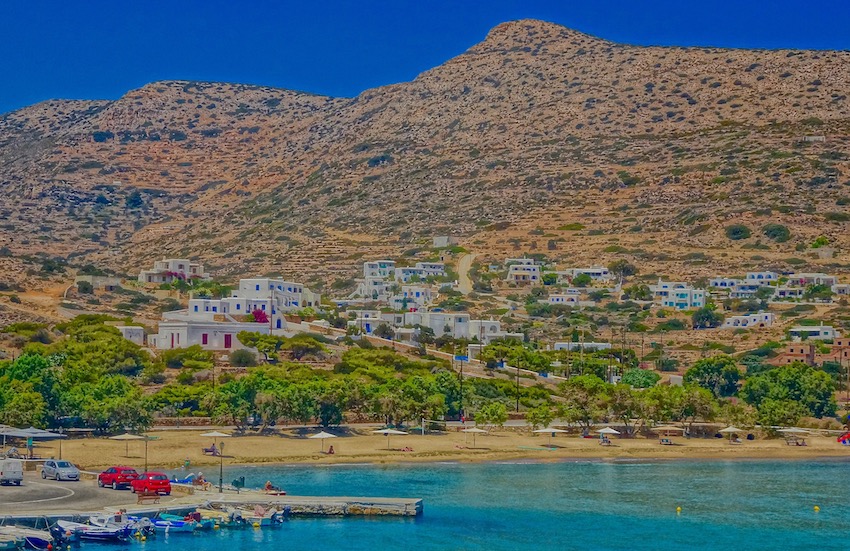 Beaches
Sikinos has a small handful of beaches with very clean sea and usually very few people. Most of them are on the southern side of the island where the land slopes more gently to the sea, as compared to the north which is pretty much a long cliff. If you don't have a car or a motorbike then chances are you will be swimming at the port of Alopronia which will probably be at least as nice as any beach you have been to in the Cyclades. Sandy, sheltered, shallow and shaded, what more could you want besides a taverna, which it does have, The sea is pretty calm but a south wind can bring some waves but that is rare. Watch your stuff doesn't get soaked when the ferries come in though.
Dialiskari is a beautiful small sandy beach a couple kilometers by dirt road from Alopronia. There are some sun beds and umbrellas available to rent and also some shade trees close to the sea. The beach is very sheltered so waves are rare whichever way the wind happens to be blowing.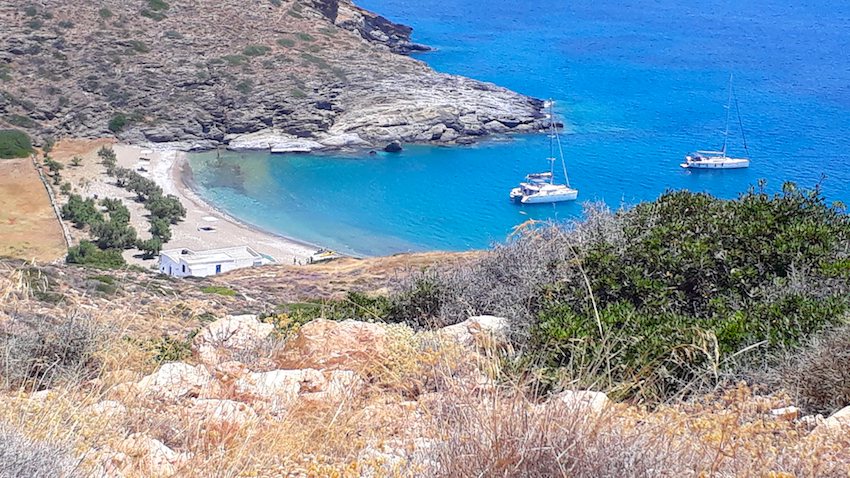 Agios Giorgos Beach is larger, further away but still accessible, and has a taverna too. Agios Giorgos is the windsurfing beach so even if you don't windsurf there is often somebody out there to entertain you. There are umbrellas and beach chairs as well as tamarisk trees for shade. Many people say this is the best beach on the island, at least of those you can drive to.
Maltas Beach is a beautiful clean sandy beach with few, if any people and very little shade so bring your own. Bring water too. There is a path that starts at the Church of Profitti Ilias which will take at least an hour or so but you can also come by excursion boat from the port. I recommend doing that unless you are in really good shape and don't mind walking back up a mountain after a few hours at the beach. They say you can walk here from Chora in two hours. Not exactly my idea of a good time, especially knowing I have to walk back, but maybe it is yours. You can also visit the Archaeological site of Paliokastro with ruins from the Hellenistic period and earlier.
Santorinaika Beach is in the south of the island, very small with pebbles and room for about a dozen people. Probably not worth going unless you happen to have a boat and are going around the island and want to stop for a swim somewhere.
Most people will be very happy swimming in Alopronia. Unless you want to hike to beaches because you are bored or you like to hike, the port has pretty much everything you need for a day at the beach, or even a week. If you have kids then it's a no-brainer.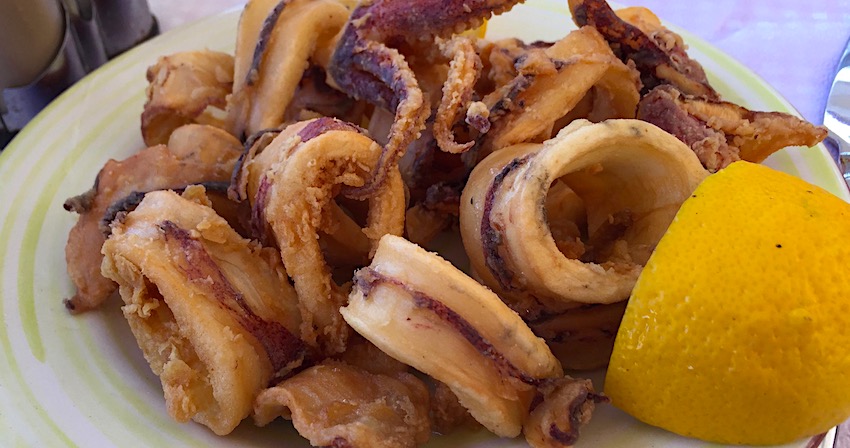 Restaurants
Sikinos is a very small island with very little tourism. That means there are very few restaurants. It also means the restaurants that do exist are open year round and cater mostly to the local population which is good news on an island that is largely agricultural. That means you can expect good home-style cooking with local ingredients at just about anywhere you go. Meltemi Taverna in the port of Alopronia is a typical meat, fish and vegetable restaurant as you would find in a more remote town on a touristy island with no written menu, just whatever they made that day which is probably enough. Make sure the fish is fresh and you should be fine whether you are arriving, waiting for the ferry, or spending a day at the beach. Anyway if you are staying in Alopronia you have no other choice since it is the only restaurant for miles. To Steki Tou Garbi in Kastro serves traditional food from the island and known for the local Siniako Souvlaki and other meat dishes. Very nice atmosphere and friendly service you can find many of your favorite dishes but I suggest asking for whatever local island dish was made that day. Beautiful horiatiki salata with local feta like the mizithra you get in Sifnos. Next door is Soulatso which is an all day restaurant-cafe where you can start with coffee and breakfast and move on to lunch, ouzo and mezedes and even dinner. Everything is home-made but on an island where it is easier to grow food than import it this is the case with all the restaurants. Klimataria is a traditional island taverna with friendly service and hand written menus, home-style cooking including kouneli stifado (rabbit stew) and katsiki lemonato (goat in lemon sauce) and the usual mousaka, pastitsio, gemista and soutsoukakia. Kapari is a little more fancy but only by a slight degree and prices are pretty similar to other restaurants, maybe a little more expensive but not enough to be a deterance as the food is good and if you love capers, as many people do, they use them in many of the dishes. It has a larger menu than the other restaurants, in fact it actually has a menu and though it is not tucked in a little side street or village alley but on the main road, that probably won't matter unless you are here in August. Order paidaikia (lamb-chops) and whatever craft beer they carry. Stroufilia Restaurant at the Manalis Winery has an incredible sunset view, excellent mezedes and main dishes, and wine to go with them. It is probably the most refined of all the restaurants though it still serves what is basically traditional Greek Island food. But the view and the wine make it worth devoting at least one night here though you might want to phone ahead and make sure you are not showing up in the middle of an event of some sort. Tel (+30) 6996670910.
Before or after dinner try Anemelo, a cafe/bar in Kastro where you can get ouzo and meze, breakfast, crepes, sweets, and cocktails. If you want nightlife this is probably it but that's a good thing because you don't have to search around for the coolest place in town. This is it. The only cool place in town. They play tasteful music and not at ear-splitting volume. Some say it is one of the nicest little bars in the Cyclades. After hours young people head to Themonies, a disco out of town that is known to stay open until 9am during the wild nights of August.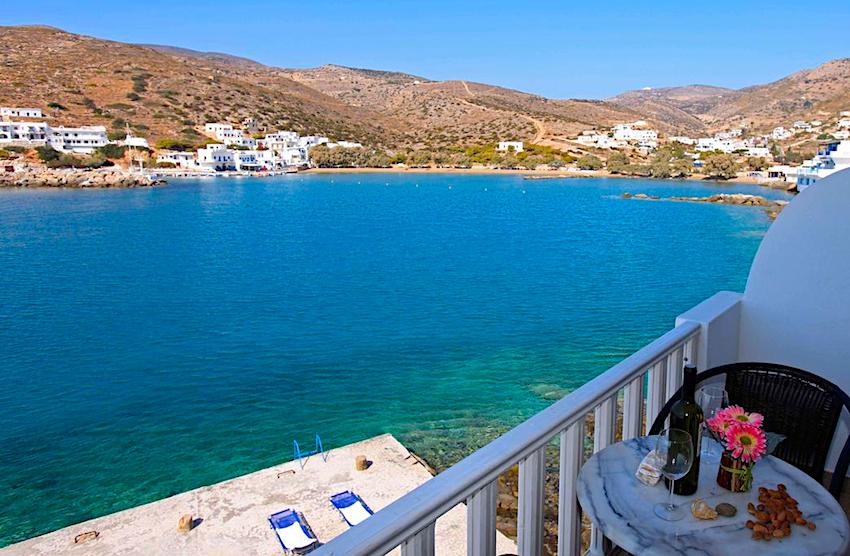 Hotels and Other Places to Stay
Sikinos has one hotel. Yes. One hotel. However there are plenty of places to stay that are not officially listed as hotels so don't worry. Most are family run guest houses which are almost like being embedded with a Greek family. There are also a few holiday homes for rent similar to what you see on Air BnB if you want more privacy and more space.
The one hotel is the 2-star seaside Hotel Porto Sikinos just above Alopronia Beach and the port. All Cycladic-style rooms have a private balcony or terrace. Each is air conditioned and includes a fridge, TV and bathroom. Some also benefit from free Wi-Fi access so if it is essential that you have it remember to ask. Otherwise you can get it in the common areas. Just down the road the seafront Maistrali (above photo) is traditionally built in Cycladic style. It offers air-conditioned accommodations with views of the Aegean Sea or the garden. Free WiFi access is available in all areas. All individually decorated rooms of Maistrali feature a flat-screen TV. Opening to a furnished balcony or terrace, each unit has a mini fridge and a private bathroom with a hairdryer and free toiletries. Perched on a rock right above the sea in Alopronia the traditionally built Vrahos Rooms - Studios features a colorful garden and a sun terrace with BBQ facilities. It offers air-conditioned accommodations with views over the garden or the Aegean Sea, and free WiFi access in public areas. All rooms and studios are traditionally built and open to a furnished balcony or terrace. Each includes a Plasma TV, a fridge and a private bathroom with shower and hairdryer, while some also feature a well-equipped kitchenette. The Seaside Traditional Cycladic House is a spacious two-story home, built on the sea, with terraces literally on the rocks, just 100 meters from the beach of Alopronia. There is a bedroom and a spacious living room with a sofa bed. Fully equipped kitchen. There is a bathroom, a small wc and a shower on the terrace. Both floors have impressive terraces with amazing views. You can even dive from the ground floor terrace into the sea. The house can accommodate 3 adults with the possibility for one extra person. Ideal for couples, friends and families looking for moments of relaxation. Ioli Apartments are a few steps from the port and the beach. The pet-friendly accommodations is air conditioned and is fitted with a flat-screen TV and free Wi-fi. There is a seating and/or dining area in some units. There is also a kitchen, equipped with an oven. A microwave, a fridge and stovetop are also featured, as well as a kettle. There is a private bathroom with a hairdryer in each unit.
In Kastro and Chora there are a few choices, mostly traditional village homes that have been set up as holiday rentals. Sikinos Island Village is a vacation home with 2 bedrooms, 2 bathrooms, a flat-screen TV with satellite channels, a dining area, a fully equipped kitchen, and a balcony with garden views. The house can easily accommodate 7 people. Stegadi Apartments are air conditioned and feature a flat-screen TV and free Wi-fi. There is also a kitchenette, fitted with a refrigerator. There is a private bathroom with a shower in each unit. Anna's House provides self-catering accommodations with a balcony and free WiFi. Guests staying at this vacation home can use a fully equipped kitchen. The vacation home comes with a flat-screen TV and 1 bedroom.
For more houses and rooms see Matt's Sikinos Accommodation Page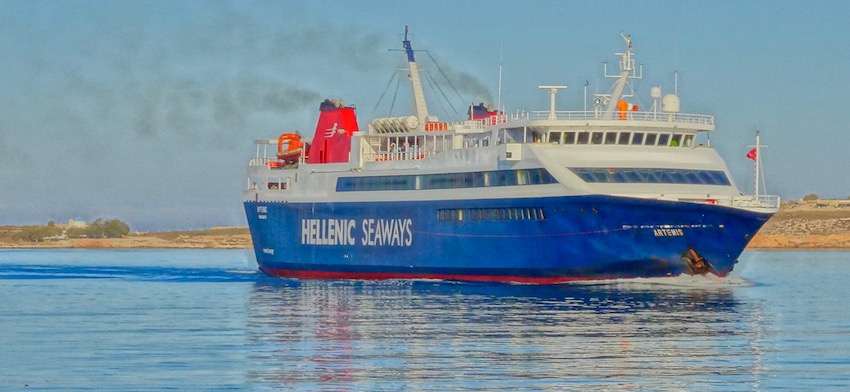 Getting to Sikinos
The only way to get here is by ferry or high-speed. There are several boats a week leaving from Pireaus. The traditional ferry (that means old) Dionisios Solomos goes on Mon-Weds-Friday leaving at 2:55pm and stopping in Kythnos, Serifos, Sifnos, Milos, Kimolos and Folegandros and arriving in Sikinos at 1am, maybe not the best time to get to an island. On Fridays the Artemis leaves from Lavrion at 8am and stops at Kea, Kythnos, Syros, Paros, Naxos and Ios, arriving on Sikinos at 7pm a much more civilized time. On Tues-Thurs-Sat there are several ferries and high-speeds leaving from Pireaus and Rafina in the morning and getting to Sikinos in the afternoon. The best thing to so is check Ferryhopper.com for schedules and tickets.
Sikinos is a great island to do in combination with Sifnos. In fact people who visited Sifnos 20 or 30 years ago may notice similarities between Sifnos then and Sikinos now. You can contact Aegean Thesaurus Travel in Sifnos and they can assist you with ferries and accommodation on either or both islands and Athens.