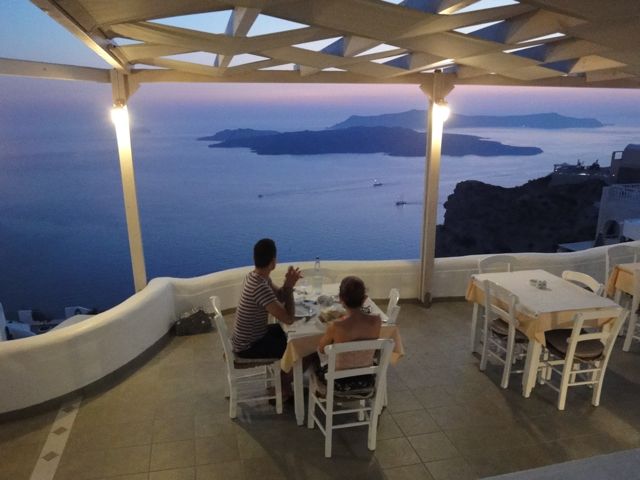 There is certainly plenty of nightlife in the beach towns but, beach bars are meant for the daytime and the true romantics stay in or near Thira or the other cliff towns and get back there from the beaches with plenty of time to shower, take a short nap and then walk to one of the bars that line the volcano for a few drinks and to watch the sunset. These are the types of places where lifelong friendships are made since you are all sharing the same remarkable experience. ("Nice view isn't it?" "Yeah".) It is an experience that heightens one's awareness of nature and his own place within it.("Is that a boat or a whale?") It's a sense of awe combined with the relaxation that comes from the drink you have and the knowledge that there is nowhere you have to be.("I wonder what time it is in Houston") It's also a great place to meet girls and boys. But lets face it. After a couple glasses of wine you can be happy anywhere and some people don't even leave the hotel, especially those on their honeymoon who probably don't have that same compulsion to go out and get drunk and flirt.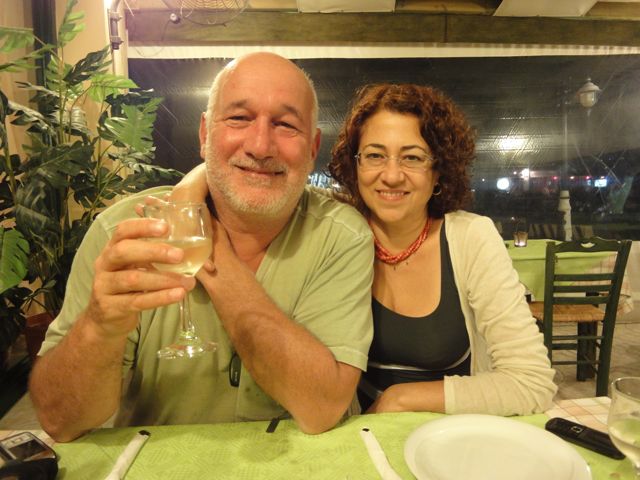 Some of the tavernas on the beach will have bouzoukia on weekend nights for the tourists, advertising 'Greek Night' on posters around town. In general the thing that most people do when they go out at night is have a drink somewhere with a view and then go somewhere to eat so you should check my restaurants page. If you are seeking authentic live Greek music, played by Greeks, and sung to and danced to by Greeks you can try Kyra Nikis which is about a ten minute walk from Fira and Niki's son and his band play live Greek music. Reservations are advisable so call. ( 22860 25146) Kyra Nikis is on the main road between Fira and the airport. Santorini has its share of big clubs with flashing lights and kids dressed to kill dancing til 6am and also smaller intimate bars and pubs, all of which you can find in local tourist info magazines like Santorini Today which are left in all the hotels on the island. If something big is happening then there will be posters around town. On Friday night the Wine Museum, which is actually the Koutsoyannopoulos Winery have every Friday from June to October a night of wine, food and entertainment with live music, Greek dancing, and unlimited drinking. They also provide transportation to and from your hotel. The cost is 55 euros a person and you can get more information or make reservations by e-mailing: (info@wine-museum.info) or phoning from your hotel (22860 31322).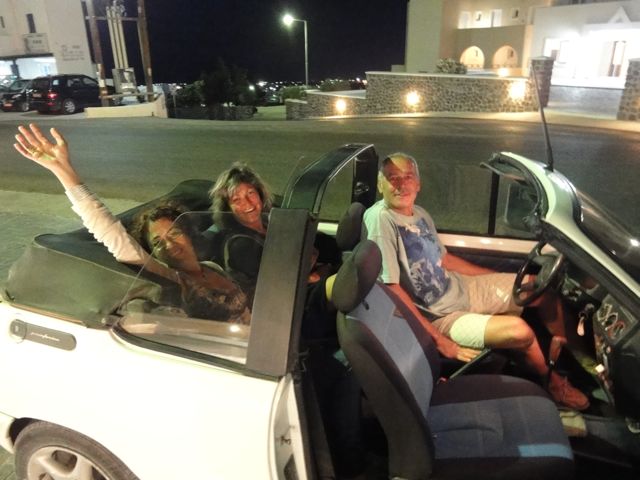 The most popular places are in Fira, overlooking the caldera, for example Franco's Bar, declared one of the best bars in the world by the great authority on what is fun, Newsweek Magazine, is known for its classical music at sunset. The Koo Club has a large outdoor area and plays progressive, mellow, house , trance and Greek music. The Highlander is the island's only Scottish bar and has happy hours early to get people in the place early but the fun does not really get started til after midnight, like most of the bars in Santorini. There are lots of others, some of which host parties with international DJ's which are advertised on posters all over town. Keep in mind that for the most part bars in Santorini, especially popular ones, are expensive and some of the people who work at them are jerks, for example bouncers who hit first and bounce later or owners and staff who have been in the business too long and have made way too much money and may have picked up some nasty habits along the way. If you are young and your objective is to get trashed, stay out all night and maybe get laid, you will probably meet people with similar interests. But you can probably be around a bunch of drunk stupid people in your home town so why do it here?
And you can always just go to a movie. Villagio Cinema in Kamari is the only outdoor theater on the island and for all I know maybe the only movie theater. Open-air cinemas are one of the joys of living in Greece and if there is something playing that you want to see you should not miss the experience.