Introduction to Captain Corelli's Island
I remember the day I got my first e-mail asking "Where is Kefallonia?" I was sort of expecting it. It was the day the film Captain Corelli's Mandolin came out in the USA and I assumed it would do for Kefallonia what Summer Lovers did for Santorini, multiplied by a million, unless the movie bombed, (which it did).
I didn't want to be the kind of travel writer who reviews a destination just because he knows it is going to be popular or thinks it may be popular. But being insightful, I knew that if one person e-mailed me the day the movie was released then probably there were going to be more. Rather then have to describe the island to endless e-mailers, the sensible thing would be to write about it and then direct people to the webpage. I had no intention of trying to cash in on the success of Captain Corelli's Mandolin or mention Captain Corelli's Mandolin over and over again like a beacon for search engines to home in on for thousands or millions of romantic travelers who choose their Greek island destination because they saw it in a movie about World War Two. That was not my style and would certainly taint my reputation of being an honest writer, wouldn't it? And how many times could I mention Captain Corelli's Mandolin before readers start thinking that I am only trying to get more hits from google? Mamma Mia!
Had I ever been to Kefalonia the island of Captain Corelli?
Yes, actually once. It was in the eighties and I was coming from Brindisi to Patras and I happened to be on one of the ferries that stopped there. No, I did not get off but I could see that it was beautiful and green and I wanted to get off or at least return one day. I never did but I did see the movie (Captain Corelli's Mandolin). I had also flown over the island numerous times going to and from the USA and each time I was reassured that it was still beautiful and green just like it looks in the movie Captain Corelli's Mandolin. So though I had never physically walked the streets of the villages of Kefalonia, or swum in the azure seas, nor climbed its mountains, technically I have been there. And since I have been there more than someone who had never been there on a boat or flown over it or seen the movie, by Tripadvisor standards that made me pretty much of an expert on Kefalonia.
So what right do I have to make a website for Kefallonia, having only been in the harbor and flown over at 26,000 feet?
Even my friend and fellow travel writer Elizabeth H. has said that unlike me she would never write about an island she had never visited. Oh yeah? Well, I have a friend from Kefalonia: Jerry, who used to own the Marathon restaurant in my home town of Carrboro, NC where I used to work as a pizza delivery guy. He had a calendar of Kefalonia on the wall of his restaurant with a different town or beach on every page and I can tell you for a fact there are at least as many beautiful places on Kefalonia as there are months in a year. I looked at that calendar every day for at least 6 months. So I guess that makes me pretty much of an authority on Kefalonia miss smarty-pants travel writer.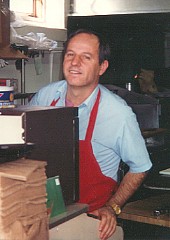 Anyway, Jerry sold Marathon and took all his money and the calendar and moved back to Kefalonia only to discover that things had gotten a little more expensive (even before the movie came out) and he had to come back and start another restaurant, this time in Kinston, North Carolina. The other day I ran into his friend Sotos at BestBuy and he told me Jerry was going to move back to Kefallonia again. Probably to meet Nicholas Gage (star of Captain Corelli's Mandolin). Important Kefalonian Fact: Saint Gerasimos is the patron saint of the island so many people are named Jerry. So if you meet someone named Jerry from Kefallonia that does not mean he is my friend unless you meet him in Kingston, North Carolina. That is not my only contact with the Island of Captain Corelli. One day I received a postcard from my friend Larry's sister Olivia, from Kefallonia (as it was called before the movie). The picture was of a beautiful cave with a lake in it and a shaft of light coming through a hole in the roof making the water an unbelievable turquoise color that looked like the photo was touched up. There couldn't be places with colors like that could there be? Later (much later) Larry moved to Kefallonia and once he called me from his house where he was watching the sunset to where I was in Lesvos watching the sunset and it was sort of a neat connection. (I was reading Corelli's Mandolin too!).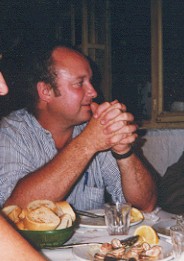 How about this: I got drunk with Louis de Benieres, the author of Corelli's Mandolin. I know some of you who are a little bit cynical may be thinking that I am just saying this so I can squeeze in the name of Corelli's Mandolin one more time, or show myself to be even more of an authority on the island of Kefallonia, but it is true. In fact I was in the process of reading the book (Corelli's Mandolin) when we were invited out to dinner with some friends in Athens. "Do you mind if one of our friends joins us?" our host asked me. "He is a writer". Sounded OK to me. Maybe I could give the young fellow a few tips. Imagine my surprise when I discovered it really was Louis de Benieres (the author of Corelli's Mandolin), and since I happened to be reading the book at the time it seemed like divine intervention or something of that nature. But the girls at the table were so greedy and they all wanted to sit next to him and though I knew that he would much rather be talking about literature (mine hopefully), than discussing the desires of middle-aged women and house cats, I could only interject occasionally before being drowned out by the women. In the end Louis and I said very little to each other and I never finished his book. (Don't tell him). That is a picture of me with Louis de Benieres that I give you as proof. That's my nose.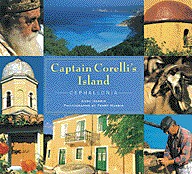 But this fascinating story is not over yet. Not by a longshot. Two other friends that I met in Athens, Terry and Andy Harris, had written a book about Kefallonia called "Captain Corelli's Island". Not to cash in on the novel or anything, it was just a very beautiful photo book about the island and they wanted to make sure that somebody read it besides the same old people who go to Kefallonia every year so they named it after the movie instead of the island. There is nothing wrong with that, except of course that the movie bombed. The book was a collection of excellent photos and interesting information about the island. So of course I wanted to jump on the bandwagon too and make a website using pictures from the book in return for promoting it. Not that I would call it "Captain Corelli's Island Website" or anything so blatant. I would just make a simple old Kefallonia page as if it were any other island and not one destined to be the next San Tropez or wherever it is that Hollywood stars hang out these days. But by the time I got around to making my Kefallonia page the photo book was a best seller on Amazon.com, Corelli's Mandolin had made Louis de Benieres a zillionaire and the movie Captain Corelli's Island was showing a few blocks from my house and even my friends were sending me e-mails and asking if I have seen it yet and do I know what it is about. The rapid flow of events which Benieres had begun with his novel had left me behind and now there I was like anyone else trying to throw together a website for an island that within the next few months everyone in the world would want to go to.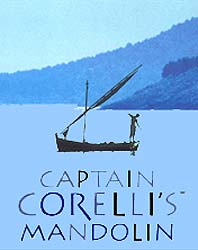 But I did have a few advantages. The first was my solid reputation as an expert on Greece which meant that anything I wrote about Kefalonia would probably be read which right away gave me an advantage over other lesser known travel writers who have actually visited the island. The second is that I know how to read and I have lots of books about Greece and I could create a website that is more helpful and entertaining without even going to Kefalonia, than many people can after spending years there. Look how much I have written so far. I have not even mentioned a single beach, restaurant, hotel or town on the actual island and already I have written more than most guidebooks have on Kefalonia. In fact I bet that by reading Lonely Planet, Rough Guide and Frommers I can make a darn good website and few people will know or care whether I read the information, experienced it or made it up. Plus I have read three-quarters of Corelli's Mandolin and I plan to see the movie soon.

So this is my website for Captain Corelli's Island which used to be called Kefallonia and in fact is still known by that name. Click to continue...

You can find many hotels in Kefalonia by location, price, whether or not it has a swimming pool or is on the beach, and see photos, maps and customer reviews by using this link to booking.com. Excellent prices and many hotels you can book and then cancel with no cancellation fee. For those who want to book without using a travel agency this is the best way to do it.