This is probably the most practical page on this site and will tell you how to get to and from Kefalonia and how to find hotels and travel agents that work with the island.
Coming and Going to and from Kefalonia: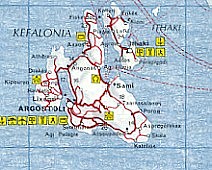 There is an airport south of Argostoli with daily flights from Athens and Charters from the UK and maybe a couple other countries.

There are seven different ferry ports in Kefallonia but not all of them will be of use to you. The main connections are:
Sami and Patras at least once a day
Sami and Igoumounitsa, Corfu and Brindisi daily
Sami and Bari or Venice three times a week in the summer
Argostoli and Kylinni on the Peloponessos, two a day
Poros and Kylinni on the Peloponessos two a day
Fiscardo and Vasiliki, Lefkada at least 2 a day. Another goes to Frikes in Ithaki.
Agia Efthymia and Vathi, Ithaki once a day and also goes to the mainland
Pesada to Skinari, Zakynthos once a day only during high season

Plan A: If you are a package tourist you can get a flight from the UK. But then you are part of a package tour.
Plan B: Fly to Athens and then fly to Kefallonia.
Plan C: Fly to Athens and take a bus, train or taxi to Patras in the Peloponessos where there is a daily boat to Sami or instead of Patras go south to the town of Kyllini where there are two or three daily boats to Argostoli.
Plan D: You can also get a ferry from Brindisi, Corfu or Ithaki.
Plan E: Fly to Athens, take the X93 bus to Bus Terminal A and take the bus all the way to Kefalonia. See Schedules
The best way and a great deal if you are 3 or 4 people and can split the cost is to do a taxi transfer from the Athens airport or from your hotel in Athens if you decide to stay the night to Patras, Kyllini or the island of Lefkada. That way the driver can find the boat schedules and get your tickets for you and put you on the boat instead of you having to figure it out yourself. See www.greecetravel.com/taxi the website of George the Famous Taxi Driver of Athens.

Sailing To Kefalonia
Kefallonia and the Ionian islands provide some of the most magnificent sailing in Greece. They are not as affected by the Meltemi winds and there are lots of coves and bays that are inaccessible by land and can make swimming a very personal affair, plus it is the easiest way to explore Kefallonia to the fullest.. It can also be as cheap as staying in a hotel and in the height of the tourist season your best option for seeing the island. For more information on renting a sailboat or a yacht or joining a flotilla see www.charterayachtingreece.com
Hotels In Kefalonia

Finding a hotel or room in July or August is difficult if not impossible and it is getting harder in the off-season. I can only imagine what it would have been like if Captain Corelli's Mandolin had become a hit. You can book hotels year-round through these agencies and they will even try to find something for you in high-season if that is the only time you can go.
Dolphin Hellas: www.greecetravel.com/dolphinhellas
Fantasy Travel: www.fantasytravelofgreece.com
Contact these agencies through their websites. They may not even have pages for Kefallonia because the island does not have the mass appeal of the Cyclades (yet) but they work with a number of hotels and can send you a list and rates. The Limanaki Hotel is highly recommended by George Gerassimides of Fantasy Travel.
Also see www.greecetravel.com/villas for information on villas and house rentals on Kefalonia
and www.hotelsofgreece.com/ionian

You can find hotels, apartments, rooms and even houses through Booking.com's Kefalonia Pages which also contributes to my website when you book.
Suggested Hotels in Kefalonia
If you don't want to go through a travel agency and you want to book hotels directly here are some choices, started with the most expensive and going down. You can click on the hotel name for more information, more photos and to book.
Ionian Emerald Resort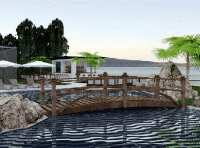 Combining a beautiful location in Karavomylos with excellent spa and leisure facilities and a fully equipped business centre, Ionian Emerald is an excellent choice for holidays in Kefalonia. This new and exciting luxury beach hotel offers beautiful views of the Mediterranean Sea from its landscaped gardens. Have a relaxing start to your holiday with free transfers from Sami Port or Kefalonia Airport. Enjoy a host of modern amenities in your tastefully decorated room, including a luxurious Jacuzzi bathtub. Start the day with a sumptuous breakfast buffet before your meetings or sightseeing activities. Children can enjoy their own pool or have fun in the playground whilst you soak up the sun on the lovely terrace. Pamper yourself with a massage at Ionian Emerald Resortís spa centre. Spend time relaxing in the Jacuzzi or the sauna. Afterwards, relax with an exotic cocktail and enjoy the stunning sea views from the terrace.
Regina Dell' Acqua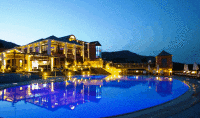 Regina del Aqua, an exceptionally beautiful, 5-star hotel complex, is located on the edge of Kefalonia, across from the magnificent red beach of Skala.
Regina del Aqua tastefully combines traditional architecture with modern amenities. Each spacious room is appointed with a king-size bed and LCD TV.
Amenities such as restaurants, conference center, swimming pool, kids' pool, pool bar, bus stop, hospitable room service, as well as all the extras that make the difference.Under the arched passages and hanging balconies, each day is a revelation and each night is majestic. Still moments, when all that is heard is the infinite blue...
Astra Village Hotel & Suites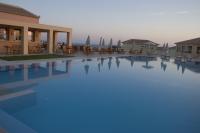 A short walk from Ammes Beach and 2 km from the airport, this cute resort is surrounded by beautiful gardens and offers well-furnished rooms and suites with free parking. Explore the beautiful island of Kefalonia from your relaxing base at Astra Village Hotel & Suites. This resort offers a variety of accommodation sizes in the form of bungalows. Each one features neoclassical design and is well-appointed with a seating area and private balcony or veranda. Every morning you can savour a sumptuous buffet breakfast in the elegant restaurant. During the day, relax around the spacious outdoor pool or in the Jacuzzi. Check your emails using free wireless internet access or enjoy a cocktail from the pool bar. You can also play pool or table football, or even borrow a book from the Astra Village library. Enjoy a short stroll to Ammes Beach for snorkelling opportunities or visit one of the nearby restaurants. The close proximity of the airport makes Astra Village a convenient base and there is plenty of entertainment nearby, as well as weekly entertainment provided by the hotel.
Avithos Resort Hotel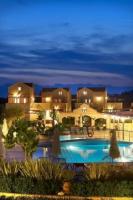 Situated close to Avithos Beach, this charming resort offers a variety of spacious and well-appointed accommodation nestled amongst beautiful gardens by the freshwater pool, creating a peaceful and relaxing retreat. The fully furnished self-catering apartments at Avithos Resort combine traditional Kefalonian style with modern comforts. Each apartment or studio offers its own distinct personality, plenty of space and a well-equipped kitchen, creating an ideal home away from home. Avithos Resort Hotel boasts beautiful gardens and a large freshwater swimming pool. Relax around the pool on one of the comfortable sun loungers and enjoy a cocktail from the friendly pool bar. The sandy beach of Avithos is just a leisurely stroll away from the hotel and there are plenty of good local restaurants nearby when you want a break from cooking. Lassi Beach is just 8 km away and the capital of Argostoli is 10 km away, making an ideal day trip.
Limanaki Hotel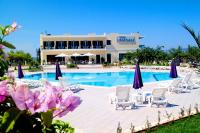 Situated on the charming bay of Argostoli, the Limanaki Hotel is walking distance from the stunning sandy beaches, Makris Gialos and Platis Gialos. Here you can expect the utmost in hospitality, comfort and enjoyment.
The hotel offers guests a private bathroom / WC and cots.
The hotel's facilities include a swimming pool, cafeteria, snack bar, pool bar and a room served buffet breakfast and dinner.
Wireless internet is available in the entire hotel
Hotel Athina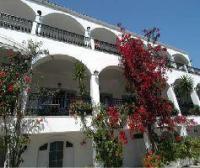 Located in Karavomylos Sami, our hotel is near to the awarded Antisami beach, the Melissani Lake and Drogarati cave, some of the most attractive sights of Kefalonia Island.
We can provide you with spacious, fully-equipped accommodation for up to 4 guests.
All rooms offer you a relaxing and peaceful Ionian Sea view or a verdant-mountainside view. We are also 1 km away from the centre of Sami, 2 km from the Sami port and 40 metres from the beach. Argostoli city centre is 24 km away and Myrtos beach is 15 km from our hotel. Kefalonia Island will impress you with its idyllic evergreen landscapes, endless beaches and crystal-clear waters, as well as its enigmatic caves and all fascinating archaeological sites.
Porto Skala Hotel Village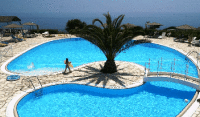 Porto Skala Hotel - Village is a spacious complex set in attractive gardens and quiet surroundings. It is perfectly placed in an amphitheatric shape and enjoys marvelous views to the Ionian Sea.
The architecture is this of a traditional Greek village and all rooms and public lounges are bright, comfortable, with sea views and along with the attentive staff create a friendly and relaxing atmosphere. Wireless internet is available in public areas and is free of charge. Wireless internet is available in the hotel rooms at an extra charge.
Karavados Beach Hotel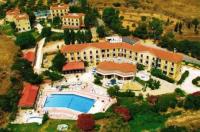 Enjoying a peaceful location close to the beach, Karavados Beach Hotel offers value-for-money accommodation with an outdoor pool and lovely sun terrace and includes complimentary buffet breakfast.
Relax on your private balcony and enjoy beautiful sea and countryside views. Soak up the sun on Karavados Hotelís spacious terrace or take a refreshing dip in the large pool. Enjoy a game of tennis with your family or friends or take a stroll in Karavados Hotelís picturesque gardens.
Karavados Beach Hotel can also arrange for you to rent a car should you wish to further explore the beautiful island of Kefalonia. Karavados Village is just 1.5 km away from the hotel, with plenty of tavernas and shops.
Wireless internet is available in public areas and is free of charge. Wired internet is available in public areas and costs EUR 1.50 per 30 minutes.
Irinna Hotel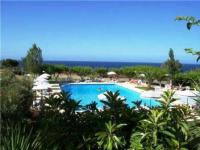 The Irinna Hotel is a 3 stars large and comfortable Hotel of good standards, famous for its friendly service, which creates a home atmosphere. It is situated at the south coast of the Kefalonia island, in front of the gulf of Agia Pelagia, near Svoronata village, at a distance of 10 km from Argostoli. It consists of 170 air conditioned (individual units) rooms , all with bath or shower and balcony overlooking the sea or the landscape. In the rooms there is a satelite T.V. and telephone with direct line.In the extensive gardens of the Hotel there are 2 swimming pools; one large for the adults and one small for children. There is a tennis court, ping-pong and a volley ball court.
The Hotelís restaurant with its terrace serves breakfast and dinner on buffet, while the tavern by the pool serves a la carte lunch only.
The main bar of the Hotel is open at evening time and a pool bar is operating at day time.There are magnificent sandy beaches near the Hotel; Ammes at 700 meters, Ai Heli at 900 meters, Avithos, Minies at 3 km.
Wired internet is available in public areas and charges are applicable.
Pacifae Golden Village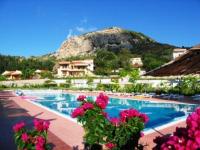 Surrounded by beautiful gardens and having the largest swimming pool in Katelios, the family-run Pacifae Golden Village (formerly known as Doumas Hotel) is the perfect choice for a relaxing break.
Each of our rooms is spacious, clean and offers all the modern comforts in a family atmosphere that will make you feel like home. Enjoy the views of the sea or private gardens from your bedroom window.
Take your place on one of the many sun beds surrounding the pool, enjoy a drink at the pool bar and experience freshly made home cuisine in the restaurant. For a pleasant stroll with stunning views, the hotel is just 1km away from Katelios beach and numerous tavernas.
Captain's House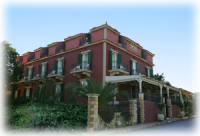 Captains House Hotel is fully refurbished , located at the center of Skala and only 50m from the sea. One of the big advantages of the hotel is that all the amenities are situated around it, such as restaurants, super markets, rent a car services, clinics etc.
It is located only a 50m away from the dreamiest and best organized beach of Kefalonia.
It is a beautiful, traditional, family hotel with a touch of history. Wireless internet is available in public areas and is free of charge.
Hotel Summery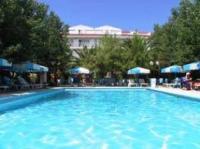 In the quiet little town of Lixouri, set in beautiful gardens, you can experience unspoilt Greek life at this hotel, run by the same family for 25 years.
Hotel Summery welcomes guests from all over the world who wish to spend time off the beaten tourist track. You can relax around the sparkling pool and on the breakfast terrace, before exploring the rest of Kefalonia.
By Argostoli Bay, Lixouri enjoys many beautiful beaches, including Lepeda, Xi and Mega Lakos. In the main town, you can visit the bars and cafes surrounding Plateia Petritsi Square. Wireless Internet Hotspot is available in public areas and is free of charge.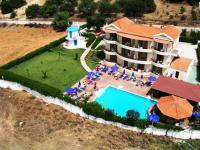 Enjoying the peaceful surroundings of Trapezaki, Marina-Anna Studios boasts beautiful views overlooking the sea and offers a large outdoor pool and bar, with free private parking.
Relax with a drink around the pool and enjoy beautiful sea views. Enjoy Marina-Annaís lovely garden setting. In the evening, make use of the barbecue facilities and dine outdoors with friends and family.
Each of the roomís at Marina-Anna Studios is light and airy and equipped with modern bathroom facilities and a fridge that can chill drinks. Enjoy the magnificent sunsets from the privacy of your balcony.
Marina-Anna Studios is just a short walk from Trapezakiís lovely sandy beach, local convenience stores and great tavernas. Trapezaki is ideal for taking long walks and exploring Kefalonia.
Rent a car through Marina-Anna Studios and enjoy this beautiful and unspoilt location.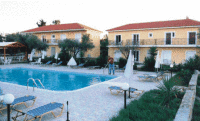 Pythos is an accommodation of studios, apartments and maisonettes. It is placed at Svoronata resort, at Kefalonia island.Set in picturesque gardens amidst olive groves and a lovely countryside setting these bright and welcoming studios are just a short stroll from the beach.
The service starts early in the morning and keep up until late in the night. You'll have to decide between delicious snacks, home made food, refreshing cocktails and long drinks just lying by the outdoor swimming pool.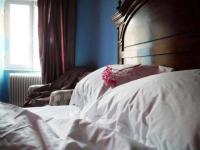 The Museum Hotel is a magnificent 114-year old building at Argostoli, the capital of Kefalonia, the largest of the Ionian Islands of Greece, recognised for its cultural value. It has been recognised by the Greek ministry of culture and funded in the refurbishing process by the European community as a representation of former lifestyles.
All the meals served are homemade with local products. Teaching sessions can be arranged for our guests on how to cook local specialities.
Museum Hotel George Molfetas challenges you to sample history in the exclusive 6 rooms. The only things that have been changed are details that promote luxury and technology. Wireless internet is available in the entire hotel and is free of charge.
Hotel Oceanis
Hotel Oceanis is located at the village of Poros, in Kefalonia island, just few minutes by the sea, with great view at the Ionian Sea.
All rooms are comfortable, furnished with high aesthetic and equiped with all modern amenities that guarantee a pleasant stay. They all feature balconies with great view of the Ionian sea.
Guests may relax by the swimming pool, while enjoying a drink or snack, with the endless blue of the sea as a background.
The location is ideal to explore the beaches of the island and the surrounding landscapes.
Wireless internet is available in the entire hotel and is free of charge.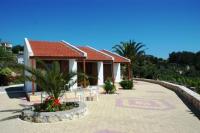 Situated on a hillside in Lassi and offering breathtaking views overlooking the Ionian Sea, these friendly and family-run studios provide a relaxing home from home, with free private parking.
The welcoming owners of Ventura Rooms offer just 7 charming studios, allowing guests to enjoy a more personalised service throughout their stay. Each of the double studios is well-furnished and equipped with modern bathroom facilities and a kitchenette.
Enjoy stunning sea views from your private veranda whilst admiring the panoramic views from Lassi to Lixouri.
Rent a car from Ventura Rooms and take time to tour Kefalonia before returning to Ventura in time to watch the breathtaking sunset. Ventura Rooms is also just 700 metres from 2 of the most popular beaches of Kefalonia.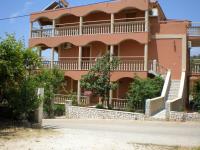 Marinos Hotel studios in Lourdata in the southern part of Kefallonia, is 500 metres from the beach, and offers great views to the Ionian sea or mountain Ainos.
All studios are spacious, with a private balcony or veranda. There is also a garden full of trees and flowers, where you can enjoy a quiet, relaxing evening. You can have fun there using the barbecue and traditional wooden oven, where you can prepare your meals.
You can reach the blue flag awarded beach of Lourdas, within few minutes walk, where you can enjoy many water sports. Very close to Hotel Marinos, there are many cafeterias, tavernas, bars and shops.
Marinos studios are conveniently located to explore the surrounding areas and beaches and the natural beauty of Kefallonia.
Corelli's Mandolin Super Contest!

Win Corelli's Mandolin!

Exciting offer found only here on Matt Barrett's Greece Travel Guide. Enter now and you could win a copy of Louis de Benieres famous novel Corell's Mandolin , the book that started it all. One lucky reader will win this copy, previously owned by none other than Matt Barrett only read once (actually only three quarters of the way through) and autographed by none other than Matt Barrett himself! Just send an e-mail to greecetravel1@aol.com and in 50 words or less explain why you should be the lucky winner. Don't delay!