Getting to Kea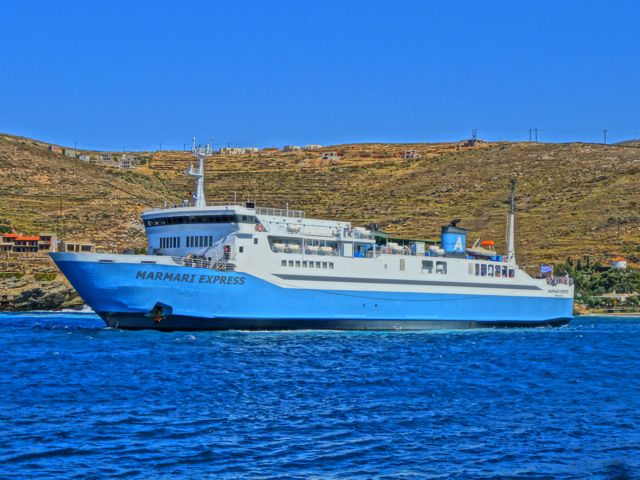 Getting to Kea from Eleftherios Venizelos Airport is easy. Take a taxi or the bus to Lavrion and get on the ferry which runs a couple times a day and more on weekends. To get to Lavrion from Athens you can take the bus which leaves every half hour from Mavromateon terminal at the bottom of Green Park (Pedion Areos) near the intersection of Alexandras Avenue and Patission Street . It takes an hour. Or you can go by taxi.
The Makedon and the Marmaris Express sail back and forth at least twice a day in the off-season and as many as six times a day during weekends and in the summer. You can get the ferry schedules from www.ferryhopper.com or you can e-mail me and I can let you know but you need to give me specific dates. Don't send me an e-mail just asking for ferry schedules. During the week you usually don't need reservations but some weekends you may and if you are coming the last days of July or the first couple days of August good luck bringing a car. If you are coming with a car take the Marmari Express which is big enough so you can drive right on the boat and park. The Makedon you have to back on to the boat.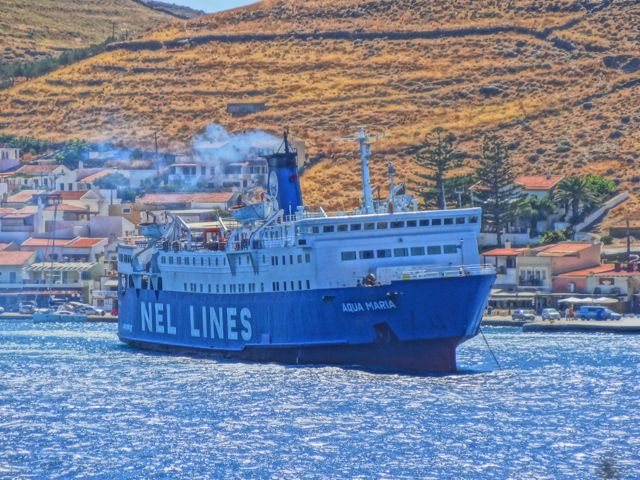 The local Syros ferry which connects all the Cyclades, stops in Kea a few times a week, usually on Thursday, Friday and Monday and then goes to Syros where you can connect to other islands though it usually means spending the night in Syros which I always enjoy. Lavrion has ferry connections to some of the other Cyclades in the summer as well as Lemnos, Ag Eftratios, Kavala, Sigri in Lesvos and Mesta in Chios. If you miss the last ferry to Kea pickings are slim for hotels in Lavrion. There are a few apartments available in Lavrion though getting a room means acting quickly. My friend Paul highly recomends the NJ Apartments which is close to all the restaurants and cafes and the woman who owns it picked him up at the ferry from Kea. If that is full there are a couple other options in Lavrion itself. Nikolakis Rooms are a short walk from the ferry and the shops and restaurants ands the same is true for MK Apartment. Also Lavrionitis Apartment is close enough to be useful for people overnighting in Lavrion while they wait for the ferry (or to go to the airport in the morning). For a real hotel on a beach your best bet is probably the Hotel Ageion Beach in Sounion which is about 15 minutes away from Lavrion. There is also the Grecotel Cape Sounion Exclusive Resort. Make sure the hotel calls a taxi for you in the morning so you don't miss the boat again if you are staying at one of the hotels. If your suitcase has wheels you should be able to walk from any of the hotels to the ferry if the owner is not nice enough to drive you.
If you are planning to combine Kea with other islands and you don't feel like pulling out all your hair trying to coordinate hotels and ferries I recommend using my Create-an-itinerary form. It is free.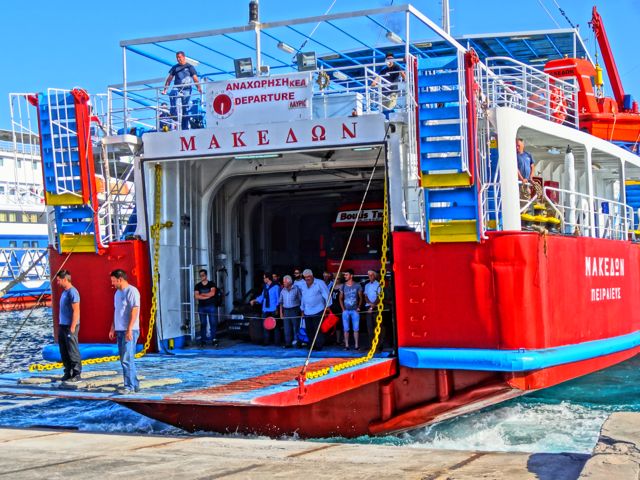 If you want to arrange a taxi transfer to Lavrion from the airport or your hotel in Athens or even from Pireaus, contact George Kokkotos the famous taxi driver by visiting his website or by e-mailing him at georgetaxitours@yahoo.com. Recently George and his drivers have been doing one-day tours to Kea which is a great way to see the island if you don't have time to stay overnight. He picks you up at your hotel around 7am and you catch the first ferry to Kea. You drive around the island, visit a few beaches, the lion, Ioulida, have lunch at a seaside taverna and catch a later afternoon or early evening boat back to Lavrion and Athens. You could also stop at Sounion on the way home and watch the sunset. There are all sorts of great restaurants in the town of Lavrion as well. On Thursday they have a big market and people from Kea sometimes go there to shop.
Hotels in Kea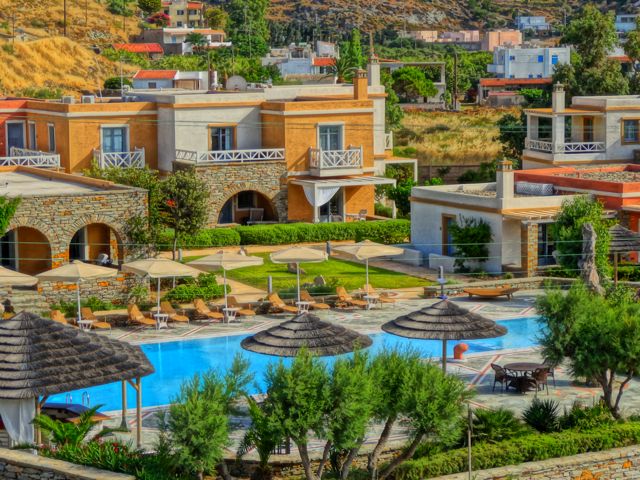 There are several hotels in Kea, and you can book these as well as take care of your transportation needs by contacting Fantasy Travel through this form. Young people and families may be happiest staying at the Red Tractor Farms Guesthouse which is an actual working organic farm and is open and comfortable year-round. Fantasy does not book it but you can contact them directly with this form. There are also lots of rooms in Korissia but they are often booked in the summer and it is not advisable to turn up and expect to find one, especially on weekends since Kea is very popular with the Athenians because it is so close. That does not mean you won't find something, but you will have a lot more choices if you research and book in advance than if you just show up and wander around looking for a room and finally settle on something that you would have rejected if you were not so exhausted from looking for rooms. In Ioulida there is really only one hotel, but it is a nice one, the Hotel Serie. The 4-star Hotel Porto Kea in Korissia (photo) has a pool and facilities for groups and is probably the hotel most western travelers would be the happiest in since it is right on the beach, has AC, serves breakfast and it even has a lawn. For more pictures and descriptions of hotels in Kea see the Hotels Page. Also visit Matt's Hotels of Greece Kea Page
Sailing To and Around Kea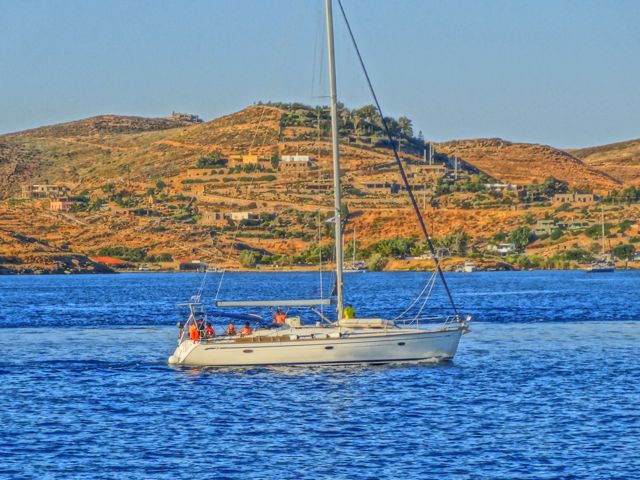 The best way to enjoy Kea is by yacht or sailboat either on your own, with a captain or by flotilla. The harbors of Vourkari and Korissia are excellent and you can sail around the island to reach the beaches and coves which are so difficult to get to by land. There are supplies available including water and electricity and the scene in Vourkari at night is a sailor's evening paradise with the cafes and restaurants alive with yachters and locals, eating lobster, drinking and exchanging tales. The best sailboat and yacht company is American-owned GM Charters. They work with a number of the Greek and international companies and match the customer up with the perfect boat and the perfect captain. They also work with individual skipper-owners and can get better rates by working with them directly. See www.greecetravel.com/sailing
Greece by Sail has beautiful old sailboats with cabins and does trips to the smaller islands like Kea. It is like a cruise but these boats can go to places a big cruise ship can't.
For walking tours of the island with or without accommodation see Walking Tours
Taxis and Buses in Kea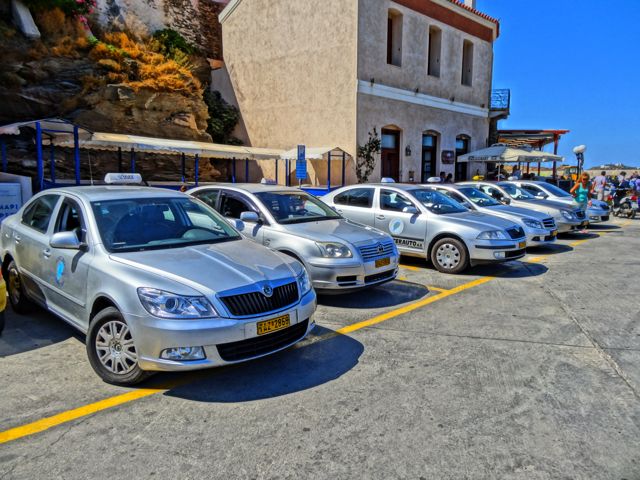 There are buses and taxis on the island and you can get almost anywhere easily though during weekends the taxis seem to be full most of the time you see them. You can call them to pick you up at the port and you can also hire them to take you on excursions around the island. They will also take you to the beach, drop you off and then pick you up at an agreed time and are always prompt because how much money a taxi driver makes depends upon how efficient he is with his time. Unlike George the Famous Taxi driver of Athens, these taxi drivers don't have a website or e-mail, but you can reach them on the island by telephone. Fotis is a great guy and has taken us to some pretty remote places where you would not normally find a luxury Mercedes, without a complaint. He shares his cab with his wife Roula who is one of the most beautiful taxi drivers in Greece. Actually all the drivers are pretty cool. Fotis and his wife Roula: (22880) 21008, Cell-phone: 6932-669493, Stavros (22880) 21228, Cell Phone: 6932-418-821, Michalis at 6937-382-702 and one other driver at (22880) 21480. I don't know how good their English is because they always speak Greek to me but all the drivers speak some English.

Renting a Car in Kea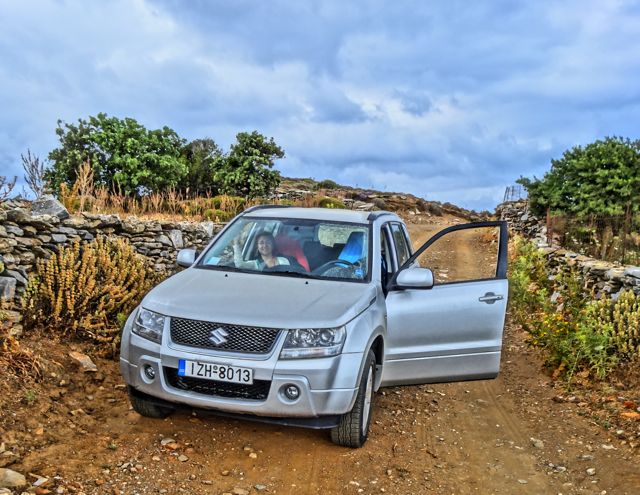 A car is a great thing to have in Kea. A necessity in my opinion. A jeep is even better. Especially because the buses don't begin their regular beach schedules until sometime in June when they connect the beaches of Otzias, Galiaskari, and Pisses with Ioulida, Korissia and Vourkari. If you really want to explore the island and see all the remote beaches and churches and mountains you will need a car. Unless of course you are a serious hiker in which case you can follow the ancient paths all over the island, but you will need a month to walk them all. Parking can be a nuisance if you are staying in Ioulida but not a problem elsewhere. There is a car rental agency on the island that I have been meaning to contact, and you can also get a car from Swift Rent-a-Car in Athens and they will deliver it. I believe they work with the agency on Kea as well. You can also rent a car through Fantasy Car Rentals. Either of these companies will deliver and pick-up at the airport and you can just drive to Lavrion and get on the ferry and not have to worry about your luggage until you reach your hotel.
Scuba Diving and Snorkeling
Kea is one of the most interesting islands for underwater exploration being the final home of several large ships including the HMHS Britannic, the sister-ship of the more famous Titanic. Beginners and experienced divers will be happy to know that Kea Divers organizes expeditions, and gives scuba and snorkeling lessons for children and anyone else who wants to learn. In the southwestern part of the island 300 meters off shore, lies the famous Koundouros reef, one of the best diving spots in Greece and the location of a major shipwreck and loads of fish. For those who would rather snorkel they offer snorkeling trips around the island too. See their website.
General Information and Preparation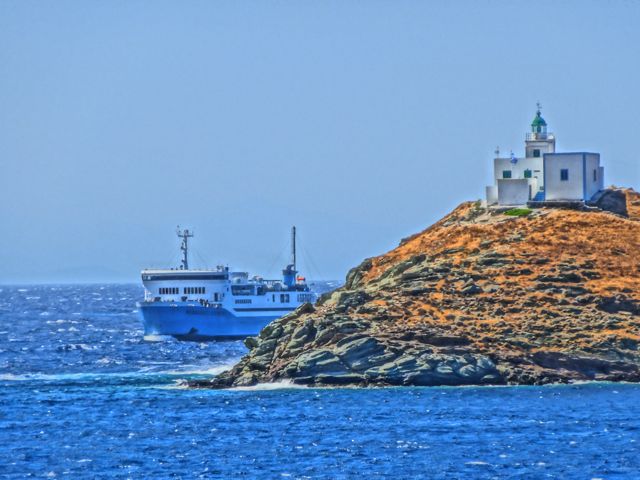 There are several well stocked supermarkets, a pharmacy or two, a free health clinic, a number of banks, a post-office and ATM machines in Ioulida and Korissia. I recommend the guidebook called Kea: History and Sightseeing by Tassos Anastassiou. It is a dark blue book with a beautiful picture of Ioulis on the cover that you can find in any of the book shops on the island if you can find a bookshop, since they seem to come and go. Even better find the pamphlet that Tassos put out of all the trails around the island. It is probably out of print but there must be a few copies laying around, maybe at your hotel. For an insiders view of Kea in the seventies get a copy of Andy Horton's Bones in the Sea, about his experiences as an American living with his family on the island. It is a nice book because it brings to life many of the personalities who make Kea, and particularly Ioulis, such an interesting place. You can order the book from Andy himself by e-mail at ahorton@ou.edu or his second book Life Without a Zip-Code. Andy also brings a small group of film students to Kea every year where they watch and discuss movies and meet with Greek filmakers like Cacoyanis and Renos Haralambidis and in the past Theo Angelopoulos and Jules Dassin before they died.

Kea Laundry
Kea does have a full service laundry on the road to Ioulida on the right hand side of the street. They say it is open 24 hours a day though I am not sure if that is correct nor do I know why someone visiting Kea would need it to be. But you can call them and ask. 30 698 911 9577. You can also e-mail them.
Be sure to visit the website of the painter Dellapizza which gives you a remarkable view of the island through his eyes.
Before you leave the island be sure to stop at Aristaios which calls itself a grocery store but is actually a market full of traditional goods from Kea including cheese, fruit preserves, home made pastas, smoked and preserved meats and sausages, ouzo, tsipuro, wines, pastelli, local honey, bee pollen, and loads of other things. If you are looking for gifts this is a great place to stop. It is on the road from Korissia to Ioulida on the left just after you pass the bridge and start to climb.
If you have questions about Kea you can e-mail me. I spend a lot of time here. The best time to come is in the off-season. If you are in Athens during the winter this is the closest island that will make you feel like you are really on an island and not in a suburb of Athens.

Use Ferryhopper to find all direct and indirect ferry routes for the islands of Greece, Spain, Italy & Turkey, compare ferry companies & prices, and book cheap ferry tickets with no hidden fees in one go!