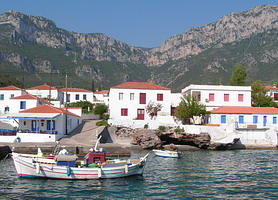 You can rent a car and drive around the Peloponessos. If you use my Peloponessos Guide you can get one of the travel agencies to assist you in booking hotels that will enable you to get from one town to another with time to see what is in between. For those less adventurous you can book George the Famous Taxi Driver for a few days and he takes care of all the hotels and you have a driver, guide, translator and friend of your very own to show you around. The easiest way to do the mainland is to go on the tours that the travel agencies offer, even if you think of yourself as the kind of person who does not like tours. You can see examples with prices by going to www.fantasytravelofgreece.com and clicking on 'tours'. The worst way to go is by public bus unless you are so poor that you have to subsist on feta cheese and a loaf of bread a day and then you probably don't have a choice. But the general consensus is that the tours are fun and not filled with only the type of people you find on tours. Sort of like the Greek cruises where you find people who have never been on a cruise before but realized this is the best way to see a lot of islands in a short period of time. By the way the photo is my grandmother's village of Kyparissi.
A good Peloponessos itinerary would be:
Day1: Athens, See the Acropolis etc.
Day2. Car delivered to hotel (Swift Rent-a-car will pick you up at your hotel and drive you out of the city) Drive to Corinth and see the canal and the ruins of ancient Corinth and Akrocorinth. Continue to Nafplion where you spend the night. (or Tolon if you want to be on the beach)
Day 3. Nafplio: Drive around the Argolis and visit Myceneae, Epidavros and the fortifications of Nafplio. Swim.
Day 4. Drive to Byzantine City of Mistras. Continue to Gythion. Spend the night there.
Day 5. Visit Diros Caves and drive to the tip of the Mani. Return to Gytheon
Day 6. Monemvasia: Explore the fortress.
Day 7: Drive to Neapolis to the island of Elafonisos for the day. Return to either Monemvasia or Gytheon
Day 8: Drive along the coast or through the mountains to Olympia. Stay overnight.
Day 9: Visit ancient Olympia. Drive back to Athens or stay a night in Loutraki if you have time.
Or you could skip Monemvasia and Elefonisos and add Delphi to your trip (or include it and add days.) There is now a bridge from the Peloponessos at Rio-Antririon near Patras. If you have another day drive up to Meteora.
Any of the Travel Agencies can assist you in putting this itinerary together.
If you don't want to rent a car and hiring a driver sounds too expensive then there are other options. Fantasy Travel's 7 Day Grand Tour of Greece includes everything above as well as Thermopylae, and the most important archaeolgical sites in Macedonia and Thessaloniki. The also offer a 5 Day Tour of Thessaloniki and Macedonia. If you just want to cover the bases of my suggested itinerary you can look at their 4 Day Classical Tour to Olympia, Delphi and Meteora which also includes Epidavros and Myceneae. You can see these and other land tours on their website under Excursions and Minitours