Sun Wind Surf Center

of Paros

---
Strong consistent winds, crystal clear water.
Complete holiday packages.
All on the traditional Greek Island of Paros in the heart of the Aegean Sea.
Windsurfing Rental, Lessons, Board Storage

Sun Wind Surf Center
Golden Beach, Paros 84400
GREECE
Email form
About Paros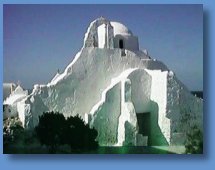 In the heart of the Cyclades Islands, Paros,with 10,000 inhabitants and 120km coastline, is a whole world fulfilling everybody's dream of an Aegean Island. Serene landscape with fertile valleys and rolling hills dotted with small churches and monasteries, endless sandy beaches with sparkling blue waters, famous monuments from the lands rich ancient and medieval past, picturesque white villages bathed in the unique, dazzling Aegean light. All this, along with warm hospitality, excellent tourist facilities, rich cultural life, cosmopolitan ambience but also the possibility of seclusion, have combined to make Paros one of the most favourite spots in the Cyclades Islands. It is now your turn to discover and explore it.
Paros, the third-largest of the Cyclades after Naxos and Andros, has developed into an important centre of tourism in recent years. Gently rolling hills surround the centre and south-east of the island, which is predominantly agricultural and is occupied by endless vineyards, and lock within themselves the famous Parian marble.
The coastline is indented, with numerous small inlets and two large bays, those of Naoussa in the north and Parikia in the west. Paros has been inhabited since very ancient times , and was one of the centres of the Cycladic civilisation.
Parikia (or Paros), the island's capital and port, stands on the site of an ancient city. There is a picturesque and ruinous Venetian castle, and the courtyards of the ho uses of the town -all of them painted white - are full of pots of basil and hung with jasmine and honeysuckle.
The island of Paros is frequented by windsurfers from all over the world. Unique weather conditions, ideal for sailing, together with quiet areas of unspoiled beauty and modern facilities built to cater to the tourist trade, combine to make the island one of the most popular in the Cyclades. Paros works a special kind of magic that draws visitors back time and time again, so that, eventually, they realise that they never really leave her. So, if it is your first time on the island, be warned that it will not be your last!




Weather Conditions in Paros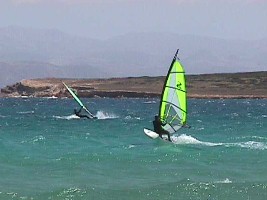 Paros is a very windy island all the year round. The well-known Aegean summer wind, the Meltemi, usually begins late in the morning and can blow all through the day. It is at its strongest in July and August, although it can last into the months of September and October, blowing from the North 80% of the time.

All through the summer, you can expect winds of at least 4-7 beaufort (11-33kts/13-38mph), and sometimes as high as 9 beaufort (41-47kts/55-63mph). It is always stronger when you are close to the shore (within 1-2 miles) than if you are further out to sea, and in the south-eastern part of the island is made stronger by a wind channel created (venturi affect) between Paros and the neighbouring island Naxos. Despite the heat in the summer months, it is wise to wear a wetsuit (shortie) if you stay in the water for more than a few hours.

In the winter, you definitely need a wetsuit -- the water temperature is usually between 10-15C (50-60F) and the wind can be biting, blowing continuously from the North for up to a week, then dropping completely for maybe 2-3 weeks.

Usually in the spring time, the Sirocco (a hot, dusty wind originating in North Africa) blows from the south bringing rain, clouds, and very large waves to the southern part of the island. It generally lasts for a few days and can be as high as 10 beaufort (48-55kts/55-63mph), so if you sail out of the summer season, be careful! A good spot for this wind is Sun Wind Surf Club on Golden Beach.

Owned and operated by Paros native Theo Fisilanis since 1981, there is a wealth of experience ensuring your optimal windsurfing vacation. Whether you are on your own, with your family or with a group of people, Sun Wind is geared to provide you with a fun and relaxing holiday.
Sun Wind Surf Club provides...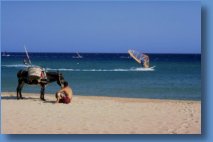 Board Storage
On-site repairs
Expert instruction for beginners through advanced
Rescue Boat
Beach chairs and Umbrellas
Water skiing and Tubes
Beach Volley Ball
In Addition...
Mountain Biking. Rentals and Guided Tours
Evening clinics &/or Videos on technique and equipment
Accommodations to suit your needs: hotels, studios, or apartments
Great Food; Traditional and European
Great Nightlife
We can also arrange: diving & sailing trips, hiking, horseback riding, day excursions around Paros
and to other islands, car & motor bike rental
Shoulder Season Discounts (May/June, and September/October)
Not to mention...
EQUIPMENT :
40 BIC & Roberto Ricci (projected) boards
60 rigs from NeilPryde and WindWing. All rigged and ready to sail PowerEx Carbon Masts Children's rigs and special beginner boards
LESSONS :
Lessons are available for all level of sailors. From gybe clinics to novice and children's beginning lessons our staff are experienced, patient teachers. Most hold certifications from their home countrys and many have or currently compete in a variety of disciplinces of windsurfing. Lessons are offered in one hour increments. You may take just one lesson or book a series.
SAIL SITE and CONDITIONS: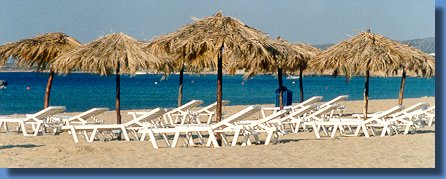 Sun Wind is located in the center of Golden Beach, a pristine, sandy beach -- Paros' largest -- and adjacent to the PWA World Cup site, held here consecutively since 1993. Here, the well-known Northern wind "Meltemi" blows 80% of the time in the summer months and is strengthened by the channel created between Paros and the neigboring island of Naxos.
Conditions are ideal for all levels of of sailors; inside the protected bay there is flat water while outside there is chop and small waves. The wind is side-shore when it is less than force 5 and offshore when stronger. For those craving larger waves, you may take your equipment to Tsoukalia, a wave site about a 20 minute drive from Golden Beach. Scirocco, the southern (onshore) wind, blows less often normally early and late in the season, and usually is accompanied by larger, rolling waves.


Please contact us for prices, bookings and more information by using this form