If you are planning to combine Andros with any other islands I suggest booking hotels and ferries with a reliable Greek travel agency. Both Fantasy Travel and Dolphin Hellas Travel can find the best hotel for the price and coordinate ferries and hotels in Athens and other islands.
You can find ferry schedules at www.athensguide.com/greek-island-ferry-schedules
Ferries to Andros leave from Rafina, not from Pireaus. There are daily connections to Syros, Tinos and Mykonos and less frequent ferries to many of the Cyclades though they might require an overnight stay in Syros.
You can find hotels for Andros at www.hotelsofgreece.com and to make it easier I have included a few highly recommended hotels below.
Hotels in Andros
Here are a few hotels in Andros. You can click on the name to see more photos, get more information, see the hotel location and to book the hotel.
Mare E Vista - Epaminondas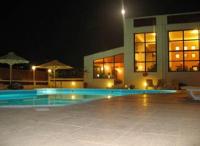 Beautifully situated with a wonderful view over the bay and port, this hotel is only 200 metres from Batsi's main beach and 400 metres from the small beach of "Colona".
This hotel offers privacy and seclusion, whilst at the same time conveniently located within a short walking distance of 600 metres from the centre of the village. Enjoy your breakfast and light snacks in the bar area or poolside terrace, take a relaxing bathe in the pool and unwind under the soothing sun.
Amphitheatrically built in levels, the complex is ideal for those seeking high standard holidays, offering the most beautiful view of the island from each one of the elegantly decorated, comfortable and contemporary apartments and from their verandas. Wireless internet is available in public areas and is free of charge.
Paradise Hotel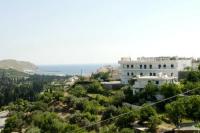 Paradise Hotel is located in the Hora of Andros, the greenest island of the Cyclades, a short walk from 2 superb beaches, with a hotel minibus available for trips further afield.
The elegant balconies of the Paradise Hotel look out onto some of the most magnificent scenery in Greece. The colours of the islands are echoed by the décor of each room and by the furniture on each of the private balconies. The high ceilings of each of the Paradise Hotel bedrooms reflect an old-world style of architecture rarely seen today.
Relax with a sundae from the specially prepared refreshments menu in the comfortable lounge. Its terrace looks out across the valley to the sea. The canopied bar is the ideal place to enjoy a cool drink while you absorb the spectacular view of tiny villages nestling amongst the surroundings hills. Stay at the hotel and enjoy the pool and games of tennis. Nearby, are taverns, cafés, bars and clubs, accessible from the picturesque main street, as are the island's famous museums and the gallery of modern art. Wired internet is available in the hotel rooms and costs EUR 5.00 per hour.
Andros Holiday Hotel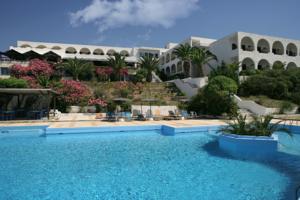 Enjoying a beachfront location, Andros Holiday Hotel offers a swimming pool, 2 restaurants, parking facilities and free wireless internet. It stands only 550 yards from Gavrio. Andros Holiday Hotel offers a panoramic view of the Aegean Sea. Its 78 rooms and apartments feature a private bathroom with hairdryer, refrigerator and a sea-view balcony. Tourist information, car rental, and many more services are provided at the reception, which operates on a 24-hour basis. Free Wi-fi is available in public areas and is free of charge. This hotel is highly recommended by the Aegean Arts Circle who use it for their summer workshops.
Hotel Perrakis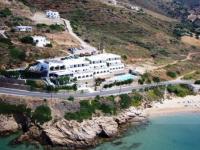 Hotel Perrakis is situated in Kypri, between two of the most popular beaches on the island of Andros.
The settlement of Kypri is located on the western side of Andros island, just 3km away from the port of Gavrio and 4.5km from the cosmopolitan village of Batsi.
Built by the beach, offering amazing views and an extraordinary restaurant, Hotel Perrakis defines a perfect recreation destination. Kypri has a picturesque landscape, crystal clear waters, and an organized beach. Round about, there are many interesting things to see and do, including the well known Museum in Andros Chora. Wireless internet is available in public areas and is free of charge.
Chryssi Akti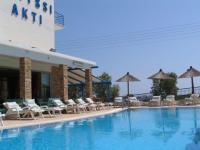 Ideally located in the centre of Batsi on the island of Andros, this hotel overlooks the coast and is just by the town's main beach.
Batsi is a peaceful coastal town located on the footstep of a mountain. The Chryssi Akti Hotel is a walking distance from the main shops, cafes and restaurants. Recently renovated, the hotel provides a modern interior for its guests.
Equipped with a swimming pool and situated in a central location, the Chryssi Akti is close to all the main services needed to enjoy a relaxing holiday. The hotel is easily accessible by taxi or bus from the port. The bus stops, with request, right outside of the hotel. Wired internet is available in the hotel rooms and costs EUR 1.00 per hour.
Karanasos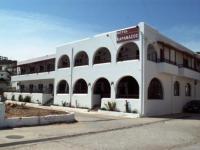 In a quiet enviroment, just 20 metres distance from Batsi's organised beach, and 200 metres away from the main square you can find Hotel Karanasos. Providing all modern facilities and amenities, as to satisfy the needs even of the most demanding guests.
An ideal choice for those wishing to relaxing by the sea as well as to explore the wondeful island of Andros.
Wireless internet is available in public areas and is free of charge. Andros is the most northern island in the Cyclades Islands Cluster and is one of the most scenic places in Greece. A multifaceted island with an abundance of dazzling sandy and rocky beaches, impressive archaeological and historical sites, quaint seaside and mountain settlements.
Saint George Studios and Apartments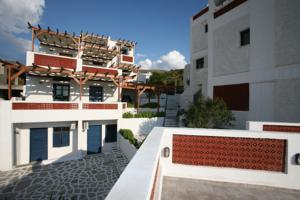 Situated in Batsi, just 380 yards from the beach, St. George Studios offer studios with traditional décor and beautiful sea views, a shared veranda and a bar. The Cycladic-style St. George Studios have independent entrances and stone floors. Each is equipped with air conditioning, TV, and kitchen with refrigerator. Guests have free access to private parking lot. Central Batsi is less than a 10 minute walk from the complex. Wired internet is available in public areas and is free of charge.
Amorani Studios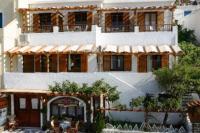 Just steps from Batsi's village square and 400 metres from the beach, Amorani Studios offer clean and cosy self-catering apartments with beautiful views of the village and free private parking.
Amorani Studios' location on the hillside of Batsi allows guests of Amorani Studios to enjoy stunning views of the sea and the village. The only grassy area in Batsi is in front of Amorani.
Relax in your air-conditioned studio and prepare meals in the fully equipped kitchenette. Enjoy breakfast on your private veranda whilst taking in the scenery.
Amorani Studios' prime location is just a short walk from the shops and taverns of Batsi, addressing all your shopping and entertainment needs. Batsi's lovely beach is also a short walk away.
Should you be exploring Andros Island by car, benefit from free private parking at Amorani Studios.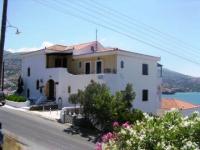 Villa Alexandros is situated 100 metres from the seaside, just a 10 minute walk from picturesque Batsi's sandy beach. From our 10 self-catering studios you can enjoy a fantastic sunset of the endless Aegean sea and the Batsi bay.
Our aim is that you have an unforgettable holiday.
We have many beautiful walks around the island with professional guides (information and photographs are available from reception).
Fishing, Snorkelling, Scuba Diving is only a 100meters away.
At selected tavernas free wine is available with your meals throughout the season.
Car & Jeep Hire to explore the island is available on site.
Wireless internet is available in the entire hotel and is free of charge.
Maistrali Studios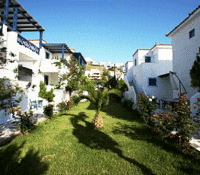 Enjoying a beachfront location in Batsi, these traditional, self-catering studios are surrounded by lush gardens and offer a relaxed and friendly atmosphere along with beautiful sea views.
Maistrali Studios is a family-run complex situated beside the golden sands of Batsi's beach. The cosy studios are appointed with air conditioning, a fully equipped kitchenette and en suite bathroom facilities. Savour a sumptuous breakfast every morning in Maistrali's cosy breakfast room. Enjoy your beautiful, natural setting and calming way of life beside the sea. Lie on the beach and soak up the Mediterranean sun or try one of the many water sports on offer. Stroll around Batsi, one of Andros Island's most charming villages, and visit the local shops and taverns. Explore the island with a car and make use of free private parking facilities back at Maistrali Studios.
Nora - Norita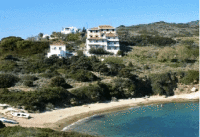 Situated on the bay of Batsi, just 60 metres from Kolona Beach, Nora-Norita offers well-equipped studios with beautiful views of the bay and the town. Enjoy a relaxing break in your own comfortable studio at Nora-Norita. Prepare meals using your fully equipped kitchenette. Check your emails with Nora-Noritas free computer access. Sit back and enjoy the stunning views overlooking the nearby beach and the Aegean Sea.
The studios are surrounded by the mountainous countryside of Batsi, offering you a peaceful location with excellent hiking opportunities. Nora-Norita Studios can also arrange for you to rent a car, should you wish to further explore this wonderful area. Batsi's town centre is just a leisurely 15-minute walk away from Nora-Norita, where there are plenty of excellent restaurants and bars.
Blue Dolphin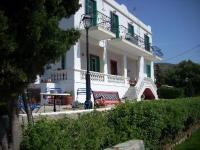 Combining one of the best views in Batsi with a relaxing environment and excellent location, this small hotel is the ideal choice for your Greek island holiday.
With just 7 rooms, Blue Dolphin provides a quiet, homely atmosphere where the staff will always have time for you. As soon as you arrive you will be greeted with a refreshing and complimentary drink. Head to the magnificent garden with your drink and enjoy the sea view and the sunshine.
The Blue Flag beach of Batsi is only 200 metres away, while the town itself is only 400 metres away. Head here to enjoy delicious authentic meals and to explore the traditional shops and boutiques.
Wireless internet is available in the entire hotel and is free of charge.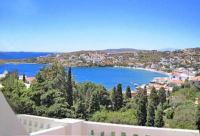 Dora I Studios is a complex that consits of comfortable studios, enjoying a privilege location since situated in Batsi, the main resort of Andros island.
All studios offer breathtaking views over the unspoilt resort.
Whether enjoying the sun and views from the balcony during the day or the beautiful sunsets or the lights twinkling in the harbour below at night, the memories will stay with you long after your holiday.
All studios feature modern comforts and amenities as to satisfy the needs even of the most demanding guests. Dora I is set close to a supermarket, greek tavernas and just 400 meters away from the main beach. An ideal choice for those wishing to relax and at the same time explore the wonderful sorroundings.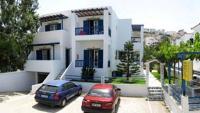 In the heart of the picturesque and untamed island of Andros, the hospitable and cosmopolitan town of Batsi dominates in dignity.
In Batsi, among the lucid Cycladic landscape of the charming town, one can find an elegant and functional complex, Dora II.
Enjoying a location in one parts of the island, since situated only 100 meters away from the main sandy beach of Batsi and just 150 meters away from the centre of the village.

All rooms fetature all modern comforts and amenities as to satisfy even the most demanding guests, making everyone fell as much as comfortable and relaxing like home.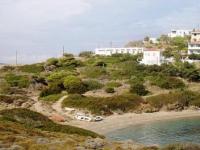 Elpida Studios is a family-run complex in the popular vacation spot of Batsi, just 60 metres from Kolona Beach, with magnificent views of the Aegean Sea.
Enjoy traditional and comfortable accommodation at Elpida. Each studio is fully air-conditioned and offers a spacious balcony. Some also offer stunning sea views.
Benefit from free wireless internet access in the public areas of Elpida. Relax with a good book and a coffee in Elpida's charming garden areas or on the terrace, surrounded by exotic plants.
Elpida Studios offers the ideal solution for those seeking rest and relaxation in Batsi, within walking distance to its many attractions.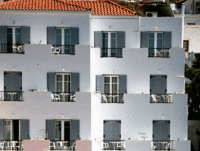 In a green location, built amphitheatrically, with splendid view to the sea, Villa Nefeli offers fully equipped apartments and studios, as to satisfy the needs of the most demanding guests.
Villa Nefeli was fully renovated, the renovation has been made with much taste and it will provide you a high quality accommodation.
An ideal choice for those seeking a few moments of relaxation on the beautiful island of Andros. At the same time Villa Nefeli due to its convenient location is an ideal base to explore the island of Andros and its wonderful surroundings.
Wireless internet is available in public areas and is free of charge.
For more hotels in Andros visit Booking.com's Andros Pages or
contact Fantasy Travel or Dolphin Hellas Travel